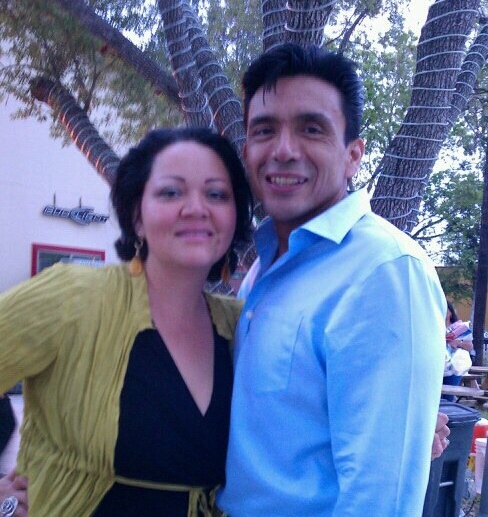 Josefina Lopez (Real Women Have Curves) with Tony Diaz, El Librotraficante.
______________________
Mexican American Studies (MAS) is spreading like wildfire in Texas.
By the time you read this, Texas will have the most schools teaching MAS in the nation-and growing.
On that note, we're fine-tuning the MAS Texas Took Kit to help any K-12 teacher to incorporate Mexican American Studies. This can range from implementing an entire curriculum to using one lesson plan for a particular unit or obvious time of year such as Hispanic Heritage Month.
A not so obvious time of year to incorporate MAS in the classroom is Banned Books Week, but more on that later.
For now, here is my:
"Top 10 Chicano Films for Mexican American Literature Courses."
10. Cesar Chavez. Director: Diego Luna. Writers: Keir Peasron (screenplay) Timothy J. Sexton. (2014) (Classroom clock: 102 mins.)
9. Walk Out. Director: Edward James Olmos. Producer: Moctezuma Esparza., Robert Katz. Screenplay by: Marcus DeLeon, Ernie Contreras, Timothy J. Sexton. Story by: Victor Villaseñor. (2006) (Classroom clock: 120 mins.)
8. Real Women Have Curves. Director: Patricia Cardoso. Writers: Josefina Lopez (play), George LaVoo (teleplay), Josefina Lopez (teleplay). (2002) (Classroom clock: 90 mins.)
7. Chicano! The History of the Mexican Civil Rights Movement. Producer: Hector Galan. Companion book by: F. Arturo Rosales. (1996) Based on a book banned in Arizona.
6. Bless Me, Ultima. Director: Carl Franklin. Writers: Rudolfo Anaya (based on the novel by), Carl Franklin (written for the screen by). (2013) (Classroom clock: 106 mins.) Based on a book banned in Arizona.
5. I am Joaquin. Director: Luis Valdez. Writer: Corky Gonzales. (1969) (Classroom clock: 20 mins.) Based on a book banned in Arizona.
4. . . . And the Earth Did Not Swallow Him. Director: Severo Pérez. Writers: Tomás Rivera (novel), Severo Pérez. (1995) Based on a book banned in Arizona.
3. The Longoria Affair. Producer/Writer/Director: John J. Valadez. Co-producer: Pamela Aguilar. (2011)
2. A Class Apart. Directors: Peter Miller, Carlos Sandoval. Writer: Carlos Sandoval. (2009) (Classroom clock: 60 mins.)
1. Zoot Suit. Director/Wrier: Luis Valdez (1981) (Classroom clock: 103 mins.) Based on a book banned in Arizona.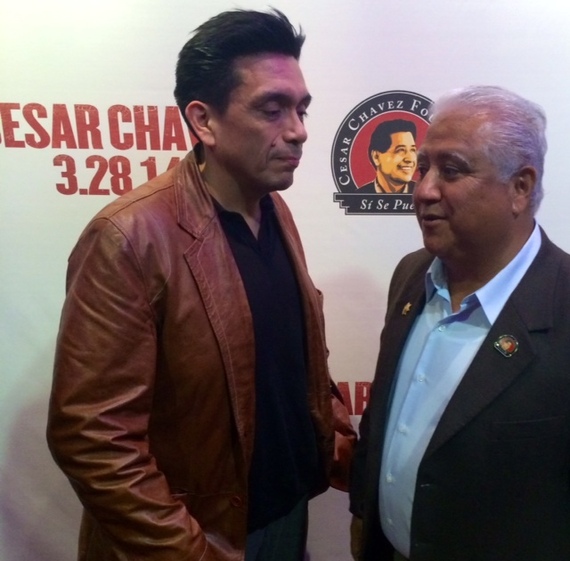 Tony Diaz, El Librotraficante with Paul Chavez, son of Cesar Chavez, President of the Chavez Foundation at the premiere for the movie Cesar Chavez.
Bonus:
Number 11: . . .

Before we delve into the longer list, and all the great debates that shall ensue, here are some practical points about my list.
This is not a "theory" list. This is a list I'm putting into practice.
I'm ordering these films for the Lone Star College-North Harris library in Houston. That means the films will be available for professors, students, and student groups to view.
I created this list because next semester I want to include a film component to complement the works from Hecho En Tejas: An Anthology of Texas Mexican Writers, edited by Dagoberto Gilb, which I use in my Mexican American Literature course. As such, each film must have a literary link that fits into the class. I'm also incorporating the films into the activities for the student group LASO, the Latin American Student Organization. I am their faculty advisor.
I'm sharing some "lesson plans"/lecture notes on some of the films. I'll try to provide more of them. These are a hybrid between traditional lesson plans K-12 and lecture notes for college, as the course is a college-level class that can be taught at high schools through dual credit programs.
Finally, I outsourced my syllabus. I asked academics what they thought they wanted on the list. I wasn't crazy about that list, so I went to social media to crowd source the list. I wanted to choose films that students and members of the community wanted to watch together and talk about.
This list reflects the strongest interest and responses from folks.
That was great because it led to a longer list of entries, some I had forgotten or had never heard of.
I posted the original list with findings on the MASTexas blog. That includes the raw list of all the films folks could think of. It also contains some of the great questions that arose, which are questions that I will take into the classroom.
I look forward to working together to create the best lists, the best lesson plans, and the best curricula for MAS education.
The titles below are driven mostly by sheer mentions, interest, and feedback.
The great thing about being a college professor is that you can show anything you want. You run the show.
So, here are 11 - 20 crowd sourced "Top Chicano Films for Mexican American Literature Courses."

20. Salt of the Earth (1954)
19. As Long as I remember: AMERICAN VETERANOS
18. Precious Knowledge
17. My Family
16. The Ballad of Gregorio Cortez
15. Selena
14. The Milagro Beanfield War
13. Stand and Deliver
12. La Bamba

11. Blood in Blood Out: Bound by Honor
For the raw crowd source list of films visit the blog of MAS Texas. See you in the class room!