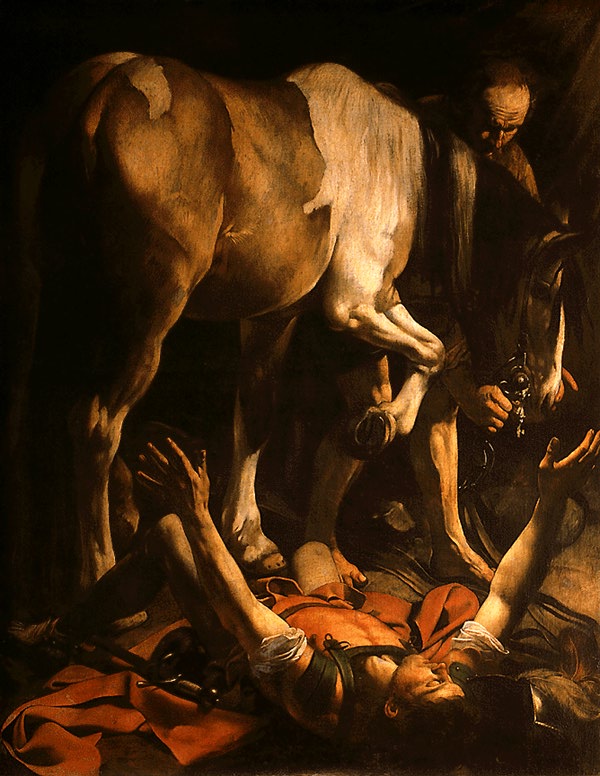 The Conversion of St. Paul by Caravaggio, 1600-1601; Oil on canvas, 230 x 165 cm; Cerasi Chapel, Santa Maria del Popola, Rome
Dear Painting,
I have wanted to love you for a long time but lately I am disappointed in what you have wrought. When I first encountered you, when I just a mere lass, it was in the Time Life books my parents had around the house. Of course, these were just reproductions of Medieval and Renaissance paintings, but it was there that I fell in love for the first time. It was with The Conversion of St. Paul by Caravaggio and its mysterious sensuousness had me hooked before I even knew what sex or painting was.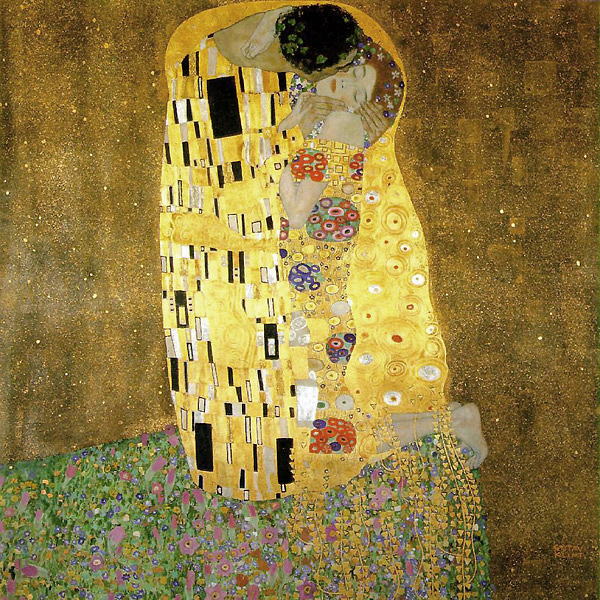 The Kiss by Gustav Klimt,1908; Oil on canvas; 180 x 180 cm, Österreichische Galerie Belvedere, Vienna
Later I would have girlish crushes on Gustav Klimt and Maxfield Parrish (I know, that one is embarrassing now) but once again it was the magic of allusions to another place and time. As I matured just even a bit I fell hard for George Seurat and his geometric-like figures and light reconstructed in pointillism. You see, I was dipping into a little of that meditation on the million points of the physical with bits of light in the spaces between them, in my drawings, so I was easily seduced. Then came a period where it was all about me and critics be damned, I loved you Georgia O'Keeffe.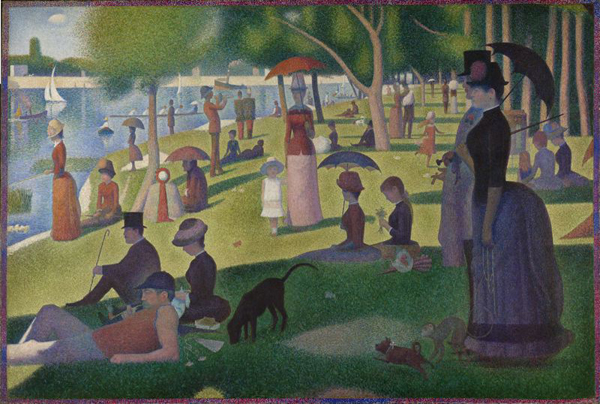 A Sunday on La Grande Jatte by Georges Seurat, 1884, 1884-86, Oil on canvas, 81 3/4 x 121 1/4 in. (207.5 x 308.1 cm), Helen Birch Bartlett Memorial Collection, Art Institute of Chicago
A thousand dorm rooms everywhere overflowed with posters blooming with flowers and symbols of sexuality that O'Keeffe denied were there. I never really fell for you Impressionists, although those Monet haystacks at LACMA when I was a young woman, still burst into my mind every so often. But finally, I came to the masters who would break through all the old territory, the ones who would throw away any need for figurative reference (even if they chose to include it, you knew they didn't need it), the guys who would push painting into a new realm of pure action, color and movement, the Abstract Expressionists. I fell for them harder than any others, it's true and like so many before me, I wondered how painting could become something else, ever again. Can't you see now, how devoted I was to you? All those years I hardly even looked at other art forms. I loved you so much, Painting, I put everything into you. But now I have to tell you something. Those same revolutionaries were also my downfall. Those Ab Exers, they opened the door to a realm that had been closed for many years. Or at least that door was hard to get through. But alas, the hinges were torn off that door the day Mark Rothko and Jackson Pollack paintings were sold as framed prints for the home.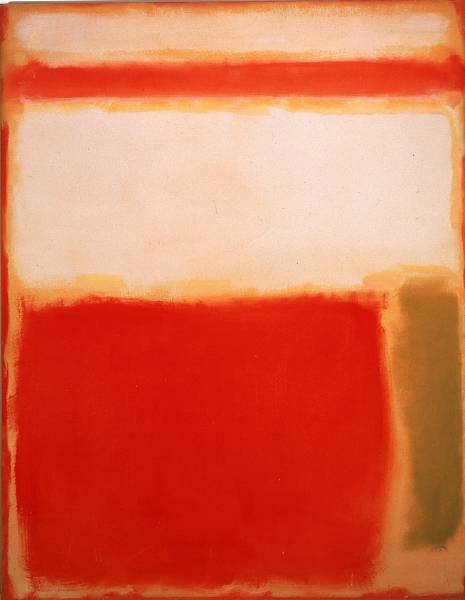 Yellow and Orange by Mark Rothko, 1949, Oil on canvas, 55 3/8 x 43 1/4 in. (140.7 x 109.9 cm), The Museum of Contemporary Art, Los Angeles The Rita and Taft Schreiber Collection
They unleashed a torrent of horror. You know what I'm talking about. Don't deny it. Come on, you've seen it too. Admit it, we are wading in three feet of mushy abstraction. Everywhere I go, I see bland, boring, repetitive Ab Exy paintings. Everyone and their mother now makes these things. And even art school grads seem to be infected by this malaise. Oh sure, some even have nice rhetoric to go with it, but mostly it's dull stuff, where I constantly feel like I'm visiting my own sordid past. That's why I'm leaving you. That's why I think multimedia installations and video are my new love. It's not that they are so new, it's just that I have finally given up on you.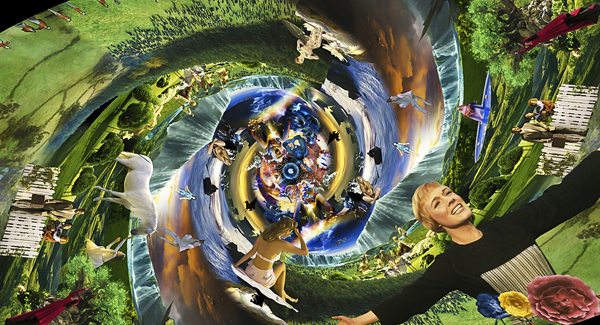 Creation (Megaplex), 2012, 3D High-definition video, color, sound, 4 minute (loop), edition of 8, Courtesy Christopher Grimes Gallery
Well, maybe not entirely, I'll still keep an eye out for a malcontent popping up every so often. But don't come knocking on my door, I don't have it in me to answer most of the time. Until you clean up your act, I just don't want to have anything to do with you. I loved you once and I don't think you can ever win me over again. You can try... but it won't be easy. Cause honestly, I am already fixated on someone else and love is on the horizon. If you want to find me, I'll be at the Marco Brambilla show at Christopher Grimes Gallery.
See you around,
Tracey
Marco Brambilla's "Creation (Megaplex)" will be shown through Dec. 22 at Christopher Grimes Gallery.
Special thanks to Amy Sillman for writing the original Dear John letter