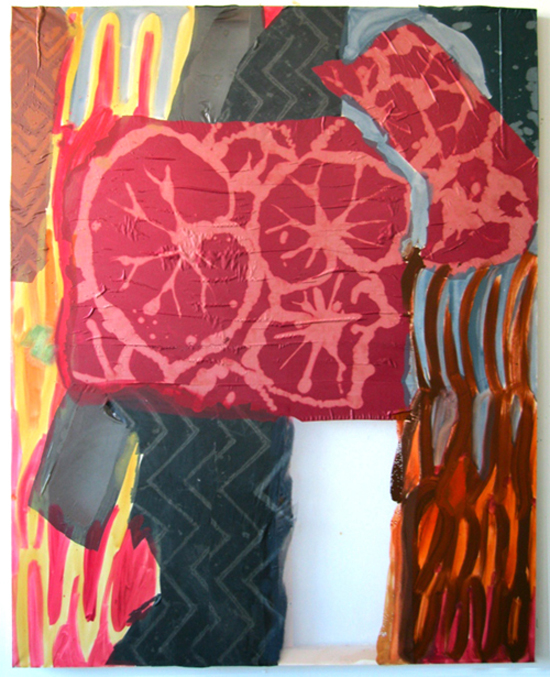 BIG RED, 73" x 57", oil and bleach on bedsheets and fabric, Courtesy Lauren Luloff
Lauren Luloff received her BFA from Pennsylvania State University and her MFA from Bard College; Milton Avery Graduate School of the Arts. She received the Edwin Zoller Scholarship for Artistic Achievement and studied abroad in Ireland. Recent solos shows include: Wind, Beach and Still Life, End of the Century, NY, A Dinosaur with Window into the Future and into the Past, site-specific installation, BUOY, Kittery, ME, Woven, site-specific installation, Secret Project Robot, Brooklyn, NY and From the Sheets, Sunday L.E.S., NY. Later this year Luloff will have a solo show at Halsey Mckay Gallery, East Hampton, NY.
Why do you use these particular materials?
I have been painting on bed sheets for about 12 years. I used to love incorporating the prints -- mechanical lines I couldn't recreate with my loose hand, crazy flowers, patterns that invoked childhood memories. I also love the soft texture, and the intimate history of these sheets I scour thrift stores for obsessively.
I recently took two trips to India where I was immensely inspired by traditional block printers. With block printing, the dyes seep into the weave. I began using bleach as a simple version of penetrating the threads of fabric, altering their color. I have always used textiles in my work, and wondered about making my own. By using bleach to draw, my patterns became soft, malleable and irregular. The bleached color found within each fabric became a found color, and introduced an exciting new variable into my work.
Name an artist you'd like to be compared to.
Ha ha! The first artist that came to mind was Frank Stella, but he's like my opposite. I love his shaped canvases and diligence about form, wholeness. I strive for that clarity and unity. Maybe one day...
I always want to sink into the memory of Helen Frankenthaler's pours and stains, abandon of gesso, impermanence for the necessity of a certain texture and feel.
What can't you live without?
Water. And watering my plants. And the ocean.
What jobs have you done other than being an artist?
I feel lucky to have a job teaching art classes to amazing young people. And I work for the incredible artist Chris Martin sometimes. I have done art handling sporadically. I waited tables for many years.
What forms first in your mind, a concept or a skill you want to explore?
Maybe a shape or color combo, or a way of applying a fabric... a visual idea.
Does where you live influence your work?
Oh yes. Brooklyn, Bushwick-Bedstuy, noise and chaos, and my quiet amazing studio above filled with light all day. I live in my studio so I'm sure that affects my work too.
Is there any kind of media that affects the way you approach your work (i.e. film, TV, radio, social networking, print)?
Ha -- maybe Facebook! How we share so many ideas there: pictures of our work, information about shows and invitations to so many openings. It really loops right through my artist social world.
What's the most important career break, you ever got?
My recent show at Horton was such a great experience for me. I was so happy to receive so much positive attention for the show. I was really grateful and honored by the experience.
What are the fundamental beliefs that drive the way you work?
I remain firm in the belief that the movement of the body can clearly articulate our narratives, our subconscious experiences, to the visual field. Perceptible stories from within arise without conscious effort. I also believe in the need to distract ourselves, to keep some part of the mind occupied to access the subtler layers of the brain. That's why I like to complicate my process again and again, to keep little challenges that make me struggle in new ways and stay alert. I also like to talk on the phone while I paint to occupy my mind on another task.
What comes first in your work, pleasure or pain?
First pain, then pleasure! Ha ha, maybe... I guess it changes. But I find I usually struggle for a long time first, then for a moment they start to come out easily! Then hard again... and on and on...
PHOTO GALLERY
Not Dead Yet: Bedsheets and Body Movements by Lauren Luloff