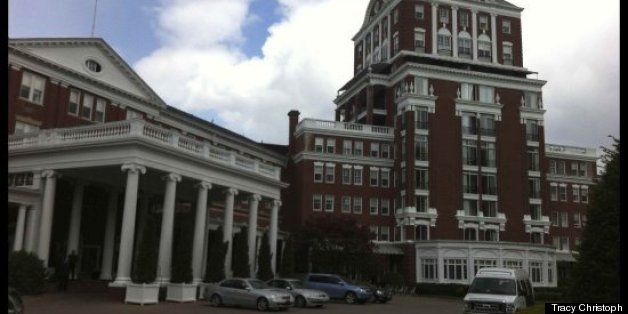 Whether it's a special occasion or a spur-of-the moment family getaway, it's important to select a destination that has something to offer everyone traveling in your party. That's why I brought my mother and daughter with me to The Homestead for a special, fun-filled weekend. It doesn't have to be Mother's Day to celebrate three great generations of women.
When I travel with family members I sometimes like to escape my day-to-day routine, which for me is flying (though I do love flying and taking amazing long distance trips via air!). I welcomed a family road trip to The Homestead in Hot Springs, Virginia. All three generations of women could catch up and tell each other stories while we enjoyed the picturesque Virginia landscapes.
I have visited The Homestead many times before, and I'm always excited to go back because it always has something new to offer. This resort and spa is located in the middle of the beautiful Allegheny Mountains, and its amenities are as spectacular as its grounds. Built in 1766, The Homestead is a National Historic Landmark that has hosted 22 American presidents. So it's no wonder guests feel so special during their stay. Even though the resort is centuries old, its countless features keep it timeless.
When planning family trips, always be sure to get everyone's input. I usually take the lead and organize my family's getaways. I make sure I do my research and gather all of the information, and then provide everybody with a few different options so we can collectively come up with a vacation that works for us all. This is why my mother, daughter and I chose The Homestead: there's something there for everyone.
To craft a great getaway that will be enjoyable for all ages, be sure to select a destination that offers a wide array of activities. For our Mother's Day vacation, my family chose to spend our time relaxing with spa treatments and eating good meals. For the ladies of my family, this weekend was about coming together for a moment in time to enjoy the same things.
I'm always sure to make the reservations for accommodations, dining and activities so that we have an itinerary upon arrival. This way, if we decide to go off and explore the property on our own, we always have an itinerary to bring us back together. What's special at The Homestead is the opportunity for guests to book reservations for everything from activities to dining in advance of their trips, and upon check-in, guests are handed a printed itinerary for their stay. The key to any multigenerational family vacation is to be sure that there's a perfect balance of structure and freedom for all travelers so the whole family can make the most of their time together while still spending their trip the way they want to.
During the day we all went swimming in the Jefferson Pools, an historic crystal-clear warm spring on the resort property. To make the experience even more relaxing, I ventured to the resort's new swimming area where I enjoyed a massage from the waterfall above that cascaded down my shoulders and back into the hot tub. We also spent time walking around The Homestead grounds and taking in the breathtaking views of the Allegheny Mountains.
The Homestead offers a long list of activities, ranging from archery, kayaking and paintballing for the more energetic visitors, to carriage rides and nightly movies for those wanting a more relaxing stay. Although I wanted to avoid creating a schedule full of hustle and bustle during this special weekend so that my mother, daughter and I could spend time enjoying each other's company, I took advantage of some of The Homestead's more physically demanding activities in the past and had a great time.
Whether embarking on a weekend jam-packed with activities or taking a trip more focused on R&R, I always recommend booking a few reservations and accommodations ahead of time, and leaving some time open to discover some local gems on your own. Do your homework and uncover great hotspots you think your family would enjoy and include these places in your itinerary. For instance, if you make your way to The Homestead, be sure to have a meal at Sam Snead's Tavern in Hot Springs, a popular local eatery located right outside the resort. My mother, daughter and I enjoyed the first dinner of our getaway here. We made a point of adding this dining experience into our schedule.
We were able to celebrate a Mother's Day tradition cherished by the women in my family: Enjoying a meal together that is not prepared by a mother. This is the one day she can truly enjoy herself and savor every moment. We enjoyed breakfast and dinner in the main dining room that provided ballroom dancing and a string band. The wait staff at The Homestead is just amazing. They are all so accommodating, bending over backward for guests. The food is incredible, especially the Allegheny Mountain trout, one of The Homestead's most popular dishes. And the presentation of the food is as delicious as the taste.
A resort like The Homestead is ideal for a mother-daughter getaway, but it could suit the tastes of just about anyone, regardless of age or gender. Guests are able to follow as strict or loose a schedule as they desire, all within the resort property, appealing to anyone from a child to a grandparent. And although my trip was planned to enjoy Mother's Day, The Homestead is a great place to celebrate many different occasions throughout the year. You know a resort is truly great when it has something to offer everyone.
I'm so thankful for my wonderful mother and daughter, so it's important for me to plan something special and memorable to celebrate together. Mother's Day should be celebrated at any time of the year, and it's a great time to take off, relax, get pampered and enjoy the company of your loved ones without being the caretaker for once. And The Homestead is the perfect place to unwind and be taken care of at any time of the year.
Follow my travels on Twitter (@Wingwoman_Tracy) and tell me how you pampered your mom on this special day and throughout the year.
PHOTO GALLERY
Just a Few Things The Homestead Has to Offer