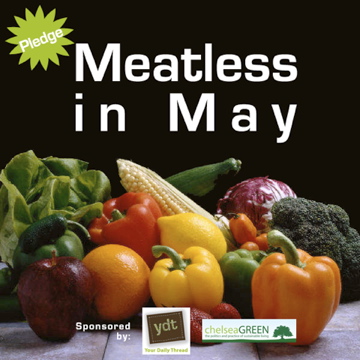 Your Daily Thread and Chelsea Green have partnered up to raise awareness about the beef with meat. The raising of livestock, specifically the factory farming of animals, is a major contributor of green house gases that pollute our planet. The raising of these animals creates 18% of global greenhouse gases, more than all of the world's cars and SUVS combined.
During the month of May we'll be cutting meat out of our diets and highlighting the environmental effects that meat production takes on our planet. Each of us who choses to go "meatless" will individually keep up to 420 lbs of carbon emissions out of the air.
Help our movement. Take the pledge at our "Meatless in May" Facebook page and show how you can make a difference.
The rules are simple for this campaign -- "meatless" means no animals (including fish). Eggs and dairy are okay.
Be sure to visit Your Daily Thread and Chelsea Green all month long for tips on living meat free, giveaways and interesting debates on how we can reduce our carbon footprint.