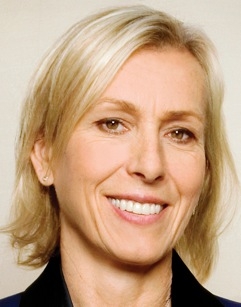 Photo used with permission of Scream Agency/ WFCO
Think Big. Be Bold. Make Change. This is the mission of The Women's Foundation of Colorado, so when they need a keynote speaker for their annual fundraising luncheon, they need a woman who does just that. This year the legendary tennis champion, Martina Navratilova takes the podium and is sure to bring to it the inspiring tenacity and will to win that she brings to all she does.
Navratilova is the champion's champion, winning 59 Grand Slam crowns and a record nine Wimbledon singles championships. Her off-court life has been a testament to social advocacy on behalf of equal rights and support of the LGBT community. One of the first openly gay sports figures, Martina knows firsthand what it takes to overcome adversity, set aggressive goals and find success as a woman in sports, and in life.
"Martina Navratilova is a true inspiration to us at WFCO and we are honored to host her as our guest speaker this year," said Louise Atkinson, president and CEO of The WFCO. "Last year, we were able to raise $800,000 during our annual luncheon and that money has significantly assisted in our cause to help girls and women become economically self-sufficient."
The Women's Foundation advocates for Colorado femmes through programs and strategic partnerships to ensure the women and girls of Colorado are full and equal participants in society. Working tirelessly to endorse legislative initiatives that affect low-income females, provide grants to help women succeed in becoming economically self-sufficient and sponsor mentoring programs to reduce drop-out rates among high school girls, the WFOC is a champion in its own right.
Enjoying lunch with Colorado's power-babes? I'm set. The pairing of Martina and The Women's Foundation is a match made in heaven.
The Women's Foundation of Colorado Annual Luncheon with Keynote Speaker, Martina Navratilova takes place Thursday, November 3, 2011 from 11:30 a.m. - 1:15 p.m at the Colorado Convention Center.
Tickets, tables and additional sponsorship opportunities are available at www.wfco.org