With the global uproar, the political circus, and our ever-shrinking humanity, there's not a day goes by when I don't ask "How do they live with themselves?" Playwright Jan Buttram brings the same question to the stage in the Abingdon Theatre's world premiere, Lost on the Natchez Trace.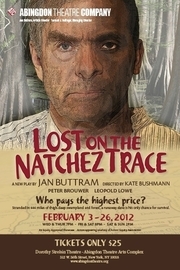 A thunderstorm in 1825 finds auctioneer Malcolm Jeters hanging from a tree in the swampland of the Mississippi leg of the Natchez Trace. He is discovered by Tom, a runaway slave, who clearly remembers Jeters from an auction he swears he's never known. Stubborn as the mule he fell from, Malcolm is stranded, injured and starving, his only hope for salvation is through the mercy of the slave he sold years ago. Ms. Buttram, with her sumptuous language, takes us through this negotiation and the journey of Jeters' conscience as he wrestles with his lies, truths, hopes, and deceptions like Jason and the angel. I spoke with the playwright about how this play got started and why produce it now.
JB: About 10 years ago, Peter Brouwer (Malcolm Jeters) and I were talking and the idea came up. Peter is, besides a brilliant actor, a professional auctioneer. A lot of his work comes from the philanthropic and non-profit sectors and I was fascinated by the idea of what goes on in the final moments of someone who has sold people for a living. How do you reconcile yourself with that? What would it take to make that okay?
TS: The script is very relevant today with our flaccid moral code.
JB: Oh yes. We've got investigations into ethical violations and criminal proceedings cropping up every day; white collar crime; Wall Street big-wigs..."
TS: Presidential candidates.
JB: Exactly. The truth of our lives is always more interesting than what we use to cover it up, but discovering the mysterious ways and whys of truth-evasion is where the fun is.
Buttrams' script is a tight and telling tale, which she unfolds perfectly while avoiding the quicksand of stereotype. Paced so that we may writhe with Malcom Jeters and stand for justice with the honorable Tom, we are ultimately, surprisingly, and mysteriously brought home to balance our own actions with the wrongs of our time.
Lost on the Natchez Trace is written by Jan Buttram, directed by Kate Bushmann, starring Peter Brouwer and Leopold Lowe. Running February 3-26 at the Dorothy Strelsin Theatre, 312 W. 36th St.
Photo courtesy of Abingdon Theatre.