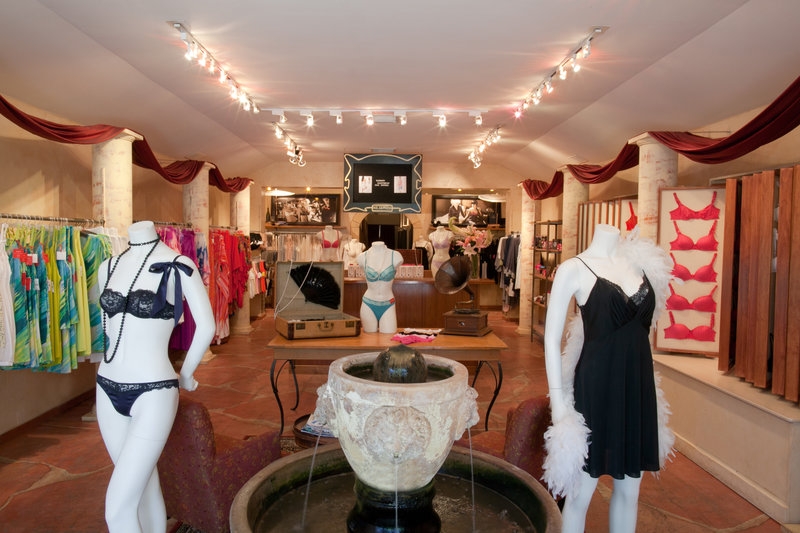 Shopping for brassieres is an activity that can send a gal rushing to refill her Prozac. You might end up spending an hour half naked in front of a mirror while some overly-caffeinated salesgirl sweeps in and out with a tape measure, a bit of attitude and a handful of the latest "AMAZING" magic-memory foam-underwire-gel-ultra-turbo-maxi-uplift contraption specifically designed for 20-year-olds and the surgically enhanced. Not that there's anything wrong with youth or a bit of silicone help, but, it's just that after a certain point, what looks great on an airbrushed "Angel" looks like hell on a grown-up, natural woman.
Enter SOL... store of lingerie, where a woman can hold her head and her bust line high. Now celebrating 15 years of superb service, SOL sisters, Cindy Johnson and Jeanie Peterson have grown their Cherry Creek boutique into one of the country's leading specialty lingerie stores, and before you hit the dressing room, you'll know why.
I took the girls in for a peek and what I found could easily become my new addiction. The shop itself is simple and elegant, a beautiful frame for the exquisite designs. Part art, part architecture, the European intimate apparel carried by SOL goes way beyond what you'll find at the mall. As we strolled through the display boards chatting about style -- body, bra and life -- co-owner/psychic/bra-fitter extraordinaire, Cindy Johnson led me to a private room, asked me what shapes I liked and what concerns I had, and left me with "I have a few things you'll like". No measuring tape, no calculation of rib-to-nipple ratios, no humiliation... just a simple 'be right back.' Her re-entry with a hand-picked array of lovelies and her adept handling of the proper fit, had me feeling like everything was in place and all was right with the world.
"How do you choose the lines you carry?" I asked, as I tried on one titillating tidbit after another. "Well, we used to go to the fashion shows and make lots of appointments with the designers, looking for, let's say, that perfect red bra. It was crazy. Eventually we learned which lines were consistent with the quality, style and structure that fit our vision, then narrowed it down to those who were also able to deliver on time, as ordered. We've taken years to cultivate relationships with the lingerie design houses and have been asked many times to step in as consultants."
What you pay for at SOL is more than snobbery of a luxury line of European lingerie -- it is expertise. This expertise and consultancy has earned Johnson numerous visits to the Today Show, where she shows America what's important in fit as she shows off what's in fashion.

The experience is the very definition of personal... and in a good way. Because they put their heart where their SOL is, they create deep, meaningful and lasting relationships not only with designers but with a loyal clientele.
SOL has plenty of ways to celebrate their birthday, starting with Wednesday's 1920's themed anniversary party, 5-8 p.m. at the store. Open to the public, guests will enjoy champagne, desserts, giveaways, in-store promotions and a special photo opportunity in a vintage Nash Roadster and special appearances from the SOL girl models. Proceeds from the evening's sales will benefit the Morgan Adam's Foundation, which raises funds and awareness for pediatric cancer.
Can't make that one? Join the Girls on September 6th for Fashion's Night Out, Take Me Out to the Rockies on September 26 (in our black and purple bras, of course!) or join Team SOL at the Susan G. Komen Race for the Cure on October 7th.