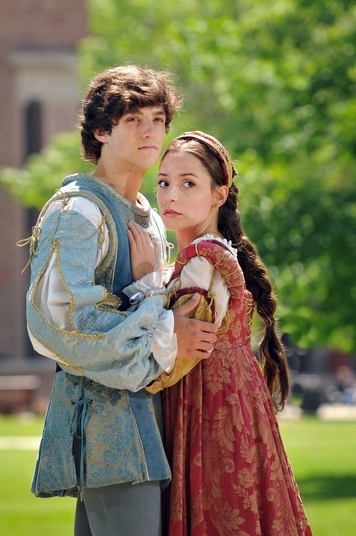 Okay, so the line means, "Why are you called Romeo," but work with me here. In a spirit of collaboration unknown to the Montagues and Capulets, Denver theatre companies are learning to play well with others. The latest in the one-show-two-venues vein happens as the
Colorado Shakespeare Festival production of Romeo and Juliet moves to the Arvada Center for the weekend. Shakespeare's classic love story settles into the amphitheater as part of the CenterFest program. R & J received critical acclaim for its CSF run in Boulder at the 1000-seat outdoor Mary Rippon Theatre, where a canopy of stars adds to the poetry or a downpour creates a comedy of errors. The Arvada venue is both intimate and communal, depending on where you sit. With 600 covered seats and room for 300 on the lawn, you've got room to spread out and have a picnic or enjoy an up close and personal experience of tragic love. This production packs up the stars and brings them along with Jamie Ann Romero and Benjamin Bonefant struggling to bring first love to full bloom against some worthy opponents. Denver theater favs Erik Sandvold, Leslie O'Carroll and Geoffrey Kent of the Denver Center Theatre, and Curious Theatre Company member, Karen Slack, provide a harmonious blend of character conflict and agenda.
So why the theatrical Kumbaya? For decades outlying denizens of Denver largely took in their culture by traveling downtown or choosing to stay close to home, patronizing the smaller theatre companies, but the grow local idea has taken root and it's a good one. Rather than seeing it as competition, crosspollination works for the bottom line of theatres and audiences alike; production costs are shared or deferred, and theater-goers feel more connected to their communities. (As a south sider I'll admit, the trek to Boulder is sometimes prohibitive.) Though show-sharing has happened before, the trend is growing with the 2011 opening of the Lone Tree Arts Center which will import cross-town shows in its inaugural season. All of this bodes well for our burgeoning cultural cult as Denver Center's embrace of the homegrown Buntport Theatre is a testament to.
Romeo & Juliet plays Friday and Saturday at 7:30 and Arvada's CenterFest program continues through the month with the Colorado Ballet & The Playground on the 27th and wraps up September 1 with The Denver Brass & the Arvada Chorale. Don't miss the gallery exhibits while you're out. Kirkland Museum lends decorative art in Time Travel, Michael Gregory's Western Construct is stunning and Structures in Cloth is sure to amaze the not-so-nimble fingered.
Photo courtesy of Colorado Shakespeare Festival