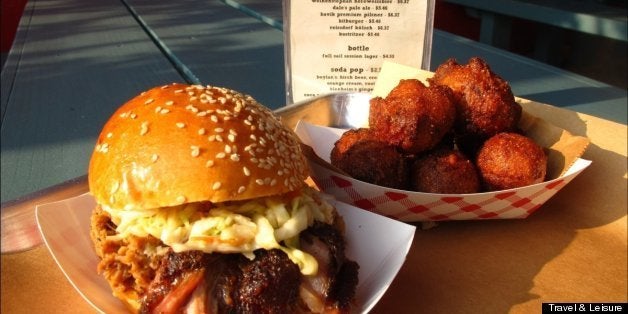 Dry rub or marinade? North Carolina vinegar or Kansas City sweet sauce?
Although the classic barbecue debates rage on, the new generation of pit masters is less interested in regional styles -- they're too busy sourcing heritage meat, experimenting with nontraditional flavors, and pairing fall-apart-tender ribs with serious drinks.
At his open-air smokehouse in Fort Worth, TX, for example, Tim Love's signature dish, a bone-in beef shank, is served South of the Border-style, with spicy ricotta, borracho beans, and house-made flour and corn tortillas. The menu includes paella of seafood and rattlesnake-rabbit sausage cooked over an open fire and ramen made with leftover bones. Explains Love: "We're trying to open people's mind to the ways that you can cook with wood."
Many new BBQ joints treat sauce preference less like religion and more like, well, preference. You get to choose your adventure at Chicago's Bub City, where on-table offerings include a sweet, tomato-based sauce, a Worcestershire-spiked sauce, and Louisiana-style hot sauce. It's enough to get us fired up about the future of barbecue.
PHOTO GALLERY
America's Best New BBQ (PHOTOS)