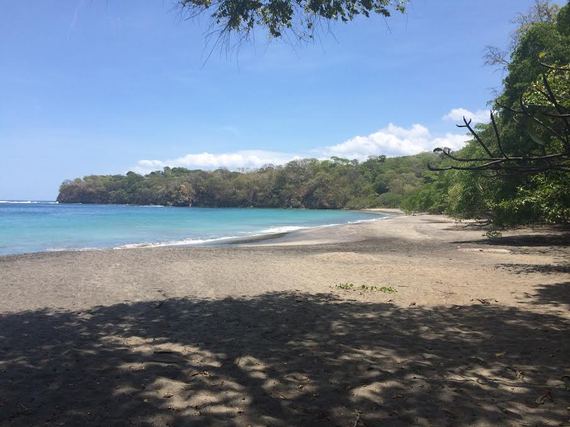 (Photo Credit: Hilary Solan)
Having worked at Travelzoo long enough, it had been drilled into me that Costa Rica's dry season runs the months between Christmas and Easter and is considered by many the optimal time to visit the ecologically diverse country. But after talking to enough colleagues who had been and other travel writer friends, I got the scoop on a dry period on the Pacific Coast that can take place in summer, called a veranillo (little summer). The period of reprieve from the rain, lasting only a few weeks, can occur sometime between July and August -- a time when prices at the hotels and resorts can be as much as half off the cost of staying later in the year.
Many first-time guests are drawn to the Caribbean side for its adventurous activities and its proximity to both the iconic Arenal Volcano and the airport in San Jose. Yet, not one for heights or bug bites, the calming Pacific side appealed to me, and I booked a trip for the first week of August and made a wish for sunnier skies.
The Guancaste province, which runs along 400 miles of ocean, has the fewest number of residents, a handful of small cities and a shared border with Nicaragua. Domestic airlines including United, America and Delta fly into the Liberia International Airport, which was a quick half-hour drive to my stay at a property banked on the bright blue waters of Culebra Bay at Peninsula Papagayo.
Travelzoo Tip: Roads across the country are tricky to navigate and difficult to drive on. For trips like mine on the Pacific, it was cheaper and easier to hire a car service than rent my own. The cost of car insurance coverage in Costa Rica can be as much as your flight, depending on a variety of factors. If you do decide to rent, getting four-wheel drive is a must.
Thanks to a lot of luck and my careful planning, I did find a veranillo upon arrival -- full sunshine greeted me each morning and temps pleasantly stayed in the high 80s daily. My days were pretty lazy and sun soaked, but those seeking an adrenaline high don't have to look far. Some popular places in the Guancaste province include:
Palo Verde National Park boat tours: Spot monkeys, exotic birds, iguanas and more wildlife during a leisurely tour of the Tempisque River. I can now say I've been within arm's length of a 16-foot crocodile and lived to tell the tale. The spotter and guide in our group were real eagle eyes; they even found a juvenile crocodile, lounging on the base of a tree, who was no bigger than the length of my hand.
Llanos de Cortez Waterfall: This hidden gem not too far off the beaten path is a must on those muggier days. The price of admission to the cold waters is a small donation to a local school, and the area around the waterfall is a prime place for butterfly spotting and those looking for an easy hike.
Rincón de la Vieja National Park: Our tour guides said the most beautiful views could be found here, a park that's home to paths for hiking in the semi-deciduous forest, zipline courses, horseback riding trails plus a spa offering natural volcanic thermal springs and mud baths.
-- Hilary Solan is an editor at Travelzoo and based in Chicago. Travelzoo has 250 deal experts from around the world who rigorously research, evaluate and test thousands of deals to find those with true value.