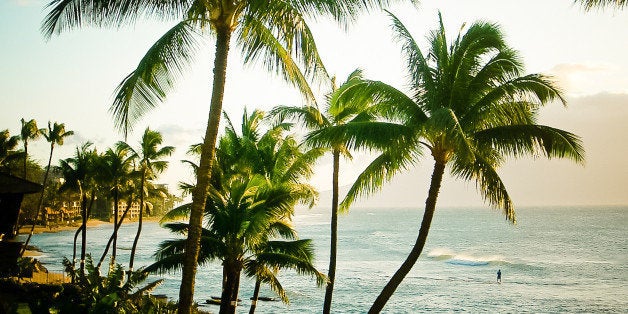 Mapping out my first Hawaiian vacation was both a thrilling and challenging experience. With just about 10 days to explore our 50th state, I wanted to ensure I made the most of my time on the islands after the arduous trek from New York City (nearly 11 hours). After polling good friends and fellow Deal Experts at Travelzoo, it was settled: Oahu, Kauai and Maui (the Big Island didn't make the cut this time around, but its volcanoes are on my list for the next Hawaiian adventure).
Hawaiian Airlines offers affordable and frequent inter-island flights, so hopping around is quick and easy. Also note, a rental car is a must when on the islands, as you'll want to explore and most sites are a fair distance from each other (Jeeps are great to have for those tough, unpaved roads you'll frequently come across).
Oahu: From the fame of Waikiki to the North Shore sands
Most travelers find themselves on Oahu, as Honolulu is a major hub for Hawaiian flights coming from the U.S. mainland and abroad, so a few days here is really essential to any (or at least your first) Hawaii trip. Waikiki Beach, the famous strip with the strongest concentration of hotels on the island, is the popular choice for dropping your suitcase and setting up an umbrella. Thanks to a Travelzoo deal, I wound up at the Trump Waikiki Beach Walk, a 5-star hotel ranked No. 1 on TripAdvisor that stunned with service and style.
Don't miss these on Oahu:
Best snorkeling: Hanauma Bay Nature Preserve, just 20 minutes outside of Waikiki, is teaming with bright, friendly fish that don't flee at the site of snorkels and fins. Sea turtles can be found frolicking around the coral as well. Admission is $7.50 per person and $1 for parking, so if you bring your own gear, it's definitely worth the small fee.
Favorite fun in the sun spot: Mokuleia Beach on the North Shore, better known as the setting of the wildly popular show "Lost," boasts miles of white sand beach backed by verdant mountains, azure waters, and pure seclusion -- really, the closest food or restroom is nearly 10 miles away.
Maui: Craters, curves, whales and trails
This island is consistently ranked as one of (if not) the best by Conde Nast Traveler and Travel + Leisure. Drive up to Haleakala Crater (many say sunrise is the best time to visit) and explore the island's only dormant volcano, but do it very slowly (you'll be more than 10,000 feet above sea level at the summit) or tan with the upper crust at Wailea Beach, home to many luxe resorts.
Make sure to visit both sides of the island: Ka'anapali was bustling with visitors and the Westin boasted large rooms and prime beachfront real estate; Hana was secluded, tranquil and home to Travaasa, an oceanfront retreat offering free yoga, coconut husking and smoothie classes.
Don't miss these on Maui:
Best place to shop: Front Street in Lahaina on the west coast is lined with shops, restaurants and bars. It might seem like a bit of a tourist trap, but it serves its purpose for a nice walk along the water and some quintessential Hawaiian souvenirs to bring back home.
Best place to spot whales: Ka'anapali Beach, dotted with most of Maui's big name resorts, is a great place to lay down a blanket and scout out humpback whales from mid-December to mid-April. If you're not seeing much from the beach -- try a two-hour whale watching tour (most depart right from the beach) complete with pupus and drinks.
Best drive along the island: The Road to Hana is winding, long, treacherous and one of the most unforgettable experiences you'll have on the island. From the effortlessly cool hippie town of Paia to the Seven Sacred Pools, there is no short supply natural beauty on this scenic drive.
Kauai: The perfect movie set
Jurassic Park, King Kong, The Descendents, South Pacific... need I go on? All of these movies and plenty more are filmed in the lush, tropical jungles and along the sands of the picturesque beaches of Kauai. Stand in awe as you look at Waimea Canyon, the "Grand Canyon of the Pacific," grab the best (and perhaps first) tuna burrito of your life at Kilauea Fish Market and continue driving up to Hanalei Bay -- the inspiration for Bali Hai. The St. Regis Princeville overlooks this majestic mountain and offers five-star service to boot (don't worry, the town of Princeville offers more budget-friendly options as well). Note: Keep in mind, Kauai tends to get a good deal of precipitation, especially up north during the winter months.
Don't miss these on Kauai:
Best outdoor activity: Drive all the way up north until the road stops, literally. Here you will find the beautiful Ke'e Beach and the start of the Kalalau Trail. This hike may be 11 miles in its entirety, but most visitors tend to do the two mile trek up to Hanakapiai Beach, full of spectacular coastline views. Note: Be careful during storms as flooding does occur regularly. Most of my trek was during heavy rainfall and I needed to turn back before reaching the beach!
Best way to see Kauai: From the sky. Take a helicopter tour! I went on a tour that leaves out of Lihue Airport. The tour lasted just about an hour, but I wish it could've gone on longer. The pilot was incredibly knowledgeable and the views were out of this world -- the Na Pali Coast, "Jurassic Falls" and Waimea Canyon were just some of the top sites. As only 30% of Kauai is visible from the ground, taking a helicopter tour is the only way to witness Kauai in its full glory.
Have a taste of all the islands and remember, you can always go back to the one(s) you like the best!
Erin Oliveri is a deal expert at Travelzoo and is based in New York. Travelzoo has 250 deal experts from around the world who rigorously research, evaluate and test thousands of deals to find those with true value.