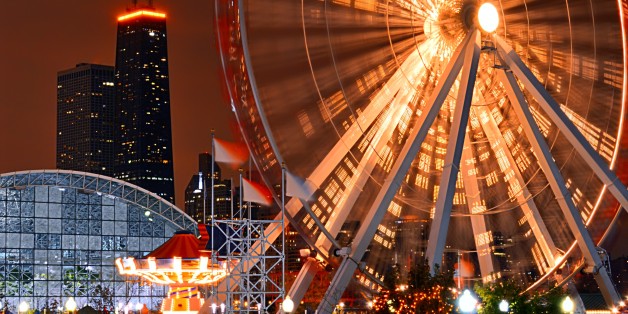 Lots of people who live in major vacation destinations make a painstaking effort to avoid "tourist spots."
I am no such local, and have loved visiting Navy Pier in Chicago for more than 10 years. I love the view of the city, the glittering lights, the huge boats and the boardwalk atmosphere. But mostly the glittering lights.
The key to enjoying such destinations is to know what you're in for and plan ahead. My first trip to Navy Pier was soured by the impenetrable crowds -- because I went on a Saturday afternoon. On the weekend, especially in the summer, be prepared to encounter crowds. You'll have a better time if you manage your own expectations.
The other critical step is doing some research on activities, shows and events. Typically, spots like Navy Pier are overpriced, because let's face it -- you'll visit them anyway. So you can imagine my surprise when I discovered that you can ride the Ferris wheel and play a round of mini golf for $12.
Here are some of the best values I've found at Navy Pier, and one additional value tip: Don't go there hungry.
You-Ride-2 Value Ticket for12: Navy Pier has a few rides, including a Ferris wheel from which you get a great view of the city, and a mini golf course. For $12 per person, you can pick any two of these attractions. There are lines from time to time, but my wait has never been outrageous. Not only is this great for families, but also it's a refreshingly unique date. Try it next time you're tired of "getting drinks."
Landshark Beer Garden: The beer garden at Navy Pier hosts tons of live bands in the summer, and all you pay is the cost of whatever food and beverages you order. Sometimes, there's even a live salsa band, and the session comes with a free dance lesson so you can partake in the festivities.
Check the website ahead of time: Navy Pier's website has a deals section with the latest offers, including a coupon book for activities and restaurants on site plus savings at the Chicago Children's Museum this summer.
Opt for the free trolley: Parking can be pricey here; the Navy Pier Trolley services the Grand Avenue Corridor from Navy Pier to State Street at the El redline stop.
Fireworks: Summer in Chicago. Free fireworks, choreographed to music, every Wednesday and Saturday. Enough said.
Visit Travelzoo for hotel deals in Chicago or Local Deals for restaurants, top-rated spas and activities.

-- Kristyn Schiavone is a Travelzoo Deal Expert based in Chicago. Travelzoo has 250 deal experts from around the world who rigorously research, evaluate and test thousands of deals to find those with true value.