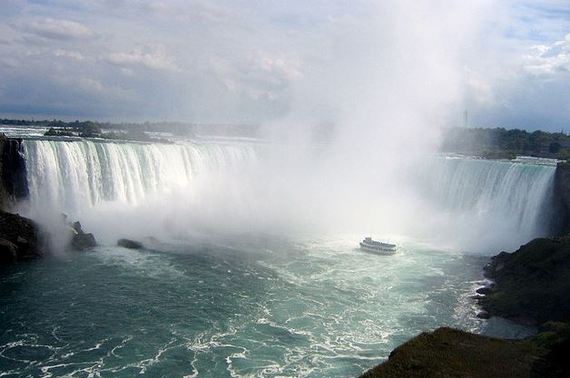 Image courtesy of Flickr
Visiting Niagara Falls in fall, as I recently did, is a great way to avoid the crowds typically associated with this heavily touristy area. Plus, you can score great deals. Sure, you'll need to bundle up, and taking the boat right up to the Falls can be a bone-chilling few minutes, but I'm glad my visit to this must-see natural attraction was during this time of year.
A few tips for first-time visitors:
• Arrive in town with an open mind: The Falls themselves are beautiful, but the town itself is certainly a little kitsch. It's kind of a shame because the main attraction here should be nature itself, but with the right attitude it shouldn't detract from the experience. We had a bit of fun with it, even gambling at the casino one night and indulging in a few guilty chain dining pleasures.
• Speaking of dining, it pays to do a little research: In an area that attracts so many visitors, there are a ton of options, including some that are overpriced or not up to snuff. With a car, we visited a few off-the-beaten path spots more frequented by locals. We found a quirky diner for breakfast (Regal Diner) and a cute trattoria (Angelo's) from their positive Yelp and TripAdvisor reviews.
• Don't miss the boat: It's pricey, relatively brief and shared with hundreds of your closest friends, but the experience on the Maid of the Mist Boat Tour was a true highlight of the trip. The views from above the Falls are certainly great, but you gain an entirely different perspective when you're soaked and screaming over the roar of rushing water.
• Set aside a day to visit Niagara-on-the-Lake (or even spend a night there): This nearby town feels a million miles (or kilometers) away from the Falls with a picturesque main street, tons of wineries and beautiful winding roads with foliage and water views. Try the ice wine. I didn't care for it, but I'll admit it's not like anything I've tasted!
• Toronto is a great city to pair with a Niagara visit, especially if you are flying in. Canada's largest city has a distinct food culture, friendly locals and unique neighborhoods, and is a scenic 90-minute drive to the Falls. Traveling in the fall had the added benefit of beautiful fall foliage. We combined Niagara and Toronto into a five-day trip, and that was just enough time. We had a relaxing couple of days in the Falls and enjoying wine country, then picked up the pace with a fun weekend in a city with tons of entertainment and dining options.
Travelzoo Tip: Deals for the Niagara area abound at this time of year, and the deal experts at Travelzoo have seen discounted by up to 60% for stays into January. The Travelzoo website has several top hotel deals in Niagara.
Peter Vanden Bos is a publisher at Travelzoo and based in New York. Travelzoo has 250 deal experts from around the world who rigorously research, evaluate and test thousands of deals to find those with true value.