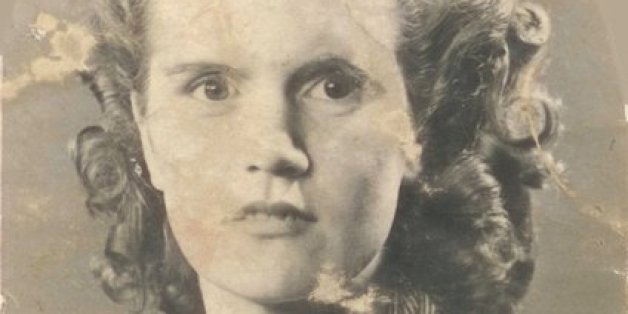 This is my mother's passport picture. She was pregnant with me when it was taken.
When I was a little girl, my mother used to send me out on errands. I loved any excuse to shop, even then, and I took it quite seriously.
I remember one time she gave me her list and a five-dollar bill and off I went. By the time I got to the A&P, I had the list, but no money.
I retraced my steps in a panic -- every square inch from the store back to our apartment door. But no luck. I stood in the stairwell wondering how I was going to tell her. Five dollars then was a great deal of money. I went into the kitchen and stood there sheepishly.
"Lassie, where are my groceries?" she asked in her soft Scottish tones.
"I lost the money, Mom," I blurted out, on the verge of tears.
She looked at me a moment, then came over and put her arm around me.
"Well, I hope the person who finds it really has need of it," she said matter-of-factly.
My mother died 25 years ago -- far too young -- but memories of her come back effortlessly.
I think of her coming by ship, the Franconia, from Scotland to Canada in 1953 with my two sisters and me, just a babe in arms. My father had come ahead of us to find a job and a place for us to live. To give her children a chance at a better life than hers she left behind post-war Glasgow and her beloved Scotland. In many ways, it is where her heart remained.
Her name was Catherine. Her favorite song was "Imagine" by John Lennon. Her favorite color, yellow. She knew the words to just about any song you could name and would sing at the drop of a hat.
Mom was famous for her turns of phrase. If I was depressed, she'd whisper to me, "Cheer up, love. It might never happen." Whenever I'd protest about her doing too much for me, she'd say lightly, "It's nothing to me." "Don't be a klipe" told us not to tattle-tale. "Haud yer wheesht!"meant be quiet.
She read everything she could get her hands on and was wonderfully au courant. Children gravitated toward her and her to them. At family get-togethers, you could always find my mother off with the kids somewhere, giggling and up to something.
My father and her taught us all what a good marriage should be. I used to tease her that theirs was an impossible act to follow. They were truly a team and weathered many storms together, particularly in their early years as immigrants. Dad was a reserved man, but if pressed, would recount the first night he met her at a dance in Glasgow and how he knew, within minutes, she was the one for him. And that never changed. "Would you put me on the straight and narrow?" he asked her the night they met.
Dad only outlived Mom by a year. This alone convinced me there is such a thing as a broken heart.
I loved Mom's irreverence and how different she seemed from my friends' mothers. She was a feminist long before the term was coined. Her four children could always tell her anything, no matter what it was. She'd married late and worked in a munitions factory during the war where she lost half of a middle finger in a punch press. On nights when we couldn't sleep, we'd stay up late and watch old movies. She would let us sit quietly beside her. I remember those nights perfectly, snuggling up to her, watching the flickering black and white images on the small TV screen, and the marvelous scent of her Chantilly perfume.
"Who's that?" I'd ask, repeatedly, of the faces on screen. "Well, that's Vivien Leigh," she'd answer. "She was born in India and died of TB. She always seemed so sad." Her delivery always made it sound as if she was divulging a secret.
Come morning, our clothes would be hanging neatly on chairs, with Mom at the stove stirring porridge.
I don't know where she learned how to do it: Her own mother was a stern, unforgiving woman from County Cavan in Ireland, who married my grandfather so he could teach her how to read and write. My grandmother signed her marriage license with an X. Although I don't remember Mom speaking of her unkindly, I do remember her telling us she wanted to be the mother that she'd never had.
My mother encouraged our education above all else. She didn't care if her girls or her one son knew how to turn out a gourmet meal; our studies were always more important. She hadn't the chance of schooling in Glasgow. At the tender age of nine she was sent to work, sewing coats for furriers. Mom wanted more for us.
When I quit university halfway through to take a job in England, I'm sure she was disappointed, but never let on. At the airport before leaving she handed me a beautiful leather diary for recording all my "adventures." That diary is long since crammed with my memories of those years overseas but I treasure her gift for another reason, because it showed me the faith my mother always had in me.
There are so many powerful memories. I remember coming to her, a scrawny, ugly child, wishing my world would end after a schoolmate's callous remark.
"Never mind, Lassie," she said. "You'll shine. I have high hopes for you."
My mother gave me my sense of who I was, who I could become. She made me feel valuable when no one else could. She told me I was beautiful. To her, I was.
I take comfort that she'll never really be gone. Whenever I look at my face in the mirror, I see her eyes shining out through mine. She's here when our house rocks with laughter -- she was always so quick to laugh. She's here when I feel compassion for others and every time I consider someone else's feelings before our own. She's with me each time I hear a Scots accent or see a mother and daughter enjoying one another.
Through her illness, I never saw her cry or heard her complain. "Don't be sad, Hen," she kept telling me toward the end. I consider myself privileged to have had her for the time I did. But she was gone too soon.
The last time I saw her I sang to her, one of her all-time favorite songs, "Misty Islands of the Highlands." The room was dark and the hospital corridors hushed.
Then I bent over her and whispered in her ear, "I'll remember you, Mom. And I'll tell others about you."
This is the telling.

This story appears in a slightly different version in Tricia McCallum's book of poetry Nothing Gold Can Stay: A Mother and Father Remembered (2011).