When it comes to canceled TV shows with cliffhangers, I've had enough. And who hasn't?
It's never fun to wake up one morning and hear that a beloved TV series has been canceled. But there's something especially appalling about a show being axed when the current season of that show has just ended on a cliffhanger. When shows are canceled, fans who have welcomed the show's characters into their lives are simply kicked to the curb along with the show. It's insulting, so let's fix the problem with a "Plus 2" rule.
I heard of the recent cancellation of The Glades a few days ago, and I'm still gnashing my teeth. Even though it's not cool these days to confess to a TV habit, I'm not ashamed to admit that I love good TV, and The Glades was, for me, good TV. There are shows that you DVR to watch when the mood strikes. Then there are the shows that cause you to practically set the remote on fire trying to get them onto your screen. You just don't want to wait. The Glades was one of those shows for me.

I loved all of the characters on The Glades, and even though the lead character, detective Jim Longworth, spent nearly every episode accusing the wrong person again and again, it was an enjoyable process to watch. But it was the personal stories that were the most engaging for me. The relationship between Jim and just about every other character on the show was unique, and each of those relationships kept me wanting more. Whether it was the ever-blossoming, sometimes troubled, love between Jim and Callie, or the best bud's bond between Jim and Carlos, I always looked forward to what was coming. Even the less-featured characters, like Jeff, Daniel and Colleen, were a perfect fit for the show. But now, I can't enjoy any of it. A&E has seen fit to give the old heave-ho to The Glades without so much as the tiniest regard for the fans who have invested four years into it.

Now, as Callie awaits Jim at the altar, our hero detective will forever lie in a pool of blood after being shot, front and back, by an unknown assailant. What a terrible end to a series. And sadly, it's not just The Glades, or just A& E, responsible for this current TV show bloodbath. Virtually every network is guilty of not giving the fans their due, and isn't it about time that such blatant disregard just stopped? The way that shows are ordered and canceled by the networks is broken. Let's change that.
Let's create the "Plus 2" rule. The rule would be apply to any TV series that features a continuing storyline or a competition. It would work like this. If a show has aired a majority of its first-season episodes, the network would have to give cancellation notification with enough lead time for the show to utilize the last two episodes of the season to wrap up the storyline. But if a show has aired beyond a single season, the networks would be required to buy an additional two episodes of the show, even after notification of cancellation, no matter what. The two additional episodes would give any series the time to effect closure. It's the least we deserve. I'm tired of investing myself in great shows that for whatever reason don't seem to please the networks' head honchos, who by the way, all seem to have the attention span of gnats. Nowadays, in the networks' eyes, it's perfectly acceptable to axe a show after only one or two episodes, without giving the show any real shot at finding an audience. Some shows deserve the early slaughter, but others don't. I can't count the number of shows we've taped in our home, only to discover that before we can even get to them, they are ashes to ashes, dust to dust.
Fans, not advertisers, are the true bread and butter of TV shows. That we are treated so disrespectfully by the networks is unforgivable. Hollywood needs to step up and make it right.
I've lost countless shows that I thoroughly enjoyed, and now, in my mind's eye, I just keep seeing poor Jim lying there, writhing and bloodied on the floor of the newly-acquired home that he and Callie were to share, and I want to know who shot him and what the outcome will be.

That I'm still thinking about this many days after the cancellation announcement makes me wonder if such lack of closure is even good for a body's health. I wonder if psychiatrists or therapists could shed some light on what such thoughtless behavior by the networks really does to the viewers. I think it's a safe bet that the unhappiness of not knowing what happens to favorite characters is a trigger for a lot of unpleasant feelings. After all, anything that stays on your mind in a disagreeable way can be unhealthy.
It's true that in the broader scheme of things, the airing of any particular TV show isn't the least bit monumental, but that doesn't mean that the networks' behavior doesn't matter. Sure, I will get over the loss of The Glades, but not before frustration, anger, and sadness from the lack of "series resolution" makes me unhappy. The truth is that none of us should have to mourn the loss of a favorite show simply because we enjoyed that show enough to be loyal to it. The networks are responsible. Maybe it's time they actually took some responsibility.

According to their web site, "The Academy of Television Arts and Sciences is a nonprofit organization devoted to the advancement of telecommunication arts and sciences and to fostering creative leadership in the telecommunication industry." Well perhaps, it's time for some of that "creative leadership" to do more than just hand out Emmys. Perhaps it is time that the organization actually flexes its influence in whatever capacity it can to affect a positive change about how shows are canceled. It's time to address the desires of the very people who keep the industry alive...the TV viewers.

A "Plus 2" rule is a simple fix. It would benefit every single fan of every single show, and more importantly, it just might make trigger-happy network execs think before acting. Getting them to think of the viewers, and not just of the pennies in their coffers, probably won't happen, but one can dare to dream. Yet, regardless of whether or not network executives will ever discover what it feels like to take the interests of the fans to heart during decision making, the "Plus 2" rule should apply. Fair is fair. The cost of the extra two episodes should simply be a part of doing business for any network, and those networks need to suck it up and play fair with the viewers.
A&E may be the target of my personal displeasure right now, but they are no different than all of the other networks. They've all exhibited the same callous behavior, and they will all continue to do so, unless something changes. But if we remain silent, we are culpable in our own misery, so I loudly protest those awful unresolved cliffhangers.

I'm going to miss The Glades, and that's a fact. But I would miss it a whole lot less if someone first scraped poor Jim off the floor, saved his life, and wrapped up the storylines of all of the show's main characters.
"Plus 2" . . . I wish it was the new reality of TV.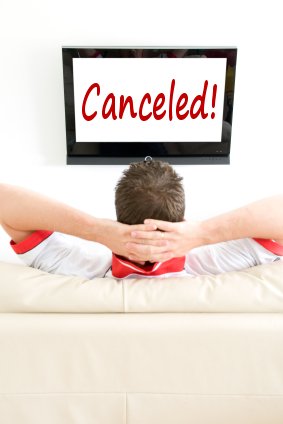 photo credit: mikkelwilliam/iStock.com