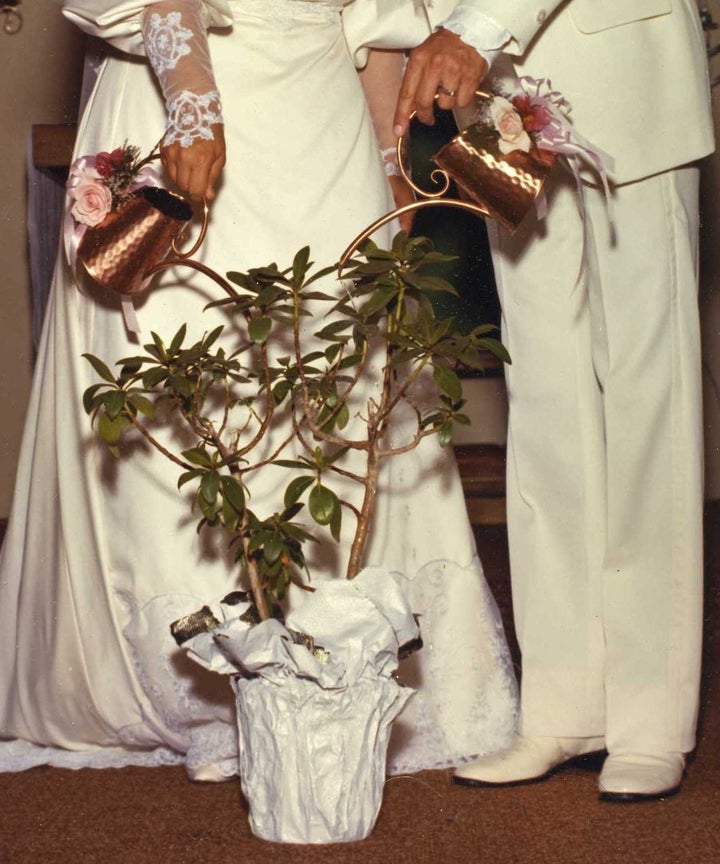 When I first began to plan my wedding, I didn't realize how quickly expenses would add up. That's a mistake no bride-to-be should make. Costs matter. Even little costs can escalate into big costs when "add-ons" are offered and accepted. A case in point is the engagement or wedding announcement in your local newspaper.
If you live in a rural community that offers only a weekly periodical, your upcoming marriage may already be headline material, and your chances of getting the word out for little or nothing out-of-pocket are pretty good. But a daily newspaper that serves a bustling metropolis will charge hefty fees for announcing your engagement or your marriage. Most newspapers charge by the line, and saying more than "Bob and Sue are getting married" could set you back considerably. Adding a photo, border, bolding, or extra words will escalate the expense even more. Still, even in this digital age, it's nice to have a tangible, hold-it-in-your-hand announcement in the newspaper. After all, a wedding is truly big news. In fact, it's one of the biggest events of your life. So how do you create that announcement without breaking the bank?
For me, it happened by accident. I longed for a different kind of wedding ceremony. I wanted to express hope and confidence in my union with my soon-to-be husband, and I wanted a symbol of "strength" to stand with us at the altar. For me, that symbol was trees. I've always been enamored of those beautiful, silent vanguards of life. Trees thrive against all odds, and if they could talk, imagine the tales they could tell. I feel so connected when leaning against the bark of an ancient tree, wondering who, centuries ago, did exactly the same thing. So trees it was, 25 of them in all. They were two-foot saplings, ensconced in white-foiled pots, and they created an arc around us at the altar -- 12 on my side,12 on his and one, "our" tree, directly behind us. At a designated ceremonial moment, accompanied by the gentle strains of an acoustic guitar and the mellow voice of our soloist, we each began to water the twelve trees on our respective sides, eventually meeting in the middle to water "our" tree together. When finished, we rested our flower-adorned, copper watering cans on either side of the tree then clasped hands. As the music faded away, we simultaneously vowed to each other: "And as this tree shall grow fuller and stronger, so shall we."
We kept our tree (which has now stayed full and strong for 30 years) and shared the other 24 with friends and family who planted them all over the country in honor of our union. To this day, just knowing they are out there is a source of happiness. Our "tree experience" was everything I envisioned it would be. But before it ever took place, the world knew it was coming.
I had contacted our local newspaper, which happens to have one of the biggest circulations in the country, (with costs to match), to inquire about placing an announcement. The salesperson and I began chatting about the wedding, and I mentioned the trees. I even shared that my earth-loving sister had promised to bring good Illinois dirt all the way to California to give those trees a healthy start. The next thing I knew, I was speaking with the newspaper's "Lifestyles" editor about my wedding, and as they say, the rest is history. Instead of having to pay for an announcement, my upcoming nuptials were deemed a unique event of human interest for the newspaper's readers. And when something is newsworthy, newspapers report it. Because of that determination, we did not have to pay the hundreds of dollars it would have cost for our engagement announcement, or a penny for the professional photo, taken by a photographer from the newspaper, that accompanied it. It was a perfect win-win.
That was years ago, but the possibilities remain just as true today. News is news, and human interest stories are just as actively pursued. So when planning your wedding, think about your own "special something" that might prove to be newsworthy. It surely doesn't have to be trees. It simply has to be something of interest to a newspaper's readers. Is there an unusual aspect about your engagement, your wedding day, or your upcoming lives together as a married couple? If so, share that "uniquely you" circumstance with the "Lifestyles" editor of your local newspaper. You just might find yourself pleasantly surprised on more than one front.
And, the best part? Scoring a free announcement translates into a nice chunk of saved change that can more enjoyably be spent on the honeymoon!
Below, a photo of the author and her husband watering "their" tree.