Ayesha D'Mello demonstrates how to make Indian tea (masala chai) at home. There are many wonderful varieties of chai -- this version is made with cardamom. Enjoy chai with your breakfast in the morning, after lunch when you need a pick-me-up or on a rainy day. Recipe below.

Other Video Bites with Ayesha D'Mello:
Winter squash with coconut sauce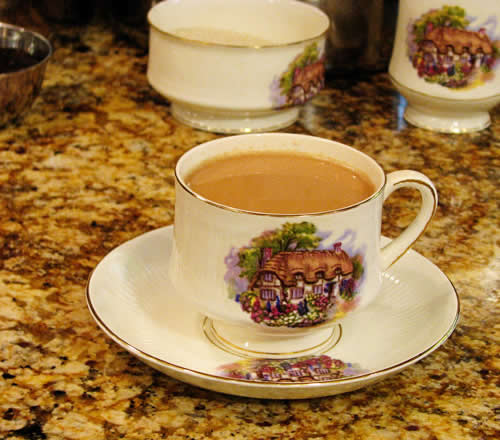 Cardamom Masala Chai
Indian tea
Serves 3-4
Recipe by Ayesha D'Mello of Ayesha's Kitchen
TIME
5-7 minutes, depending on fast water boils on your stove
INGREDIENTS
3 ½ cups water
2 tsp. loose black tea leaves (about ½ tsp. per cup)
2 tsp. sugar (or to taste)
½ cup half and half
¼ tsp. cardamom pods or seeds
TOOLS
Tea kettle
Coffee grinder
Heat the water in the kettle. Meanwhile, add the loose tea leaves, sugar, half and half--yes this is a one pot creation. Then grind the cardamom seeds in a coffee grinder -- it's best to use a grinder you dedicate to your Indian spices as the aromas can linger. Fresh ground cardamom yields a much more distinct taste than the powdered spice. Put the cardamom in the kettle and cover it. After about two minutes, the chai will start to boil and froth and the tea leaves will come up. Take the kettle off the heat -- you don't want to let the tea leaves sit in the chai too long as the tea will become bitter. Strain out the tea leaves as you pour the chai into your cup and enjoy!
D'Mello teaches Indian cooking classes through Ayesha's Kitchen. Be sure to sign up early if you're interested in a class-they tend to fill up early. Read about my experience in her class -- the best part is enjoying all of the food afterward.
Originally posted at Miami Dish.