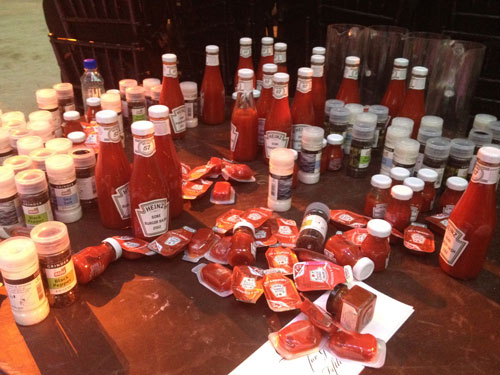 Photo by Leticia De Mello Bueno
Click here to listen to my WLRN Miami Herald News story about what happens to the leftovers from the South Beach Wine & Food Festival.
After the South Beach Wine & Food Festival wraps up and folks stumble on home, the tents are put away. Party-goers face the work week and their impending juice diets. I wondered, "What happens to the leftovers?"
A lot of the food goes to Feeding South Florida in a massive "food rescue" effort coordinated by Brian Phelan of Feeding South Florida, along with fellow employees and a small army of volunteers from FIU and UM. It's not just the hospitality students either. The night of the Burger Bash, there was a large crew of students from the school of social work.
This year, Phelan estimates that his team rescued 33,000 pounds of food -- more than enough to feed every single person watching the Heat play in the American Airlines Arena and then some. This isn't food that was ever placed before guests. For health reasons, they can only take food that was safely stored away in coolers or hot boxes.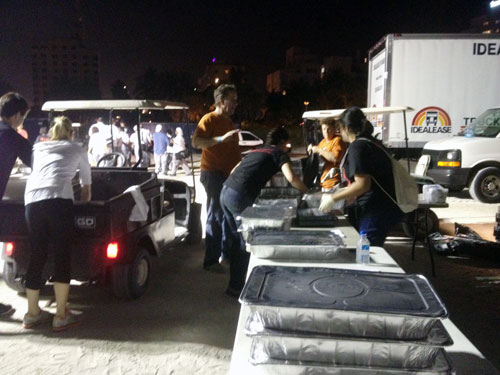 After the Burger Bash, Brian Phelan and the rest of the Feeding South Florida team weigh and sort food before loading it into the refrigerated truck. (Leticia De Mello Bueno)
The food goes to places like Helping Hands, a soup kitchen and community center in Boca Raton where families can enjoy a different menu than they would typically eat on a Monday night. They might partake of buffalo burgers, pulled pork or lamb burgers left over from the bash or some pasta with fresh vegetables and a gourmet sauce donated after the Grand Tasting. The usual Monday night menu at the soup kitchen? "Beef stew," says James Gavrilos, director of Helping Hands.
"People have an image of your average person in a soup kitchen and what they're picturing is a guy with a scraggly beard, a torn jacket. The reality is very different." Gavrilos says many of the people who visit the soup kitchen are families that have homes and in which one or two people might have jobs. Yet they just aren't making it. For them, a restaurant-quality meal like this might have once been an ordinary affair, he says, but now it's an unaffordable luxury.
For more photos of the food rescue after the Burger Bash, visit Sound Bite. Thanks to Leticia De Mello Bueno for assistance with the photography