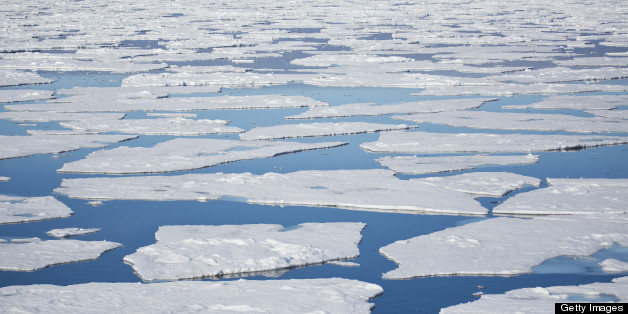 Long before the race for resources in the Arctic reached its current fevered pace, the eight nations of the region, when forming the Arctic Council, committed to working together to safeguard and protect the fragile Arctic environment. Although there will be fanfare when ministers, including U.S. Secretary Kerry, sign an agreement on oil spill preparedness and response at the ministerial meeting in Sweden this week, the real news, sadly, is what hasn't been accomplished.
It was widely hoped that when the foreign ministers meet this year they would announce action to address two of the greatest threats to the region -- Arctic warming and ice melt, and oil spill prevention. Although we'll hear governments touting what they're doing to protect the Arctic, the most urgently needed actions to slow climate warming and prevent oil spills are a no-show.
The dramatic changes in the Arctic brought on by rapid regional climate warming and increased resource extraction urgently calls for effective circumpolar environmental standards. The Arctic is warming more than twice as fast as the rest of the planet, pushing species toward extinction, accelerating ice melt and sea level rise, and amplifying climate change worldwide.
Reducing emissions of short-lived climate pollutants, particularly black carbon and methane, has been identified as the primary strategy to slow Arctic warming and melting in the coming decades. Black carbon is a component of fine particle pollution, or soot, that is emitted by diesel engines, agricultural fires and residential heating and industrial boilers. Reducing soot emissions also provides great health benefits.
The Council had been expected to launch talks on a legal instrument to facilitate coordinated regional action to reduce black carbon emissions. They didn't. This is particularly disappointing as the technology and practices to reduce emissions are readily available, and because black carbon stays in the atmosphere for only about a week, emissions reductions provide near immediate climate benefit. And the Council's own Task Force, launched in 2008, has produced two detailed reports outlining no-regrets emissions reduction opportunities that provide great climate and health benefits. And measures to reduce emission taken in or near the Arctic have been identified by scientists as a priority as they are more likely to accelerate melting of Arctic snow and ice.
The Arctic Council must do better. The fate of the peoples of the region, and of millions of people around the world living on low-lying islands and coastal areas, is at stake. We must redouble efforts to implement the Task Force recommendations in every Arctic state, and to ensure that launching black carbon negotiations are at the top of the agenda when the U.S. takes over the Council chair in 2015.
The same regional warming that will lead to extinctions, sea level rise and massive methane and carbon dioxide release as permafrost melts, has opened up new areas to resource extraction especially access to the approximately 20 percent of the world's un-recovered oil and gas that lies beneath the Arctic sea floor.

Ministers including U.S. Secretary Kerry will sign a vital regional agreement on oil spill preparedness and response to help overcome barriers to cooperation if there is a major spill, and map especially sensitive ecological areas that need greater response capacity in the event of a spill. The spill response agreement is as an important step as the Council begins to evolve into a regional intergovernmental body for the Arctic that can establish standards and procedures for environmental governance. But while spill response is important, prevention is the name of game. The Council should take up high-level work on oil spill prevention as soon as possible. It is widely agreed that the technology and response capacity does not exist to clean up an oil spill in harsh Arctic environment. We can't tolerate another Exxon Valdez or Deepwater Horizon disaster in these sensitive waters. Here again, we urge the nations of the region, to take domestic action to ramp up oil spill prevention measures, and to ensure that talks on a circumpolar oil spill prevention agreement are at the top of the agenda when the U.S. takes over in 2015. Nothing less is acceptable.