AfterEllen.com is Logo's site for lesbians and bisexual women in entertainment and media, which means we pride ourselves on knowing all kinds of Sapphic pop-culture facts. Each week we'll share some of the best tidbits on The Huffington Post in our new series, "Best Lesbian Week Ever."
Here's who and what was on our raging gay radar this week.
Ellen DeGeneres is never, ever having kids, so stop asking: After receiving a star on the Hollywood Walk of Fame this week, Ellen went on The Tonight Show to discuss the rumors that she and Portia are shopping for sperm. The host will also return next week for her 10th season of The Ellen Show, which means Ellen is winning at being the best lesbian ever, so we might as well stop trying.
Melissa Etheridge supports your divorce: The musician went on Joy Behar: Say Anything to talk about her split from Tammy Lynn Michaels and why gay divorce should be legal. We all know it's because she wants at least three more in the future.
Did you hear the one about the lesbian who married a guy?: With the end of The Real L Word Season 3, we got to see two weddings: a gorgeous ceremony between lovebirds Whitney and Sara, and a shotgun Vegas vow exchange between Romi and her ex-boyfriend/now-husband. Did I mention Romi got married the day before Whitney and Sara, and she said on camera this world is for "husbands and wives"? As you can imagine, lesbian and bisexual women alike are really happy with her.
Jillian's return to TV: Jillian Michaels announced she'll be returning to The Biggest Loser and also discussed her sexuality with Larry King. Unlike Ellen, she has kids, so I don't know if this makes her a better lesbian or not, in that regard. Jury's still out on that and how she feels about gay divorce. Perhaps we can just have a lesbian roundtable on one talk show next time and hash these things out.
Playing the field: USWNT soccer player Lori Lindsey talked about being gay for the first time this week. Her mom is also a lesbian, so that could also put her in the running for America's Next Top Lesbian.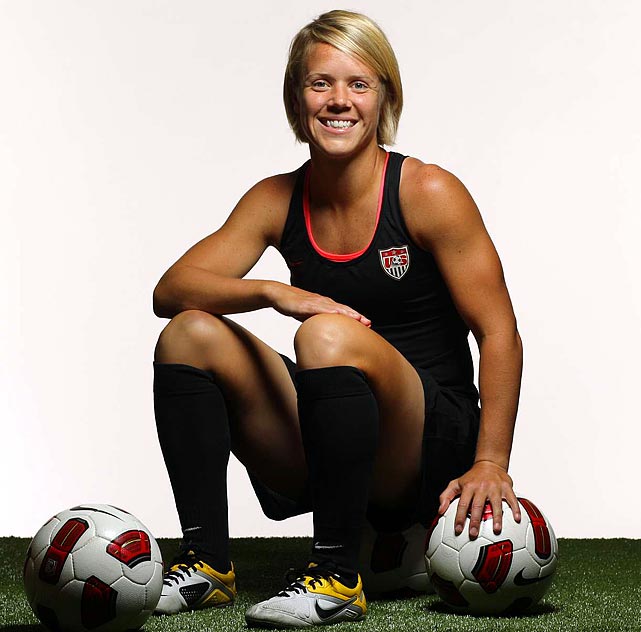 Photo courtesy USWNT
Center-stage mom: A new dancer and her mom are in town on Dance Moms, and one of them is a lesbian. (Hint: It's the one who's older than 10.)
Speaking out at the DNC: Out activist Mary Kay Henry and politician Tammy Baldwin spoke eloquently at this week's rally, which is two more lesbians than the RNC had take their stage.
What happens in Vegas...: It's Pride in Sin City this weekend, and lesbians are converging for the second annual Shedonism celebration -- dancing, drinking and debauchery, with Pride!