Now that grown men have regained a regular heartbeat, women have stopped fainting and children screaming , we can calmly consider the recent fleeting visit to Australia of superhero-rockstar President Barack Obama.
The interested will know that President Obama was received with nothing short of adulation, even from the local media, when he visited the national capital, Canberra, and the northern city of Darwin. And this is despite his tortured efforts at Aussie slang. He never did get the hang of
"gday". It's pronounced guh-day, not goooo-day. Sorry, Prez.
Tweets under the clever hashtag #aubama were nothing short of breathlessly admiring -- the general consensus of female Aussie tweeps being that the Prez is boss, chilled and hot, both at the same time.
One of the most popular photos of Mr. Obama and Aussie PM Julia Gillard is them leaving his only media conference, the angle of the shot seeming to show Ms Gillard's hand resting gently on the presidential butt.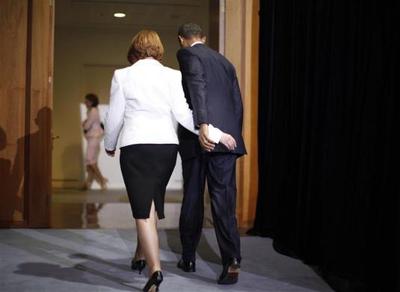 (AP Photo/Charles Dharapak)
Of course, it's only weeks now til the Iowa caucuses with their attendant media frenzy -- and here in Australia, Election 2012 is not going unnoticed.
Carmelan Polce is the boss cocky (literally "chief farmer" -- where this comes from I have no idea) of Australia's arm of Democrats Abroad, the umbrella organization for expatriate Americans around the world. And she's all fired up.
"The presidential visit has really kick-started Democrats Abroad into the election year" says Carmelan. "Up to this point, there hasn't been much for Democrats to do but watch the Republican field try to "out-conservative" one another. A comical side-show, but nothing to generate genuine interest. Mr. Obama's visit has got the juices flowing here now."
Why is President Obama so much more popular overseas than in his own country?
"He's always polled very well outside the U.S. I think it's a combination of his charisma, a very high functioning intellect and his personal authenticity, which generates real affection for him." Carmelan muses.
In an election year, what does Dems Abroad Australia actually do?'
"Our key function to is to get expat U.S. citizens to register to vote by absentee ballot. We know the overseas vote has the ability to swing elections", she says. "Estimates suggest there are about 6 million voting-age Americans living abroad, including of course the U.S. military. Overseas voters cast votes in their home state, so if the outcome in the presidential race is very close in a particular state, then a great deal of attention is paid to those overseas votes. Our data from 2008 suggests overseas voters won North Carolina for Barack Obama."
Ok, how interested are expat Americans in their homeland politics?
"That varies tremendously!", Carmelan exclaims. "Americans in Australia that I generally come into contact with are very keenly interested. However, I also know Americans who couldn't care less and only vote because I hassle them into it."
She pauses. "The astonishing thing is how interested Australians are in U.S. politics! I find Aussies have an impressive general awareness and some even a deep and highly comprehensive understanding of our political system -- and the personalities. They know the key issues. They know the history, the know the process. And that includes the nominee selection process, delegates and super-delegates -- and they really enjoy talking about it."
How optimistic is she of an Obama/Biden win next year?
"Although I am personally never optimistic about races, I am actually optimistic about a second term for President Obama. These are serious and difficult economic times, and I don't see any Republican candidates so far who would inspire the confidence of the nation. I am truly confident of an Obama/Biden win in 2012, she says."
But then, she wouldn't be a Democrat if she didn't say that, would she?
As for Aussies, of course we want an Obama second term. Then POTUS might do a second tour of Australia -- and maybe he'll bring FLOTUS and the DOPOTUSs with him! Now THAT would be a gig!!