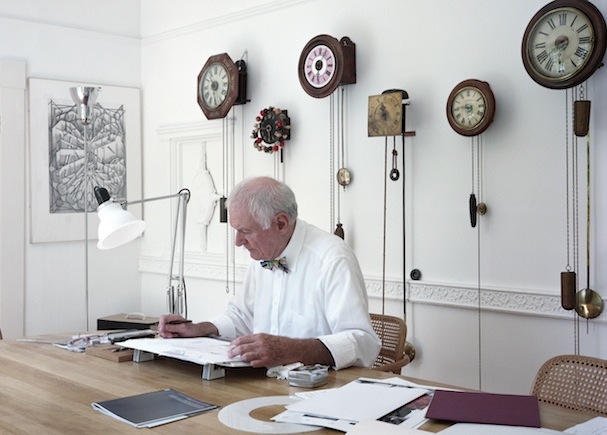 It's March and industrial designer Kenneth Grange seems to be in a buoyant mood as he opens the teak door to his home in Hampstead in north London. His home -- parquet floors, Anglepoise lamps, Eames Lounge chair and ottoman, pendulum wall clocks amassed over the years -- is elegant and simple, where nothing is too flashy and everything is thoughtfully considered. As with his designs, such as London's black cabs, Parker pens, Kenwood mixers and Kodak cameras, there's always been a solid sense of function in such iconic and beautifully designed everyday objects. "The functional aspect of any project comes very high on my priority list," he says. I think really working out the construction and the function; they're the difficult bits of a new design."
Video by
Crane.tv
At 82, Grange -- who with a boyish grin introduces himself: "The name's Grange, Kenneth Grange" -- looks much younger than his years and is incredibly tireless. To this day, he works as hard as ever, teaching at the Royal College of Art where he is a visiting professor, in addition to designing for Anglepoise, Hitch Mylius and working on personal projects, including a new medical device spawned by his recent experience of having both knees replaced with metal implants. "They give me hell at the airport going through security," he quips. Grange, tenacious as he seems, is modest, warm and very funny, entertaining me with anecdotes about the merits of getting older as he skilfully assembles a couple of Anglepoise lamps he's designed.
During his impressive 50-year career, Grange has designed pretty much everything imaginable -- from trains to toothbrushes. Last year, the Design Museum surveyed his life's work with a retrospective entitled "Kenneth Grange, Making Britain Modern." Of all his designs, the InterCity 125 trains, the high speed trains which travel from London to the Midlands and the West Country, remain his favourite. "When I designed that train, everything about the railways was terribly old fashioned, really like 100 years old. There were cast iron wheels on trucks, it was noisy and the platforms were black asphalt. Everything looked dirty even if it wasn't dirty. And so my train suddenly came into this environment, this scene, and it was quite a departure. I think it had a definite benefit for the people who worked at the railways as much as it did for the travelling public."
Grange's hefty contribution to British design is unquestioned and this month, the world's largest museum of decorative arts and design confirms this by featuring his work in their latest exhibition, "British Design 1948-2012: Innovation in the Modern Age," which opens on 31st March at the Victoria and Albert Museum.
Could it be that Grange has accomplished his life's ambitions? Is it possible that there's something he has yet to design? "I wouldn't mind designing a bus," he offers. "I know that Thomas Heatherwick has just designed a terrific bus so my bus wouldn't be the same sort of bus as his. But I would quite like to design one of those tourist buses. People who buy those buses, the tour operators are not surprised if it's a terrific looking thing so they wouldn't have conservative prejudice about what such a thing should look like. So I would approach it in a pragmatic way in terms of function, and hopefully make it a much more agreeable vehicle in which to travel. I think there's got to be room for Grange to have a go at that."
Should he decide to eventually design this tourist bus, it should -- like many of his work from the Adshel bus shelter to the UK's first parking meter -- stand the test of time. He attributes his success and the longevity of his designs to good old-fashioned hard work and to the people who've helped him along the way. "I think I've been very lucky in my life. I've been lucky to the extent that I've been befriended by honourable, ethical and knowledgeable people. I don't think I came to this business with high expectations in terms of what sort of fancy life I would lead. I came to it because I enjoyed the opportunity to do this. That is the most important thing. It gets you off to a good start because you then meet people who see you and see in you somebody who is ambitious but doesn't think the world is their oyster."
The ever modest Grange admits that even after all these years as a successful designer, he is still always apprehensive about whether he is going to be successful with a project. "I work hard and still, to this day, I go into everything with a considerable level of concern about whether I'm doing the right thing or not."
Years of experience have made the designer much wiser and he doesn't hesitate to share what life has taught him so far. "Never be satisfied. I think you have to be continuously on the edge of being dissatisfied. There are not many things that cannot be improved and to be frank, as you get older you care less about what people think about you, so you are allowed to say your mind much more frequently. I am inclined to talk to anybody who cares to listen. So you have fewer inhibitions, therefore you can talk more freely and truly look at things objectively. For someone who has designed pretty much every conceivable object, he gives future designers hope: "There is still plenty of work for a designer; one just has to be dissatisfied."

British Design 1948-2012: Innovation in the Modern Age runs from 31 March to 21 August at the V&A, London SW7 (+44 (0)20 7942 2000)