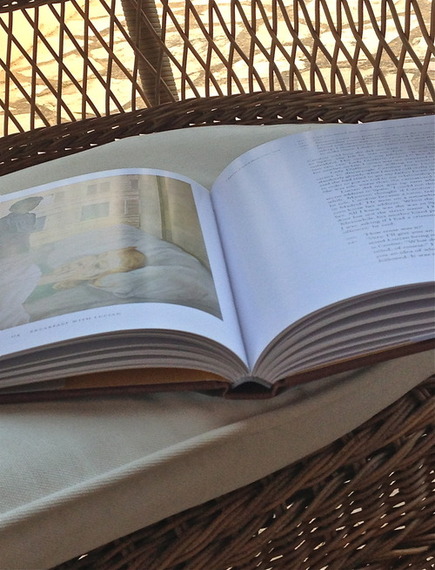 A good read for new years, when our reflective mood prevails and an inflection of purpose begins to stir, is Geordie Greig's "Breakfast with Lucian" -- a fascinating telling of the creative endeavors of a somewhat dislikable and intoxicatingly moving man. Half art book half novel it came out in 2013 yet remains a timeless, palpable delight to hold, a welcome addition to a well supplied book shelf and worth the £25 to enter the psychosis of talent that was the painter Lucian Freud.
Like a cat that plays by scratching and grips its prey with the softness of taloned paws, Lucian was captivating and dangerous and devoured all in his wake, discarding the consequences of intimacy and powerful sex when, hawk-like, he beamed in on the next target. Greig analyses with insight the svengali-like effect he had on those who got close; from lovers, friends, business acquaintances, art dealers and unlawful liaisons, as well as his mother and children. Their devotion was incited, mainly due to his cruelty and despicableness mixed with deep-felt tenderness, feral intelligence and sexual chemistry.
Enjoyable too are the references to Lucian's haunts and whereabouts in central London, imagining, and some of us often seeing him, skulking in Holland Park and Notting Hill at a time when shabby and edgy defined these now attenuated emanations of their once darker selves. And Lucian suited these spaces. Because Lucian's alter ego, it seems, was close to "Peaky Blinders'" bookmaker gangster Thomas Shelby.
Greig refers several times to Lucian's honesty, as a ways to justify his meanness, since Lucian never once pretended he cared or would assume responsibility for what looks to be about forty off-spring he sired over the years; that the sincerity of the all-consuming obsessiveness with himself and his work somehow redeemed him. In other words that a lack of hypocrisy triumphed over hurt, damage and some destruction to young lives who so desperately wanted to be a part of his -- not exactly an unrealistic need considering his siring was willing and abundant. And by understanding this one can forgive...hmm.
Nevertheless, this is a great analysis of the quintessential, clichéd angst-driven artist with a prodigious talent and unerring compulsion to express. Again, not sure it buys carte-blanche to inflict pain on others -- though it sure does make interesting reading. His relationship with his children was like a butcher with his favourite cuts of meat (the carcass of a whole body long picked over and discarded), selecting those cuts for their individual appeal, only to fester confusion amongst them when left on hooks to tenderise or rot.
With regards the hearts of lovers he shattered, well, that was between consenting adults, and understandable when one was young, intrigued, looking for adventure and a bit stupid. These days his womanising would be called sex-addiction syndrome. But his addiction to painting remains part of the soul of the human condition, overriding all that is menial and trivial, and maybe the one true reason for forgiving unforgivable behaviour. I just wish these guys would wear a condom - now there's a resolution for 2015.