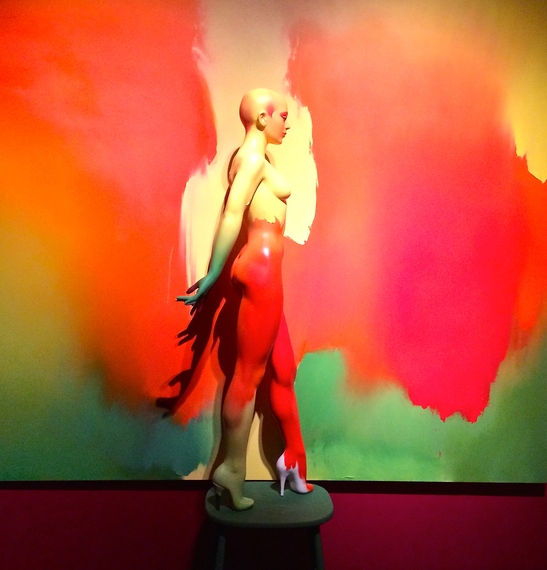 The Allen Jones retrospective at the Royal Academy's Burlington Gardens is like walking into a great party, full of like-minded souls dancing to the same music, where life and seduction, and feeling young, disguise any age lines, and make a pretense of being old.
At the opening night, an enthusiastic crowd ranged from 18 to 80-plus; a fuchsia haloed Zandra Rhodes rubbed hips with a wannabe starlet in see-through lace (a black seam of decorum running up her buttocks), grey haircuts grazed on Shanghai Tang collars, Jean Muir muses oozed chic, Darcey Bussell oozed, Grayson Perry's "Claire" minced, Janet Street Porter engaged and serious collectors with a fondness for their investment coveted.
The positivism and joy of this show - beautifully curated and expertly paced - is an ode to the silver lining of life; that while trudging through the three-day-week, general strikes, international conflicts, AIDS, and the color brown, we remained sexy beasts, carrying on with our own affairs, relationships and Sunday lunches.
His contours are as recognizable as any revered Chinese calligrapher, from the table top contortions of his early Pop Art to the 21st century sophisticated polish that is Allen Jones today. The brand remains sensuous and innovative, Tango-like, particularly in his steel sculptures and lacquered screens.
The rooms sing, Matisse-like, with color and shape, and their lack of angst is a guilt-free pleasure, like having to stay in bed on a weekday. This is a celebration of all that is passion and fantasy. It is about a woman's desirability, so candidly heterosexual that it feels old-fashioned. His fetishist fibre-glass 'women as furniture' still have impact and the power to offend 45 years later. Yet they now feel part of an exploration that the western world has addressed, especially given the casual Kardashian exhibitionism and misogynist rapper lyrics of today.
Allen maintains that his intent was to shock the art world and not the public, and his boundary-pushing is evident even in his non-gendered 1961 canvas "The Battle of Hastings"; a delight of probing, searching and tweaking for a new language. It is right up there with the best of R.B. Kitaj and Hockney. The symbiotic relationship between generational artists is a fascinating thing, and these three find inherent commonality in their love of the aesthetic. They can't help but be elegant and, though ground-breaking and at times blatantly sexual, they remain above salacious, ultimately reined in by a beautiful line.
Among the accolades and hard-fought success, ambition and drive, Allen Jones has remained a thoroughly nice man; intrigued by what intrigues us all - from the latest roadworks on the M40 to the megalopolis cities of Asia. And he has remained loyal, to his friends from forever and to the dentist he crosses London to see from his days in the same neighborhood, thirty years ago.
Allen quotes his father when he says a man is old when he stops looking and though one could argue that his looking began with a wanting to be seen, he now sits comfortably in a non-pneumatic chair objectively paying a less objectifying homage to his love for women.
Applauded and cheered by a room brimming with approval and affection, Allen Jones deserves this triumphal tribute. Oh, and for those who find Pop Art too poppy, rest assured, you will enjoy the show despite yourselves.