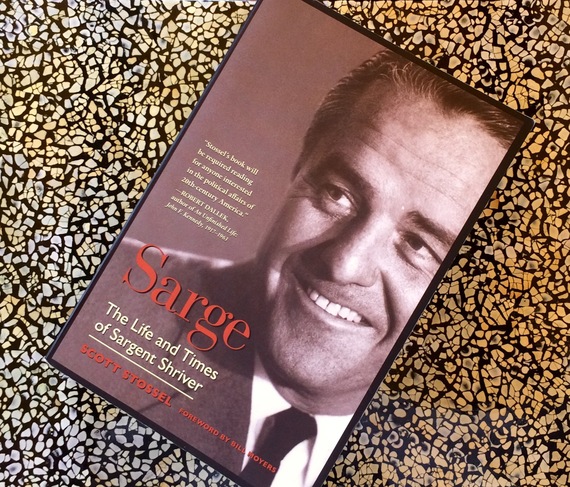 Once in a while comes along a large, hulking tome of a book whose pages flop with fun-filled substance. "Sarge: The Life and Times of Sargent Shriver", by Scott Stossel, is just such a book.
As Jack Kennedy's brother-in-law, "Sarge" came to symbolise the American can-do culture of business with his indefatigable energy and belief-system in creating the Peace Corps, as well as Head Start, The War on Poverty, Community Action and the Special Olympics. Shriver embraced every interesting new idea and placed it automatically on the table, "its burden of proof reliant on those who objected to it successfully, not on the individual who suggested it" (Stossel).
Fascinating too are the permutations of being related to the clan of the Kennedy royals as well as what it took to assimilate all disparate factions of America's ravaged repercussions from slavery, the Great Depression and WW2, under the aegis of dreams and ideals for a better world. And at a time when, powered by an article of faith, politics served a higher cause in which politically adversarial friendships still made policy and passed legislation.
Shriver's establishment of the Peace Corps is a swashbuckling tale of aspiration and bravado, achieving remarkable results less by cutting through red tape, than by shredding it; "You guys had a good day today. You broke fourteen laws", read a memo from a Nasa consultant at the time. Under the convincing and cajoling of Shriver's boundless efforts, the best of America's talent jumped on board and battled against the deadening impact of bureaucracy to emerge in a God-like six weeks with an up and running institution. Head Start, the War on Poverty and Community Action followed, to mixed results, as cynicism and power-play caught up with the jump-start of the handsome yearling that was Sargent Shriver.
The chapters on the War on Poverty are prescient; the poor inhabit a nation within a nation, locked into a cycle of despair by lack of skills, poor health, and inadequate education. Economic prosperity furthers the divide as affluence expands its reach - the same inherent, intransigent problems that prevail today.
This is a massive book at 700 pages yet reads like a hard-to-put-down novel.
A lack of salaciousness highlights the era's purity of aspiration without getting bogged down in the mess that is human errancy. Admittedly an absence of any of Joe Kennedy's tactics in securing JFK's, at first unlikely, then outright election victory, may be a tad too kind. Yet the author rightfully explores Shakespearean-tinged traits of the human condition, such as Lyndon Bird Johnson's all-consuming paranoia about a Kennedy political hegemony that saw Shriver's genuine efforts to end poverty in America as a Kennedy plot to undermine him. Or Nixon's underhanded tactics of scuppering the potential for success of The Paris Peace Talks on Vietnam when their positive outcome would have weighed in favour of the running democratic Humphrey-Muskie ticket. And Watergate not yet a twinkle in his eye.
Shriver's Camelot was less one of courtly life steeped in cool elegance, more of knights in shining armour fighting for the needy. Shriver's wife Eunice, née Kennedy, was less the paramour of glamour à la Jackie, more the tireless and courageous proponent of the public acknowledgment, education and care for retarded children, as well as ultimate instigator of the Special Olympics.
Shriver was, what columnist David Brooks calls, a man of  "social courage"; trading ideas by gathering members of the business community, armed forces, academia, industry, sports, and journalism. And equally fascinating, albeit depressing, was the shift in tone from New Frontier idealism to the gritty reality of what went wrong with the War on Poverty's original remit to empower the poor and black underbelly of a prosperous nation. It is palpable, and almost visual; a symbol of expectations failed by LBJ's Great Society, when war and race clouded the blue skies of hope, cool suits and the Jackie pillbox, with storms of grey and khaki urban epaulettes of unrest and fissiparous factions of hatred.
A definite dose of that idealism is lacking today. Too many layers of past mistakes have come to roost. Yet sometimes it takes an outstanding individual like Sargent Shriver to remind others of how shabby we all look in the relentless pursuit of personal acclaim and reward over any regard for the greater good. We could do with some of his uniqueness. When was the last time we fell in love with a politician?