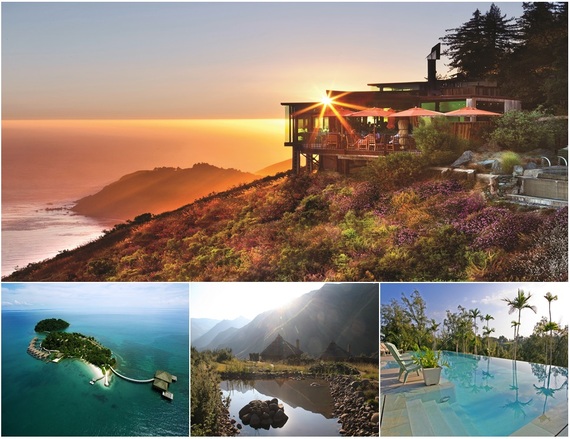 You don't have to stop protecting the planet as you travel to explore its many wonders. Hotel search trivago.com has discovered eight ecologically elite hotels that are taking "being green" to a five-star level.
Whether it's by using recycled materials, heating water via volcano, or growing their own organic produce, these hotels are setting a new bar for eco-friendly travel, and spending 365 days of the year helping travelers save the world in style and comfort.
Lefay Resort and SPA Lago di Garda -- Gargnano, Italy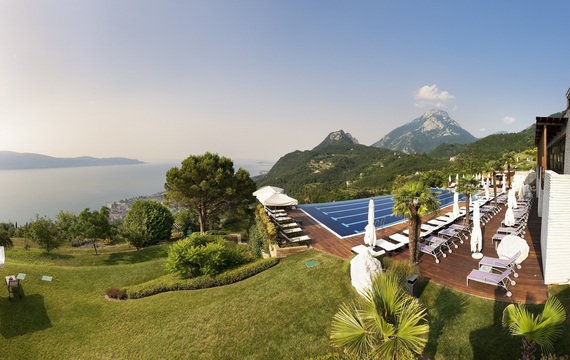 Courtesy: Lefay Resort and SPA Lago di Garda
The gently rolling hills, olive trees, and woods overlooking the tranquil shore of Lake Garda are the perfect backdrop to the jewel of the "Riviera dei Limoni," the 5-star Lefay Resort & SPA. Committed to 360-degree environmental protection, the resort makes use of rain water and reuses pool overflow for green irrigation.
Laguna Lodge -- Santa Cruz La Laguna, Guatemala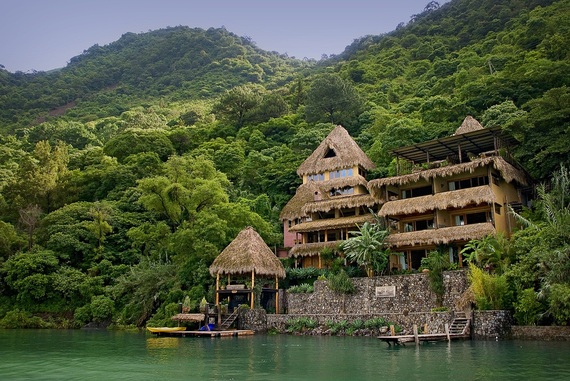 Courtesy: Laguna Lodge
Built entirely from local materials, Laguna Lodge is almost entirely self-sufficient, producing the majority of its own energy, food, and clean water. Vegetarians and vegans will adore the eco-cuisine at this resort, whose seasonal menu is solely vegetarian and harvested daily from its own gardens, local farmers, and the reserve's mountains.
Tabacón Grand Spa Thermal Resort -- La Fortuna, Costa Rica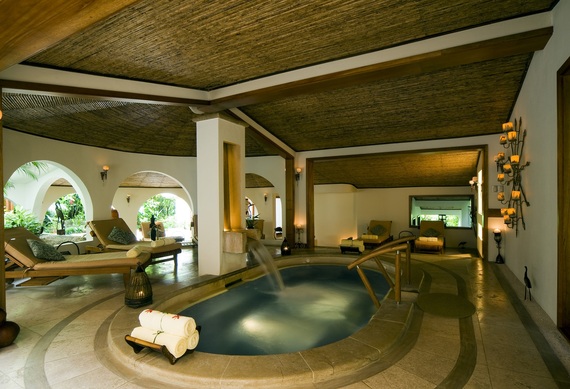 Courtesy: Tabacon Grand Spa Thermal Resort
Located at the foot of Costa Rica's most active volcano, the five-star Tabacón Grand Spa Thermal Resort is surrounded by miles of stunning conserved rainforest. Certified carbon neutral since 2009 and the first hotel in the world to receive the Seven Stars and Stripes Green World Award, this eco paradise uses the hydroelectric power and hot springs as a hot water source for the hotel.
Post Ranch Inn -- Big Sur, California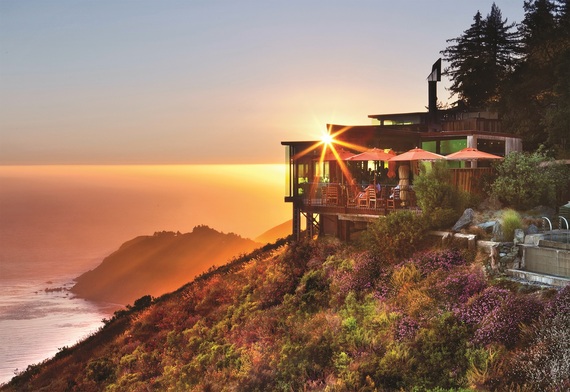 Courtesy: Post Ranch Inn - Photographer: Kodiak Greenwood
Built from sustainable materials and drought-tolerant plants, the coast-side lodgings at the Post Ranch Inn offer uninterrupted panoramic views of Big Sur's legendary coastline as the mountain-side houses curve around old-growth trees. In addition to solar power and water recycling, the grounds of the luxury hotel also serve as a habitat for native species like the endangered California Red-Legged Frog.
Maliba Mountain Lodge -- Leriba, Lesotho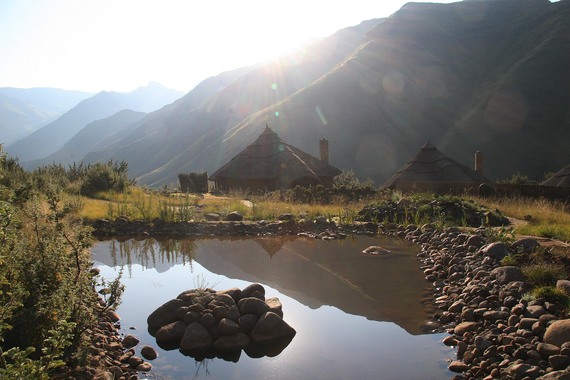 Courtesy: Maliba Mountain Lodge
The only five-star resort in this small South African mountain kingdom, the Maliba Mountain Lodge is focused on giving back to the nearby community as well as minimizing its environmental footprint. The luxury hotel collects rain water not only for its own use, but also to provide clean drinking (and bathing) water for preschool students and the community's vitally important fruit trees.
The Orchid Eco Hotel -- Mumbai, India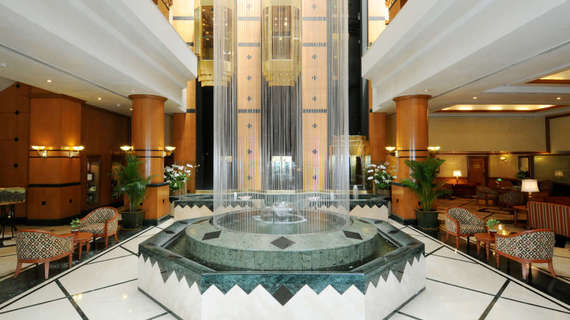 Courtesy: The Orchid Eco Hotel
A breathtaking 70-foot indoor waterfall is the first introduction to this green haven in the heart of bustling Mumbai. The Orchid Eco Hotel's "Save Our Planet Program" is committed to preserving energy, waste management, and especially water conservation and preservation that responsibly reuses waste water for green gardening.
Song Saa Private Island-- Koh Kong, Cambodia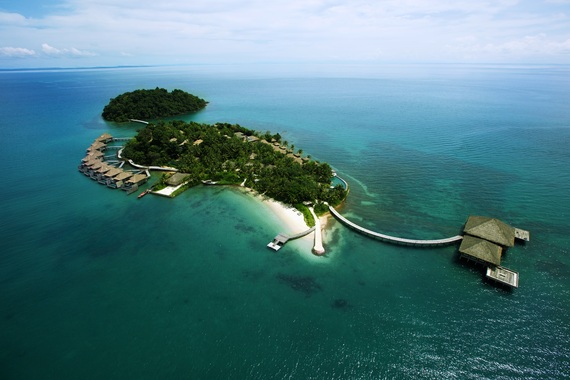 Courtesy: Song Saa
As Cambodia's first luxury private island resort, the Song Saa Private Island encompasses two inter-connected and underdeveloped islands of virgin rainforests, tropical reefs, and pristine white sand beaches. The resort treats and reuses all water and used native vegetation, driftwood, and discarded fishing boats to build and furnish the islands' villas.
Hawaii Island Retreat at Ahu Pohaku Ho'omaluhia -- Kapaau, Hawaii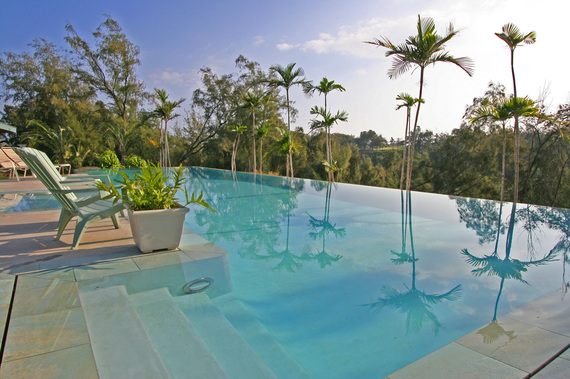 Courtesy: Li'a Wailani
Ahu Pohaku Ho'omaluhia is a sustainable eco-boutique hotel that takes advantage of the cool Kohala breezes for cross-ventilation, eliminating the need for air conditioning, and uses solar panels and windmills for power. Even a day at the spa is completely guilt-free, as the majority of ingredients used are grown in the wild groves and organic gardens surrounding the retreat.
Want more inspirational travel information? Visit trivago checkin.