A tell-tale sign of a true gentleman's home is a display-worthy bar. I know, I know... we all have that insatiably thirsty friend who can ravage a full stock, but that shouldn't keep you from creating a thoughtful display. To help you get started on building a proper home bar, we've created a checklist of the most important essentials. And, to alleviate some of the leg work, we've scoured the web for a few uncommon finds for each.
Check our list of home bar essentials, and get started on building your display.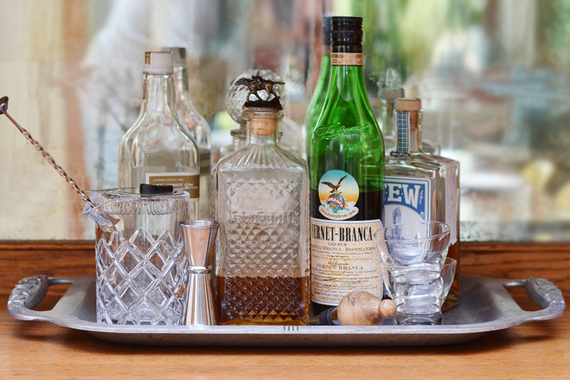 1. Storage: First and foremost, you need a place to hold your precious goods. If you have the extra floor space, opt for a mid-century bar cart or a hutch. If not, a simple serving tray atop your counter or credenza will be more than fine.
2. Utensils: You don't need a tool belt full of gizmos, gadgets and devices to craft a praiseworthy cocktail. If you're building your set from scratch, we recommend starting with the most essential -- a shaker, a strainer, a stirrer and a jigger. In the meantime, the rest can be improvised from something you already own. And -- don't feel obliged to perfectly match your set of tools -- you can find some great, one-off, vintage pieces!
3. Glassware: For your first set of cocktail glasses, we recommend avoiding stems in favor of something more versatile and durable -- like a set of lowball or whiskey glasses. Don't get hung up on the name or supposed purpose -- we can assure you that your martini won't be able to tell a difference.
4. Booze: Ah, yes -- the libations! This part will naturally evolve with time, but make sure you have the full set of ingredients for at least one proper cocktail. Our go-to drink is simple and sweet -- the negroni. Equal parts Gin, Campari and Vermouth -- stirred, not shaken -- garnished with a twist of orange, et voilà!
Browse even more bar finds on our site!