It's easy to get discouraged. As I read the articles and heard the reports about the recent White House all-male Cabinet appointments, I could feel the anger, frustration and discouragement setting in.
But then I realized something.
What better way to shed light on the deep-seated problem of all (or even large majority) male leaders (particularly all-male white leaders) than by the White House playing it out right in front of our eyes?
Because getting attention, it is.
As I listened to a recent CNN roundtable discussion on this topic, there were several comments made concerning the strengths and benefits women truly bring to the table. And the question was asked, "Is it finally time for white men to acknowledge the need for affirmative action?"
Well, is it?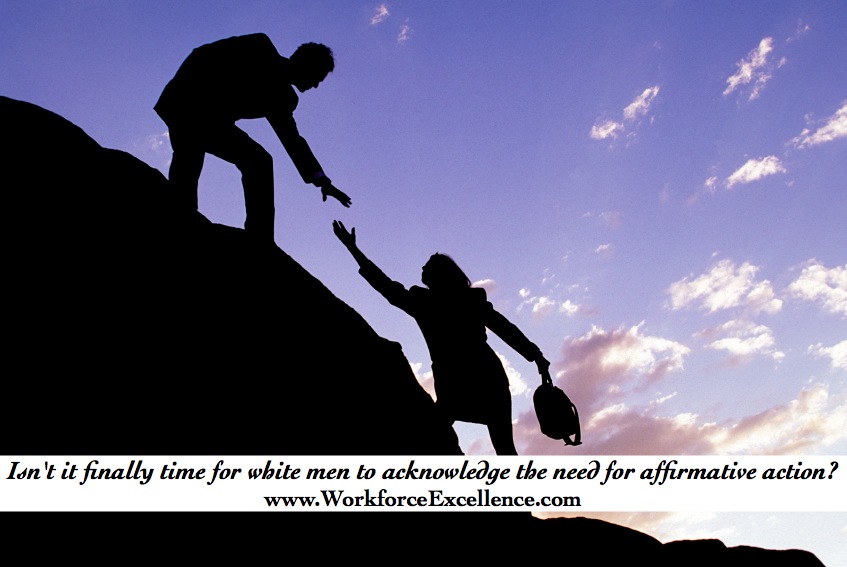 I, and millions of others resoundingly answer, "Yes, it is!"
Let's take a moment to look at the facts of this situation. With this presidency, we [women] are better off than we were during the previous presidency.
During his first term, 36 percent of President Obama's appointments went to women. That means, of the 23 cabinet positions, eight are women. Unfortunately, more than a few first-term women appointees (such as Hillary Clinton and Lisa Jackson) are stepping down.
To compare, President Obama's record is better than President George W. Bush's 19 percent women appointees. It is less, however, than President Bill Clinton's of 41 percent women Cabinet appointees.
Here's where the kicker comes in though. For the president's second term, the White House Cabinet appointments: white men all.
In fact, the White House has appointed four white men who will, in this upcoming second term, hold the top four posts in the president's cabinet -- Secretary of State, Secretary of the Treasury, Secretary of Defense and Attorney General.
The National Organization of Women president, Terry O'Neill, states, "Clearly, [the number of women in the Cabinet] should be 50 percent."
Why, you ask? Because 50 percent reflects the population of our country. 50 percent women.
The issue of the under-representation of women in power positions in our country, be it in Corporate America or in the White House, is not a new one. As I mentioned earlier, however, what better way to solve the issue -- to eliminate the problem -- than by shedding light on it at the most obvious and public levels?
THAT is what gives me hope. It is NOT staying hidden. It is SLAPPING us in the face. To illuminate and eliminate.
And you know what else gives me hope?
Half of President Obama's White House staff is composed of women. This includes his highly-valued advisor, Valerie Jarrett, an African American woman. And his Deputy Chief of Staff, Alyssa Mastromonaco, as well as Kathy Ruemmler, the White House counsel. Also of note is Mona Sutphen (African American), Nancy-Ann Deparle (Chinese American), and Carol Browner (white).
Plus, White House Press Secretary, Jay Carney, recently said, "The president believes that diversity is important because having diversity increases the excellence of the pool of advisers around you, the pool of the staff that you have here. And I think that will be true in the second term."
Oh, and the fact that the president is married to an intelligent, strong-willed, well-educated woman doesn't hurt either.
P.S. Is there anything in the Constitution about a president appointing his wife to a Cabinet position? I hope not.
Related Articles:
Obama's Cabinet Shaping Up To Be a Boys Club
Obama Urges Patience to Critics of White Male Nominees
Is Obama's Cabinet Too Male?
Affirmative Action Benefits Whites Too...More Than You Think
Obama's Cabinet: Who's in, who's out?