Freetime Machos begins up close and personal as we move between the focused faces of loyal teammates huddled together prior to their 1st rugby game of the season. Narrative accompanies us as we study their determined faces...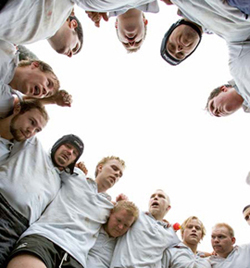 In Northern Finland, men would rather be stabbed in the back than complain about woman trouble, or say hello to an unknown neighbor. They seem to have inherited the quiet and reserved gene...
The narrative goes on, painting a picture of rough, solitary men, hardened by their Finnish way of life. But that's where this film offers a twist. Because these "hardened men" are actually quite soft. They're not even in the best of shape. And (sigh) they have feelings!
This heartwarming docu-comedy follows two friends who play on the most northern and third lousiest rugby team in the world - The Oulu RFC, an amateur club team in northern Finland. It's also an insightful look at the erosion of Finnish manhood under today's rising current of independent women, economic hardship and growing gay culture.
The team is a collection of misfits and at one point, during a drive for new membership, the only recruit to express any sort of interest is a young Spanish woman, whose involvement with the team challenges the very foundation it was built upon.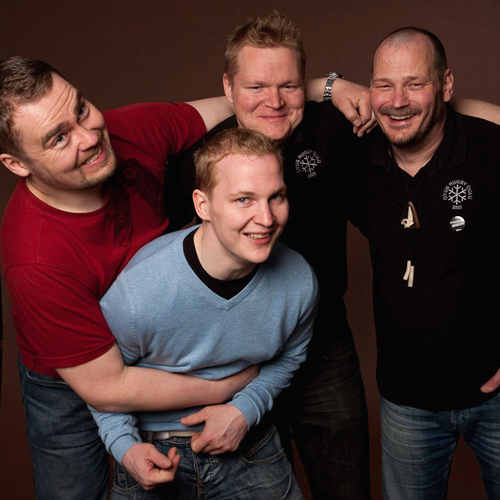 The Players - Tuomo, Matti, Mikko, Jarmo. Portrait by Leslie Hassler.
Disguised beneath macho teasing, crude jokes and a blow-up sex doll for a mascot, this raucous journey is actually quite tender. The film focuses on the lives of Matti Keranen and Mikko Koljonen, two teammates (and best friends) who play weekend rugby, not because they're good at it, but as a means to escape their domesticated lives with some necessary male bonding. Matti lives with his girlfriend, who wants more of a commitment. Mikko has four children and a wife who is pregnant more often than not. As Matti and Mikko's lives drift apart due to Mikko's growing family responsibilities, we're exposed to their earnest sense of camaraderie as they try to hold onto their old ways, despite their loss of control.
Written and directed by Finland's Mika Ronkainen (Huutajat - Screaming Men), this true story is both lighthearted and sad, unveiling prose about male friendship and the real feelings these teammates have about their lives during a time when layoffs at Nokia (Oulu's largest employer) have the whole community on edge.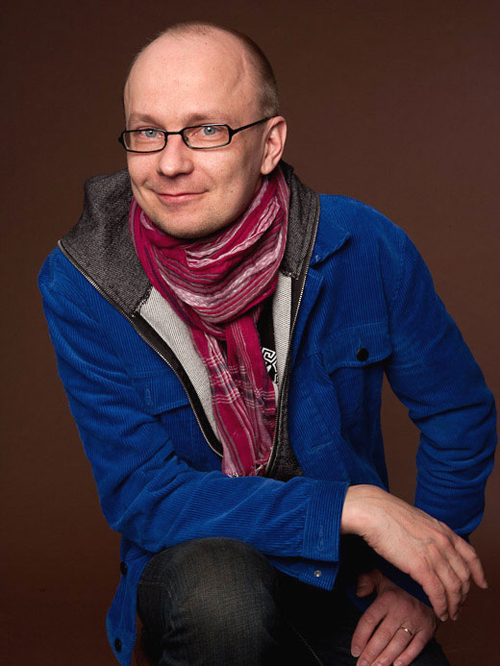 Mika Ronkainen. Portrait by Leslie Hassler.
With the assistance of Skype, I spoke with Mika Ronkainen in Oulu from my home in Los Angeles. It was 10AM on a Saturday morning. In Finland, it was 8:00PM that night.
So Mika, how did you discover such a great story?

A friend had told me about the team, so I went to see them play. At that time, there was no story, but what I realized after meeting the guys was that I had some great characters in an unusual setting. Soft Finnish guys trying to play the toughest sport in the world, trying to be real men.

At what point did you think, "I need to make a film about this?"
Well, first I saw these pictures they'd had taken of themselves for their rugby calendar and it was hilarious. Then a Spanish woman joined the team. It was one of those gifts from the Gods of documentary film - a woman from the country of true macho men, joining a male rugby team in northern Finland. At that point I knew that if I am this lucky now with the story, I really want to see how lucky I'll be as the story proceeds.

What did you learn by making this film?
I think the main thing I realized during the filming is that inside every tough guy, there's a soft guy.

What were your favorite moments of the film and why?
There are so many moments which are great in different ways. Some are funny; others are really touching. I always get a lump in my throat when Matti realizes his best friend is leaving him.

How do people in Finland feel about the film?
It's been a bit mixed with some of the men here, but the women love it! For them it's a window to something they haven't had access to before. To hear men talk so openly about everything, and to see how much male friends can mean to one another; it's been an eyeopener for them. I heard about a woman who'd gone to see the film. On her way back home she bought a sixpack of beer and a bucket of flowers for her boyfriend. That's great, isn't it?
To learn more about the film, go to freetimemachos.com
To learn more about Tucker Hassler, go to tuckerhassler.com
To see more images by Leslie Hassler, go to lesliehassler.com