It's hard to believe that a year has gone by since the passing of the great Wangari Maathai, who changed the lives of millions through the simple act of planting trees (and truth be known, by speaking truth to power). Though I am about as far as possible from being a rural Kenyan woman, Wangari changed my life as well by the beauty and brilliance of her words and deeds, and by taking my hand saying, "Come to Kenya. You will love it."
That was just eight years ago. Of all places, we met in Paris, where Wangari's colorful African dress hardly seemed adequate for the bitter winter cold and snow. Wangari had recently been presented with the Nobel Peace Prize for founding and leading the Greenbelt Movement which had planted 30 million trees in Kenya. As Africa's first woman Nobel laureate, she was on a global whirlwind of interviews, including our talk for my film, Nobelity, which looked at the main problems we face in the world through the eyes of Nobel laureates. We sat in the glassed conservatory of her hotel, and our conversation started with the connection between the environment and peace.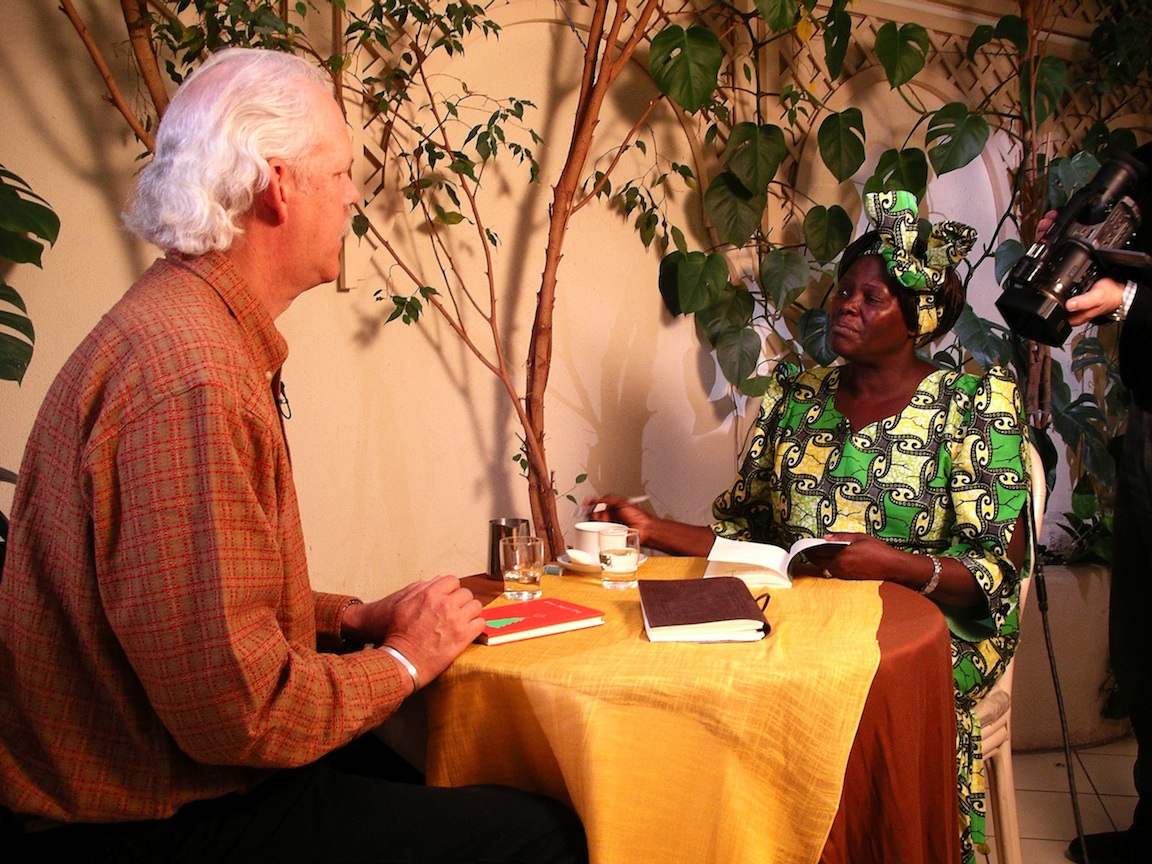 "When you look at the world and the fights and wars that have been fought," Wangari told me, "they are always over resources. Sometimes the resources are so degraded, and we are fighting over the little that there is. Sometimes we are fighting over those resources because we do not want to change our way of life. And so managing the resources is an important ingredient to promoting peace."
More than two decades earlier, at the National Council of Women, Wangari heard rural women say they needed firewood, clean drinking water, and more food for their children. When farmers in Kenya introduced cash crops, mainly coffee and tea, they had cleared hillside land and created erosion that had washed their soil into the streams. Wangari's solution was simple.
"Let us plant tress," she proposed. "A tree is truly amazing," Wangari reminded me. "You plant a seed, it germinates and looks so fragile, and eventually it becomes a huge tree that gives you shade. If it is a fruit tree, it gives you fruit. If it is a timber tree, it gives you timber and you are able to build your houses. This work transformed the lives of the very women who planted the trees."
Wangari's struggle for human rights and environmental conservation in Kenya had not been easy. She had been beaten unconscious and jailed on multiple occasions, but her persistence had fostered extraordinary change and she had eventually been elected to Parliament with 98 percent of the vote.
Despite the recent Nobel Peace Prize, Wangari's excitement was about the women of the Green Belt Movement and the way they had been able to transform their lives.
"For every seedling these women grow and plant, if it survives, they get paid. It's a very small amount--about 4 U.S. cents per tree--but if women are planting trees in the thousands and the millions, that money is able to buy food and clothes, and they are able to pay school fees."
When we concluded the interview, I asked Wangari if she would sign my copy of her book, The Green Belt Movement. As she was signing, she paused, looked up at me, and said, "You have to come to Kenya. You will love it."
I was soon in Kenya, planting trees with women from the Greenbelt Movement, and with students at a remote school called St. Joseph Mahiga Primary. Those first 200 seedlings at Mahiga soon led to a partnership to build a water system, then a computer lab and ultimately an entire high school. As my connections to Kenya deepened, I filmed the progress at Mahiga for two more feature docs, One Peace at a Time and Building Hope.
The success of Building Hope has enabled The Nobelity Project to expand our work in Kenya to partnerships with 17 rural schools. At some we build water systems or classrooms, at others libraries or science labs. But there is one constant at every school - we always plant trees. At Mahiga Primary and Mahiga Hope High School, the first 200 seedlings have expanded to a forest of 7,000 trees.
We have also teamed with one of our Kenyan Architects, Joseph Kagiri, on an extensive tree-planting project in the northern Aberdare Mountains that is on track to achieve a wonderful goal. The Kieni Youth Million Tree Program is working with rural school kids to plant trees across the Aberdares. The seedlings are grown by the thousands and tens of thousands at nurseries at the schools, and the trees are planted by students at weekend football tournaments.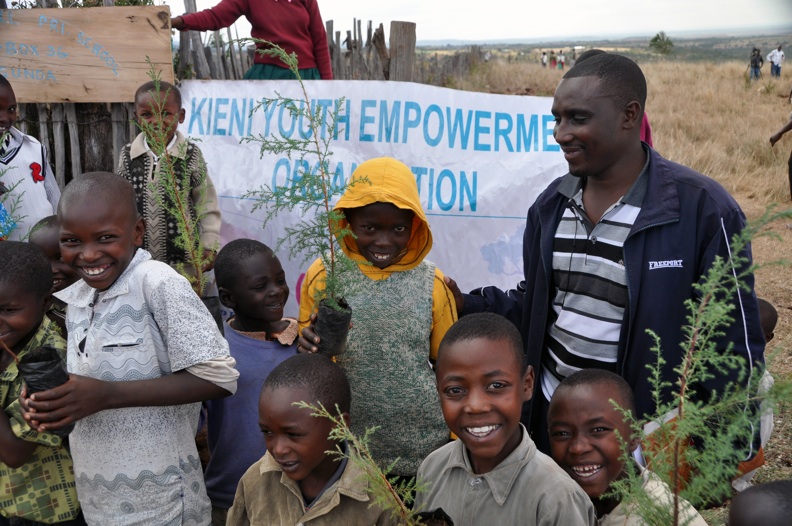 "Before you can kick a ball, you have to plant a tree," says Kagiri.
You'd be amazed at how quickly kids can plant trees when someone has a new soccer ball waiting for action.
Along with Joseph Kagiri,The Nobelity Project is pleased to announce today that we are accelerating the pace of our tree-planting work with the kids of Kenya, and that we are dedicating all one million trees from the program to the life and memory of Wangari Maathai.
The passion for planting trees that Wangari planted in me has also come home to my work in Texas, where The Nobelity Project is partnering with Bastrop State Park and Central Texas High Schools on a project to plant 80,000 seedlings this year as part of a broad effort to replant the Lost Pines Forest that was destroyed just over one year ago.
In a world where hope is often in short supply, Wangari was the living embodiment of one of the great constants of human history - that all things big and small begin with a seed. Whether they are a physical seed that will grow into a massive Wild African Olive or American Loblolly Pine or the seed of an idea that leads to a more fulfilling life or promising world, seeds need nourishing. Or as Wangari told me on a cold winter's day:
"We must do our best for all our children, because we don't know which one of them will be the best endowed." Wangari Maathai, 1940-2011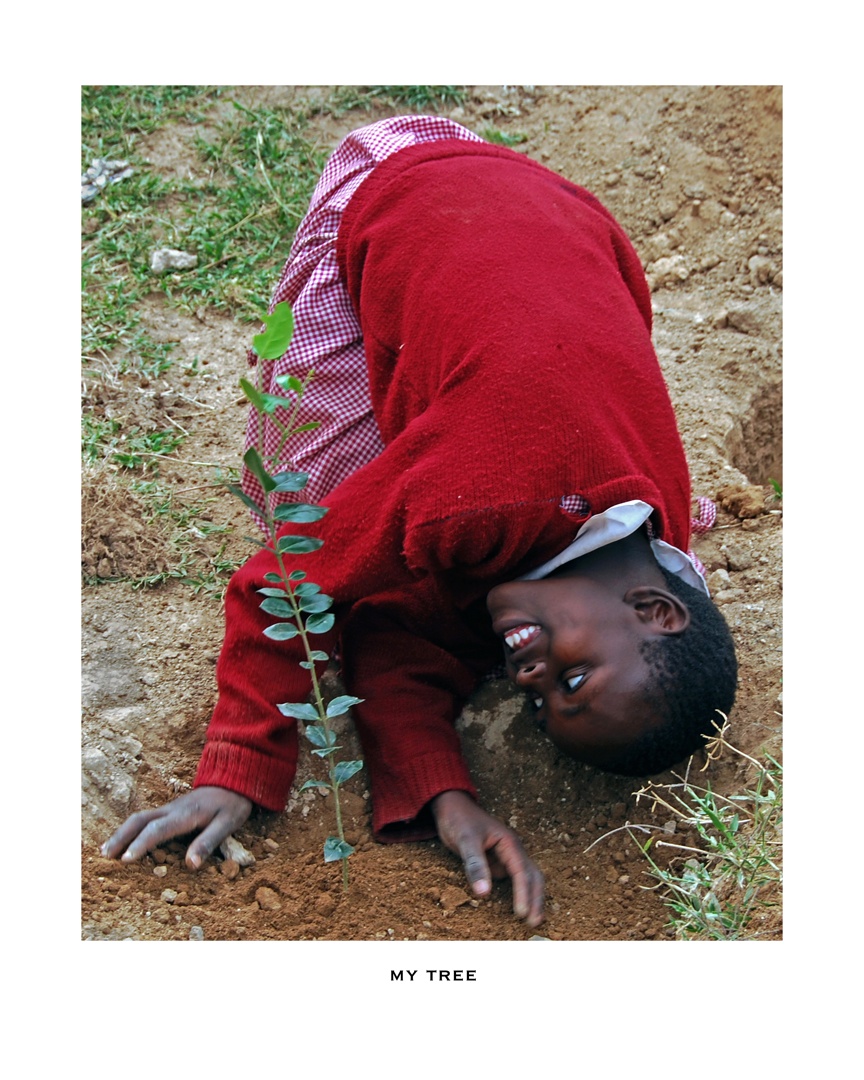 To learn more about the Green Belt Movement or to make a donation in Wangari's honor, go to:
www.greenbeltmovement.org
More on The Nobelity Project's Kenya Schools Fund at:
www.nobelity.org/projects
This story is adapted from the book, Building Hope - the Story of Mahiga Hope High School, by Turk Pipkin