I felt like I was dreaming. Standing in a vintage department store, I watched a line of rosy-cheeked kids waiting to see Santa -- a classic St. Nick with white beard and shining eyes, but with one particular distinction. For this Santa looked exactly like Willie Nelson. That's right -- in my dream Santa and Willie had merged into one.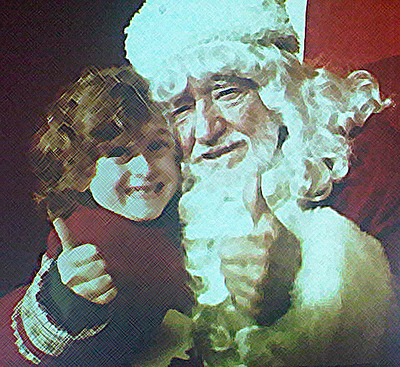 The fact that Willie, the kids and I were all on the set of our new movie, Angels Sing, doesn't really change my basic question: Is Willie Nelson Santa?
Several years ago, I was writing a novel about a father who really doesn't like Christmas, but is then blessed by a gift from a stranger who may be St. Nick. Having known Willie for quite a while and having seen him play secret Santa to so many people in so many ways, I naturally pictured that "Nick" character in my book as Willie.
I first published the book in fifty hand-bound copies as gifts for my kids, family and friends. One copy went to my friend Peter Workman in N.Y., who handed it on Christmas Day to the editor of Algonquin Books. A year later, Algonquin's edition of my novel When Angels Sing was on the best-seller list. Now that's a gift from Santa!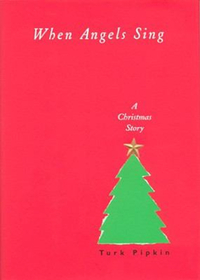 It's been a long and winding road from my Christmas novel, When Angels Sing, to the new Christmas movie, Angels Sing, but I never really quit thinking about Willie playing the Nick character, a part for which he was essentially perfect.
I'd first met Willie a million years ago when Stevie Ray Vaughn and I were his opening acts in Austin, Texas. I got offstage without the hometown crowd killing me but the promoter wanted me to do ten more minutes because Willie was still on the bus. I took the wise man route, knocked on the door of the bus and told Willie they were ready for him. He probably saved my life by promptly walking onstage to a crowed of 30,000 people chanting "Willie, Willie!"
At the time, I was living life 24 hours a day and a friend suggested it might be healthier for me to play a little golf with Willie and pals instead. We've since played about a million holes together and Willie has given me half a million short puts. There's a lot of golfers out there who'd love to have a bag of gimmes for Christmas.
I'm not a regular rider on Santa's musical sleigh, otherwise known as Willie's bus The Honeysuckle Rose, but I do know it makes an impossible number of annual appearances in towns all across America, with a guy (often in a white beard) who reaches into a giant bag of songs and fills your every wish. Only Santa could do as many gigs in as many cities as Willie. Only Santa could fill so many hearts with what they need.
Speaking of Santa's magical powers, my wife and I arrived at the Nelson household for a visit in 2010. Willie's shoulder was hurting and he was having trouble brushing that long hair. While his wife Annie was having a swim, Willie had taken a pair of scissors and whacked off his entire and very famous pony-tail. Annie was in near-shock but, Willie just grinned a jolly grin and sold the pony-tail as another in a long line of gifts to charity. Three years later, Willie's short hair has grown at a magical rate and is now down to his butt. It's impossible for hair to grow that fast. That must be some kind of North Pole magic.
As for charities and good causes, Willie really is the gift that keeps on giving. From American's family farmers to Native Americans to an uncountable number of local organizations and individuals in towns and cities across America, Willie has found a way to give.
When the fertilizer plant exploded this year in West, Texas, Willie turned his already sold-out 80th birthday concert into a fundraiser for the devastated fire departments of West and his hometown of Abbott, Texas. I've since been to Abbott to see the new fire trucks that originated from Willie's deep bag of gifts. They're big and beautiful and Santa-sleigh red.
When the largest fires in Texas history burned so many homes in Bastrop, Texas, Willie stood up first for the Fire Relief concert a group of us organized in Austin. Once you have Willie, it only makes sense for the Dixie Chicks, George Strait and other greats join in. It was an incredible night with $1.4 million in great results for the people of Bastrop. These are just two of an uncountable number gifts to people and communities across America.
When my wife and I needed to ramp up fundraising for our global education nonprofit The Nobelity Project, Willie let us host a "Dinner with Willie" fundraiser that has since evolved into a giant annual event called The Feed The Peace Awards. The three feature docs we've made and the twenty schools and libraries we've helped build around the world -- I don't think any of it would have happened without the faith and friendship of you know who.
And finally, the release of the film Angels Sing has a great partnership to support Ronald McDonald House Charities nationwide. What better connection for a family Christmas movie than to help kids and families in need? Here's the Ronald McDonald House info and a link to Willie's psa for Angels Sing and Ronald McDonald House.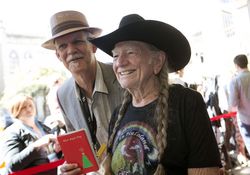 So let's get back to Willie playing the role of Nick in Angels Sing. Though my book had been published by Algonquin and the movie rights had been a hot commodity in Hollywood, I'd been unable to get the movie made there.
But a couple of great Austin producers believed in the story -- and they believed that with Willie aboard as Nick, other great cast members would follow. I can only see this cast as my biggest Christmas gift ever, for I'd always envisioned Kris Kristofferson as the war hero turned grandpa, and had wanted Connie Britton and Dana Wheeler in their roles since we'd worked together in the movie Friday Night Lights. I'd waned to cast Lyle Lovett in a movie since he was my opening act for a show when he was still in college. He was great then, and he is great in Angels Sing as a neighbor who really loves Christmas.
The guy who wrote the book doesn't always get a vote in casting, but our director Tim McCanlies managed to get the cast we all wanted, partially because everyone wants to work with Willie. Want to cast a string of great Austin musicians like Bruce Robison, Marcia Ball, Charlie Sexton, Sara Hickman and a dozen others? Just tell 'em Willie's in the movie.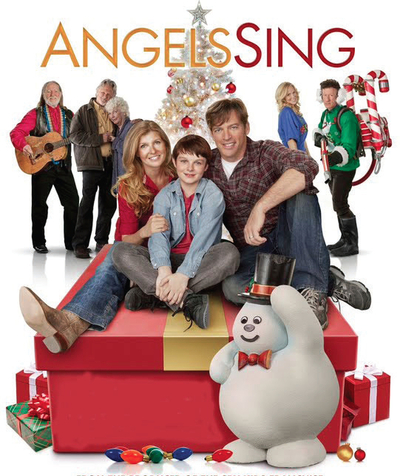 Angels Sing opens in Theaters in select cities on November 1 and will be available On Demand nationwide at the same time. More info at AngelsSingMovie.com
And when it came to Harry Connick, Jr., well, he was just a gift from above. Harry told me on the first day of production that he identified with my book and with the dad and family who are working to deal with very real challenges at Christmas. But I also suspect, that for a great musician like Harry, the Willie factor cannot be ignored.
If it sounds like I'm building Willie up to be some kind of saint, the answer is, yes: St. Nick. So let me say it in his words. A few years ago, we wrote a great little book together called The Tao of Willie. The lines Willie wrote at the end of the book have really stuck with me.
"In our quest to return to God," wrote Willie, "each of us, in our heart, carries a map to that quest, a map that is made of love. Love is what I live on. Love is what keeps me going. So all I can say to you is what I've said to myself a thousand times. 'Open your heart, Willie, and give love a try. You'll be amazed at what happens.' "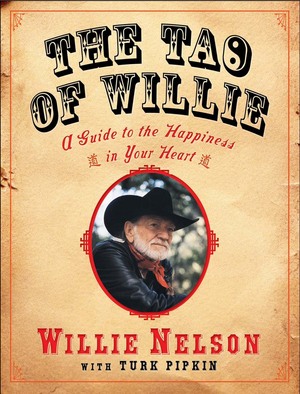 So if you ask me, is Willie Nelson Santa? My answer is, you bet. If you don't believe me, go see Angels Sing at a movie theater near you. Or read When Angels Sing and when my words say the name "Nick," picture Willie and see how natural it seems.
If you really want to know what it's like for Willie to be Santa, reach out and touch someone with a gesture of love or kindness the way Willie has done so many times over so many years. Open your heart and touch someone with your gifts at Christmas and every day of your life... then you can be Santa too.