By Noah J. Nelson
When a game requires a joystick, virtual versions just don't cut it for me. The same is true for tilt based controls for racers and space sims. They seem to sell but I have zero interest in them whatsoever. This means that entire classes of console style games have been cut right out of my mobile gaming experience. I suspect I'm not alone here.
This is a gap in the market that Power A's MOGA, an accessory for Android devices, hopes to fill.
At first glance the MOGA looks like a cut down console controller. Two short, disc-like sticks rise just slightly above the surface of the controller. Four surface buttons on the right replicate the standard face controls of an XBox controller.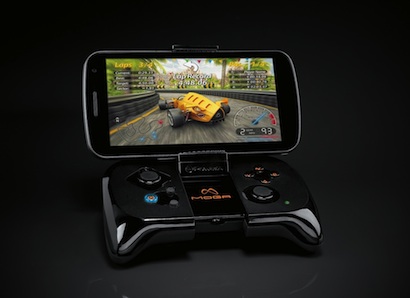 Two shoulder buttons lay just under the lip of the controller. In this configuration the device can synch over bluetooth and be used to play select games on Android tablets.
The center of the MOGA can be flipped up to reveal an arm that can hold an Android phone. The arm is adjustable, sliding open with ease to accommodate devices as wide as 3.2 inches. It fits a Samsung Galaxy S III pretty easily.
After a single go-round where I fumbled with both hands to get the phone in I quickly figured out that I could just slide the phone in with one hand while holding the base of the controller with the other.
In all it takes about two seconds to transform the MOGA from a controller into a portable gaming machine. The device is counterbalanced to make up for the weight of a phone, and manages to feel-- at least with an S III locked in-- more like a purposefully designed portable than the hybrid it actually is.
One glaring issue came up with the provided S III, and is liable to plague any MOGA/Phone configuration that is centered on a similarly laid out device. Certain games would only play in a specific orientation, one that forced me to put the phone in place with the volume controls on the side nearest the controller body.
This meant that it took a concerted effort-- either through navigating the menus to get to the software audio interface, or by taking hands off the controller-- to alter the volume. It's not a deal breaker, but it is a rather unfortunate design hitch.
At present around 40 games either work or promise to have support for the MOGA soon. Some heavy hitters in the gaming space-- including Gameloft, Sega, and Namco Bandai-- have adapted games for the system.
The MOGA unlocked a lot of games for me that I would have never played without sticks. That even includes classics like Pac-Man, which I have tried on touch devices more than once only to exit out of the program as fast as humanly possible.
THE VERDICT
While the sticks have a nice snap-back to center and just the right amount of pull I'm not as much of a fan of their actual build as I'd like to be. I found the thin layer of rubber that's affixed to the top of the sticks digging into my thumbs during heated Pac-Man playing. There's a reason that most thumb sticks these days, even the Nintendo 3DS slider sticks, feature cup like depressions.
Altogether, as a first gen product, the MOGA is a solid way to kick off this hybrid mobile gaming line. When folded down and placed into the case that ships with the controller the MOGA has little bulk. I could slip it into my back pocket with the phone and I had a mobile system near at hand.
I'd just shy of kill to have this kind of device in the iOS ecosystem. As it stands Power A's MOGA, which retails for $49.99, gives me a reason to be jealous of the Android set for once.
[Disclaimer: both the MOGA and the Samsung Galaxy S III that was loaded with games were provided for review purposes by Power A. The Samsung was a loaner, while the MOGA has entered our hardware library. Given that we don't have any Android devices at Turnstyle's LA offices it's going to be a very lonely little controller.]
Read an even more in-depth version of this review at Turnstyle News.
Originally published on Turnstylenews.com, a digital information service surfacing emerging stories in news, entertainment, art and culture; powered by award-winning journalists.
Go to Turnstylenews.com | Like us on Facebook | Follow us on Tumblr