Originally published on Turnstylenews.com, a digital information service surfacing emerging stories in news, entertainment, art and culture; powered by award-winning journalists.
By: Robyn Gee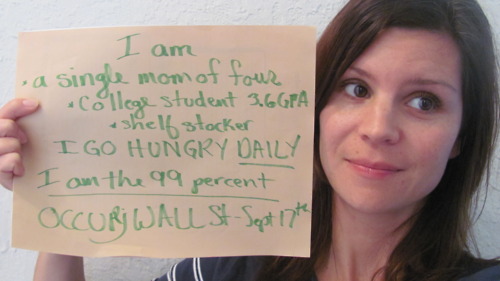 See more photos on Turnstyle>>
The Occupy Wall Street protests that started 13 days ago in New York City have spread rapidly beyond the streets of the NYC financial district. A sometimes muddled message -- aimed at financial institutions and corporations -- has moved people to occupy the streets of Midwest and West coast cities as well. But organizers are also using social media to rally the troops -- and it seems to be working.
According to Marisa Holmes of the Occupy Wall Street media team, Adbusters started "We Are The 99 Percent" Tumblr page in solidarity with the street protests. The site is a collection of photograph submissions from people around the world expressing their solidarity with the "99 percent" of America's population -- the statistic that protesters have adopted that is supposed to represent the struggling majority.
Just a few days ago, the Tumblr page had around 20 photos, and now there are over 100. Anyone can submit an entry to the Tumblr page by using a simple submission form. Some photos have hundreds of "Notes" - which tipped us off that the Tumblr community is actively watching this site grow.
Each photo contains a message and sometimes a personal story about how the individual is financially struggling -either with medical bills, employment, or education. The photos are not high-quality. In fact, many look like they were taken with cell phone cameras or computer webcams. The messages are written on scraps of ripped out notebook paper, or scribbled in crayon. The mood of the site is not professional or artsy, but deeply personal.
Many photos depict college students or recent college graduates who were counting on college as a pathway to success, but find themselves crippled by debt.
Although Turnstyle hasn't verified any of the claims of student debt, it's interesting to note that in 2007 - 2008, 52.9 percent of undergraduate students attending college full time had some kind of student loans, according to recent data from the National Center of Education Statistics. They published the following statistics:
In 2008-09, average tuition and fees, in constant 2009-10 dollars, at 4-year postsecondary institutions were $12,100. At public 4-year institutions, average tuition and fees were $6,400, compared with $15,300 at private for-profit institutions and $24,900 at private not-for-profit institutions.
View a photo gallery of these online protest photos on Turnstyle>>
Go to Turnstylenews.com | Follow us on Twitter | Like us on Facebook | Follow us on Tumblr