By: Robyn Gee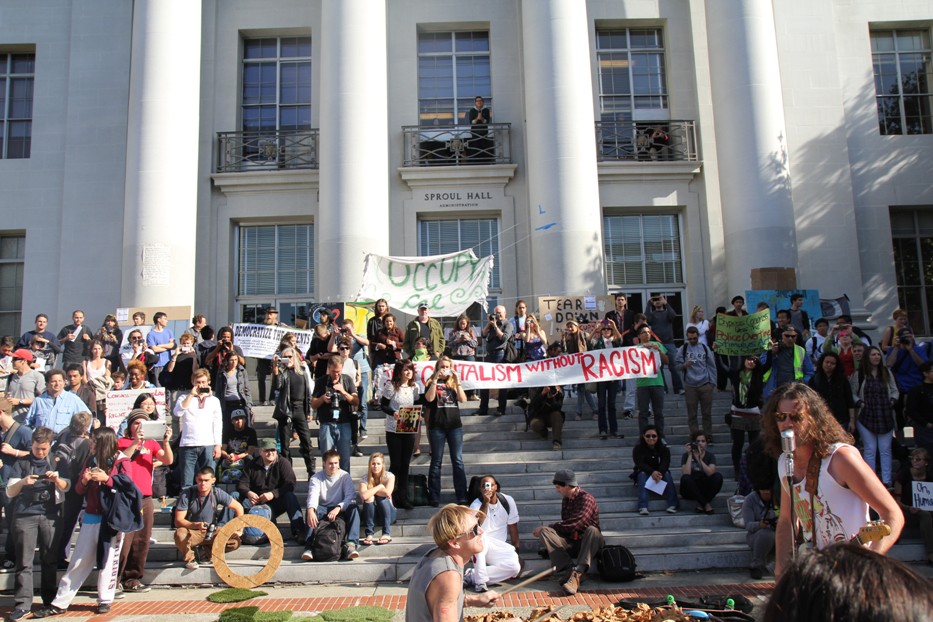 Photo Credit: Denise Tejada/Turnstyle News

UC Berkeley students hold a rally at Sproul Plaza days after police confront student demonstrators.
What is it like being a professor of Corporate Social Responsibility (CSR) at the University of California Berkeley Haas School of Business when the Occupy movement takes the campus by storm?
For one thing, it makes for some great teachable moments.
Professor Kevin Sweeney, former executive of Patagonia, began talking about the Occupy movement with his class on Oct. 5, when protesters began camping out in San Francisco. But recently, they've had to look no further than the school's own backyard, with Occupy Cal protesters making Sproul Plaza their home base.
From Sweeney's perspective, businesses and corporations should not be surprised at all by the Occupy movement if they are practicing corporate social responsibility. According to him, businesses should use NGOs and activists to read the tides of change. Sweeney likes to use a surfing analogy to prove his point.
"When you surf, you reach a point in the wave where you either ride that wave or you just get hammered by it... You try to find the people there who know the break really well... and they can say, 'That bump out there, that's a big hairy wave, we'll get trapped by that one.'...You want to find NGO activists who can look out on the horizon and see which of those bumps are really going to be big waves... When you do that, you're not surprised by Occupy Wall Street. This is a wave you can't ignore," said Sweeney.
And it has been hard to ignore the action on the UC Berkeley campus. Two weeks ago, protesters were met by UC police in riot gear. Several protesters were jabbed with batons as they attempted to block police from taking down tents that were erected on Sproul Plaza.
Days later, Occupy Cal held a campus-wide strike. Many professors canceled class, and Professor Robert Reich, former U.S. Secretary of Labor in the Clinton administration, gave a lecture to thousands of students on the steps of Sproul Hall about the free speech movement.
On that same day, an undergraduate student was allegedly brandishing a gun in the Haas Business School, and was shot and killed by campus police officers, making some business school students wonder if they were being targeted.
There is no proven connection between Occupy Cal and the shooting, according to the Daily Cal. But according to Sweeney, his students made their own connections. One of his students shared with the class that she had heard business school students criticized for not being active or visible in the protests. "She found that upsetting, it bothered her... and then she had to be evacuated from a classroom because there had been a shooting, and she thought, 'My god, has it come to this?'" said Sweeney. He said she went to the Occupy Cal General Assembly that night and was impressed, and found that she identified with some of the movement's ideals.
This student made a lasting impression on Sweeney's entire class, as she called for her fellow business students to check out the protests. Delanie Ricketts, an undergraduate in Sweeney's class said, "Actually it kind of halted the conversation. It was something that no one really could debate...Everyone supports higher education when you're at Cal. All students want to make sure that not more classes are being cut." Occupy Cal, like other efforts in the growing "Occupy Colleges" network, is leveraging the message of the skyrocketing cost of higher education to narrow their demands.
But admittedly, the business school is in somewhat of a bubble. Ricketts said, "Haas is perceived as this outside community because it's one of those majors that you have to be accepted into. You can't just declare... Just business itself is something you don't think about when you think of liberal, hippie Berkeley."
Jesse Bussell, an undergraduate business major also in Sweeney's class, said, "We are a fairly small major. We only have about a couple hundred students, and all of our classes are [at Haas], so we are physically separated from the rest of the school," he said. He says that separation sometimes creates a lack of connection with what's happening in the world, including the Occupy movement. He says his peers are mostly looking to go into what he calls the "ABC's" -- accounting, banking, and consulting, and many spent the fall immersed in their search for internships or jobs.
He's become more socially aware over the past few years, but admits that money is important to him because he grew up in a "fairly poor family." He said, "The main reason I'm here is to have a better job, and be really successful...and make enough money that I can be really secure."
Bussell has had discussions with friends about whether it makes sense for the Occupy protests to be happening at Cal. "We didn't want things to be out of control or unnecessary so that it interrupts studying," said Bussell, especially since finals are coming up in a few weeks. They've also debated whether the protests on campus can embody the same struggle as the protests on Wall Street and in downtown Oakland because "there are just large amounts of social inequality in these places."
Ricketts sees it differently. She finds students, even business students, more engaged because protesters are widening the message. "I saw many stickers on backpacks in my business class, 'Help Defend Public Education.' I think that's something that they can identify with in the movement, even if it's not related to the concerns about big business."
Sweeney agrees. "If I look at the business school, I think our students are actually there. I think our faculty isn't... It's almost like (the Occupy movement is) surprising to the business faculty as opposed to the business students."
Sweeney says he's seen a shift in his students' mentality over the years. "The students today are utterly different from students I had 10 years ago... They have a more subtle and sophisticated understanding of what the pressures are facing businesses... There's a lot less cliche, a lot less labeling of corporations... They're really cynical about companies that say they're doing green stuff, and they really want proof -- and they know what proof looks like," said Sweeney.
Ricketts is a good example of the changing profile of students taking business classes. She sees the Occupy movement as a job opportunity for her -- she can see herself consulting with large businesses helping them become more socially responsible. She sees business as part of the solution, not the problem. "Business has a ton of capital, a ton of power, and to be able to link that with these issues is something that's exciting and interesting and can be really helpful."
Originally published on Turnstylenews.com, a digital information service surfacing emerging stories in news, entertainment, art and culture; powered by award-winning journalists.
Go to Turnstylenews.com | Follow us on Twitter | Like us on Facebook | Follow us on Tumblr