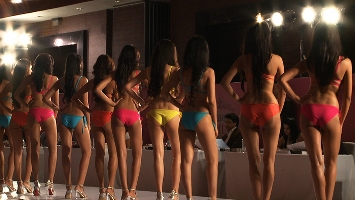 Prepare to be stirred and provoked by the trials of strong female characters if you show up for tonight's short films at the tenth annual San Francisco International South Asian Film Festival.
The festival, also known as 3rd i, debuts four international shorts tonight at the Roxie Theater that Festival Director Ivan Jaigirdar called the strongest shorts of the year. These films comprise haunting and mysterious narratives, including Another Planet by British director Smita Bhide, who Jaigirdar said went from studying literature at Oxford, to debuting her first feature film last year, to creating this short "about a mother who's dying and the child wants to do anything she can to keep her mother alive." He hinted at a key climactic moment, but then thought better of giving away the plot point. "All I can say is that it critiques...false religious prophets and how they try and say they're going to soothe your ailments and solve your problems."
Three of tonight's international shorts are directed by women. Others on tonight's bill at the Roxie Theater include the Tamil Sinhalese film I Too Have a Name, about a nun and her daughter caught in Sri Lanka's civil war, and Kaveri, which Jaigirdar said "focuses on two sisters in a male-dominated environment where they have to prove themselves. Again, it's within a sort of murky back story about the sort of world of mystery and darkness that you can't see, of spells...and how they work through that."
This year, 3rd i curators also pulled together a program of coast-to-coast shorts from US filmmakers, and a series called Sikh I Am, shorts by Sikh men exploring the struggles of a community that's been particularly embattled this year.
There are also several standout feature films at this year's festival, like Lucky, playing Saturday at the Castro Theater at 4:30, which Jaigirdar cites as an example of why it's important for the festival to show short films and cultivate relationships with their makers, like Lucky director Avie Luthra. "We showed all his shorts throughout the years, and this year's film is the one that he always wanted to make. This film is so delicately woven, and moving." Lucky centers on an elderly Indian woman in South Africa who's had a charged history with her black countrymen, and meets a young Zulu boy who's lost his mother to AIDS. "It's all about their challenging relationship and how they grow together, and with each other," said Jaigirdar. "It's really simple, really nuanced, and beautifully shot."
To win tickets to tonight's international shorts or Sunday's screening of Herman's House, read more at Turnstyle News.