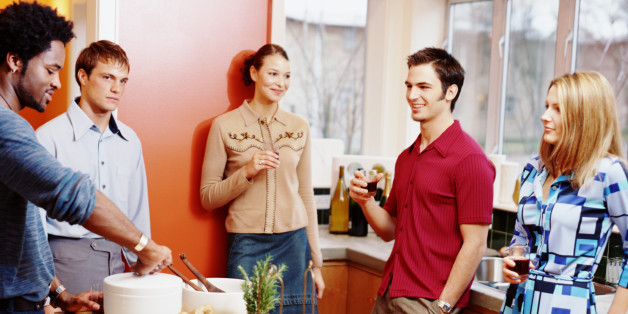 I asked for ketchup. I specifically asked for ketchup to be there.
I texted my friend, Ainsley, who'd invited me to my first Friendsgiving as I boarded a train from Grand Central station to make sure they had ketchup. It's odd, I realize, but I the previous year, when I went home for Thanksgiving, my uncle didn't have any ketchup, and the gravy turned out terrible, so my turkey went dry.
But also, I like ketchup much more than the average person.
So that's why I texted ahead, and then after arriving in Connecticut, when we made a last minute trip to buy more food supplies, I asked Ainsley again. She told me "Yes" each time, growing more aggravated with my dumb question, though the truth was much more sinister: I arrived back at our friend Liz's apartment to find no ketchup. No other sauces either.
I had no choice but to drink the whiskey I'd brought until I wasn't concerned about this anymore.
We also came close to ruining the gravy, but thankfully a nearby Walmart served as a savior with a fresh batch available, in a jar. Likely brewed months ago. And it was delicious.
My friends were better cooks than I imagined. I was told not to bring anything besides alcohol, so in that sense I was just as good, arriving with Templeton Rye to celebrate our Iowan roots. These were mostly friends from college, Iowa State University, and we were all now living in (or for Liz, near) New York City. I wasn't super close friends with them when we were in Ames, Iowa, but it's funny how being in New York causes you to band together with certain people you wouldn't have otherwise expected.
Extending that friendship through an invitation to a Friendsgiving seems to be a big move, one that solidifies a bond. You are, after all, telling the person you want them there with you to celebrate a holiday you spent with your family for most of your life. Whether you see these people every week or twice a year, you're putting these friends into a new circle, the ones you would consider inviting to your wedding.
Thanksgiving is thankfully one of the few holidays remaining that has not been corrupted or completely commercialized, although the executives of Macy's, K-Mart, Walmart, Best Buy and your local shopping mall are doing their best to fix that. As a child, however, I was bored of it. The adults talk. I eat, and then there are no presents. There are no fireworks. If I'm lucky, there's Pumpkin Pie and some holiday specials on TV. But as I got older, I started to respect it more for its ability to produce cousins, aunts and uncles who I actually did want to see, but rarely had the opportunity to. Maybe my parents thought Thanksgiving would be that for them: a chance to see their son who'd moved 1,200 miles away. Unfortunately, starting salaries and airline tickets get in the way of that.
I realize during my Friendsgivings, this is a moment when I really am becoming an adult. I had to budget and decide I'd save my funds for my trip home for Christmas. But I would still honor the holiday by spending time with a small group of friends, cooking for each other, and asking nothing in return except for maybe a bottle of booze and some laughs. I'm invited into someone's home, and they're proud to play host. We are not the same people we were in college, with a sole goal of getting together to get drunk and see if someone gets lucky. We are here to eat and have conversations.
Friendsgivings seems to me like a uniquely 20-something experience, in which unmarried young adults with no children get together to eat, unsure if they're on the right track since they can't afford to fly home for the holiday. There is no pity, because it's not like a 50-something single guy being invited to join in on a family's Thanksgiving, giving him a window into what he could have if he married. This time, it's just the kids table.
And you feel proud that you weren't a complete asshole this year, and got invited to this feast. Or at least thankful you have friends willing to look beyond your dickish-ness and still feed you. That ketchup doesn't seem to matter anymore when you're going back for thirds on the green bean casserole, trying out a recipe someone else's mom passed down. It's nice.
After dinner, with more drinks, the music gets turned up, and someone suggests we go out. None of us work tomorrow -- give thanks -- and it's still early. We take the Metro North back to the city, stop by a friend's place in Harlem, then out in the East Village. The bars are somewhat empty, another turn of events worth praising. A few more drinks and I need to head home before I make a fool of myself. Waking up, I still have thanks on Friday. Thanks that I made it to this big city, separated from my family, but not alone.