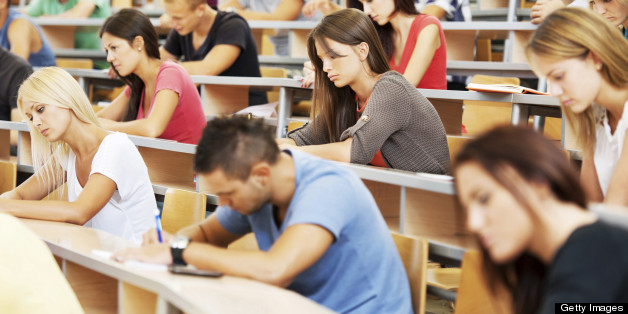 As I sit on the fourth floor of my apartment building on the north side of my private college in northeastern Pennsylvania, I feel the walls collapsing on me. I get claustrophobic. Oxygen begins to leave my room and my sleeping quadrants immediately become an entrapment and I fade into unconsciousness without my roommates noticing.
While I return to consciousness, I remember some small details. My vision hazy, I reach for the metallic-coated door handle to my room and place my clammy palm on its entirety. But right before I turn the handle unlocking what has become my cell, something had dawned on me. It was the first day of finals week.
Just like many other students throughout the United States, it was the same time of the year that we all find different ways to dread. Not orientation, nor an enthralling and luminescent homecoming dance, or the camaraderie behind a rivalry football game -- no, it was even worse than that. Finals week was actually upon us.
Tulane Seniors flash mob of "Call Me Maybe" in library during Finals Week 2012 youtube.com/watch?v=YOyw9g...

— Tulane Problems (@Tulaneproblems) May 2, 2013
Yes, finals week -- where Adderall is God's gift to procrastinating college students, Starbucks and Red Bull is more coveted than tequila and Budweiser, and social media sites become used more than textbooks. While leaving my apartment building and walking down the enormous hill leading to the quad in the middle of campus, I see hysteria.
Freshman biology majors are running from the science building in the corner of campus to the library with overdue lab assignments. Sophomore communication students create last-minute graphic design elements and begin to format samples of advertising copy. Junior accountants simultaneously look over mock tax statements and balance sheets in preparation for class. Seniors take needed hiatus at the bar near campus as they breeze through their final seminars. The apocalypse that had threatened our existence for millennia had finally arrived.
Although the panic had ensued, some of the scholars I had seen had been doing the same work all semester, but now just heightened to another level. It seems like for some of them it wasn't procrastination at its finest.
It isn't finals week itself that tramples students pursuits of higher education, at times, it seems to derive from the educators themselves. In many instances, there is the professor who waits to give work to a class until two weeks prior to the end of a semester, to get more grades for the students' benefit. Even though the intention is good, the student then becomes overwhelmed because this professor most likely isn't the only one stockpiling assignments at the last minute.
There are also the other cases where professors assign lengthy, multi-faceted projects that require a great deal of time from the students and needs to be completed in a short time prior to the final. With students dealing with projects that are vaguely explained and examinations that aren't accurately described, there becomes a feeling that there just isn't enough time in the current day.
Yes, many undergraduates do procrastinate (I happen to be one of the best), it isn't always the negligence of student, sometimes teachers and professors, just overload their pupils. There seems to be a social disconnect when it comes to educators conversing with students about the work they give in comparison to the work others also dish out.
And then there are the abnormal cases. There's the journalism professor that doesn't give any rubrics for any of the projects they assign to students. The strict Latin teacher that wants over a hundred definitions before the next class. A business instructor that assumes that his freshmen know advanced calculus the first week of school.
Whether we want to admit it or not, educators and undergraduates both have lives outside the classroom. There will always be the student working part-time and commuting to pay for every semester. An instructor who teaches Spanish first period and sixth period works as a waiter or waitress to pay the bills. The student-athlete who has to leave class every-so-often to try to fulfill his/her dream of making it pro. At the end of the day there needs to be more of a conversation with each party to make things like Finals Week run smoother before they get too close for comfort.
As I stroll down a broken sidewalk past the campus center and into the library, I see my professor. I receive some feedback on my final assignment before being told what to study on our final exam. I inquire about my professor's life, his time outside of school. My teacher smiles, reaches into his pocket and pulls out a picture of his daughter while pointing to her and donning an ebullient beam.
He tells me that she's looking at several universities but that he is stuck between office work and driving her to several college visits. He then grimaces, returns the leather holder back into his pocket and reaches for the rectangular knob to open the door. It's in that moment where finals, tests, and procrastination no longer matter.
My eyes wander to a nearby window. I see students frantically running around campus to make sure that their lives can begin the right way. I view a professor stuck between his life and making sure his daughter's life can have a chance at being what ours was -- to have a chance at being able to complain about finals.
Sometimes while we sit and protest examinations and last-minute projects, we have to realize that some things take more precedence. It is that moment that we need to strap in, finish what's due, and smile a little knowing we stepped over a rock in life's long journey.
I grab the back of my professor's tweed-patterned jacket, reassure him, and send him on his way. As I walk back through the confusion of students scuttering to the finish line at the end of the semester, I open a textbook. I begin to read about the ethical practices behind feature news writing, and flop onto an elm bench in the center of campus in the center of it all.
I gaze at the sun on an overcast 70-degree day in Wilkes-Barre, and I smile knowing every intricate way I plan to answer my next essay. I laugh, seeing my friends pugnaciously approach self-declared brainiacs and trying to hustle them for answers. Then I reflect knowing that I'm halfway through my journey in college.
Finals week or not, I'm just jubilant that I have the chance to fail all of mine willingly. I doubt my parents are as excited about that assertion as I am, but nonetheless enamored that my long ride around the scholastic block is almost coming to an end. Life couldn't be any sweeter. Time couldn't move any slower. Existence couldn't get any grander.