Of all his 32 years, James Franco has become this generation's definitive inspirational scholar and this video validates that statement to the 10th power. For years, I've watched this video whenever I needed a boost of inspiration. You see, from 2006-2008, James Franco took 62 credit-hours per semester at UCLA, which was three times the normal limit. During this time he was on set filming Spiderman 3, Pineapple Express and Milk. And he earned a 3.5 GPA. What a miraculous thing to aspire to.
But today, Franco is on Broadway for a limited engagement of the Steinbeck classic, Of Mice and Men. When I went to see his spellbinding performance as George three weeks ago, I was truly blown away. His performance only validated the hard work in what seems to be an ambitious vision in working towards becoming one of the world's few Renaissance men. It's simply inspirational and, nonetheless, I can undoubtedly say that the reason I am writing for The Huffington Post today is because of him.
I can remember the moment like it was yesterday. This past winter, I looked on my iPhone before a final exam to only discover an email from Arianna Huffington herself who wanted me to write about my underdog past for the site. I was deeply terrified of what people might think because, at the time, I just had created and launched a successful iPhone application and I didn't want people to say -- being just 18 years old at the time -- "Who does he think he is?" But instinctually, I never cared. I thought of James and his writing, acting, directing, paintings, as the list goes on and on. And so for that, I have immense appreciation because it's possibly been the greatest thing that's happened to me thus far.
It's just really remarkable what the power of inspiration can have you do.
So, meeting him at what seemed to be a hectic stage door experience was really a moment to remember. While I don't want to speak too much on the moment itself, I can say that I was able to say all the words that I've wanted to say to him since I first saw the above video. So, thanks James. I honestly couldn't have thought of a better ending to this school year than meeting one of my modern-day, academic heroes.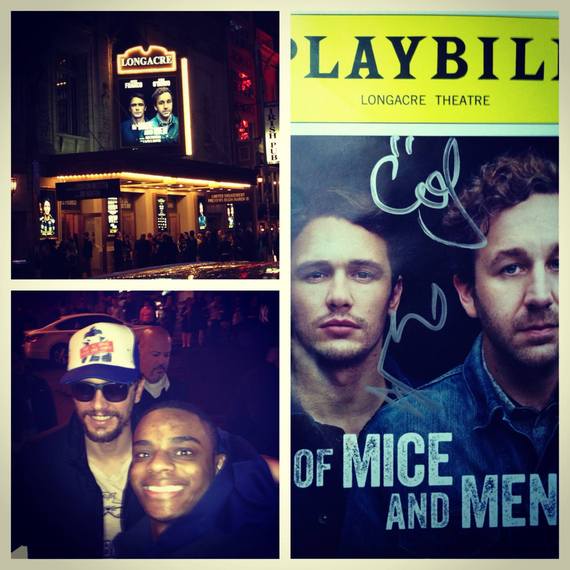 Photo courtesy of @tywanwade's Instagram.
Tywan Wade is a sophomore at the George Washington University in Washington, DC. Read more about him in Impossible Dreams: The Story of Discovering My Superpowers.