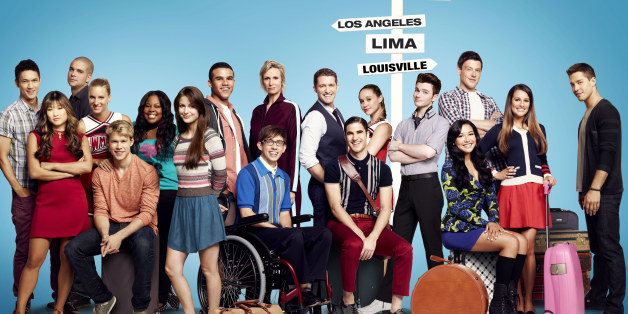 "Being good isn't good enough. I'll be the best or nothing at all." - Barbra Streisand
Growing up in the Midwest, people have always drawn direct comparisons between my life and those of the characters of Glee. Besides overlooking the fact that I was unfortunately bullied in high school because I was, well, different, in the ambitious sense of the word, geographically our stories meshed as I was raised primarily in a small town in northern Ohio. It continued as I've moved to the nation's capital to chase my wildest dreams in becoming one of the greatest performers, entrepreneurs, and diplomats the world has ever known. But while I've consistently delegated Glee as my favorite television show of all time (Friends and Friday Night Lights come in close second and third, respectively), I never saw the connection between myself and any of the characters.
But it was always there.
While my friends see me as one of the most determined and fearlessly ambitious individuals they've ever met, my childhood didn't necessarily reflect that. Actually, it didn't at all. While I was always a go-getter, I wasn't as "by-any-means" that I am today. Some say it's inspiring, but I blame the obsessive compulsion for my own success on lack of it in my childhood.
I don't know why, but in high school I was often ostracized. Even though I played football, I think it was the acting that people were thrown off by. I loved it, but was alternatively unable to do it because I had to solely focus on school and football. It often discouraged me from being all that I wanted to be. I would remember trying out for musicals half-knowing that I would be writing my own ticket to being an outcast and half-understanding that my parents would never let me go through with the role. (I still tell my friends to this day that I played Seaweed in a regional production of Hairspray even though I only got the part, never being able to actually carry out the role.)
So a lot of my self-competitiveness that led me to today's successes lies amongst those denials from high school. There were honestly so many. I can remember vividly being embarrassed multiple times in the lunch room being told once to leave because: "I wasn't the same color of the table, nor the people sitting at it." The bully was taking shots at my brown skin complexion, humiliating me in front of a laughing lunch room. While at the time it deeply hurt, it only made me stronger in the long run. And in reflecting on all that high school taught me, I think the lesson to really understand who I was and who I was going to be.
This will be my last and sole article that I will write in regard to high school. It was a painful time because much like life we're so caught in the rain that we can never see the natural growth that will come of it. And although Glee gets much criticism for its optimism and constant happy endings, I believe in it. I've learned that everything happens for a reason and in its destined purpose. It's just the way life works.
So although I never got to be in those musicals or sit at the cool lunch table, I don't regret it because it was never my place to focus on the past, but to only determine the future. This would explain my ambition: to one day have the life path to be able to prove all those people wrong -- and I'm continuing to do so even in college. I don't understand what it is about this nascent part of the world that just wants to be put people down. But honesty, for the strong ones, for the one who were destined to make it, it's the greatest thing that has ever happened to me.
So, as I'm writing this in my dorm room in Washington, D.C., overlooking the very street that leads to the White House just three blocks away, I think my ambition has gotten me pretty far. And, whenever I have moments of being un-focused or a lack of clairvoyance, I just pull out those journal entries from my freshman year of high school that seemed like the world was going to end to only understand that everything is going to be okay.
Glee helped me through all of that. It taught me that I wasn't alone in my own path toward success. From third grade, when I went to callbacks for the feature film Seabiscuit, to today, when people think that it's weird that I'm writing for The Huffington Post, the song never changes. Everyone thinks I'm strange, but it's only there to make me stronger. The celebratory unknown phone calls, the unexpected friendships, and the strifes of living in a big city have become a dynamic apart of my life. So hopefully I'll achieve my dream of making it to Broadway one day. And although Glee will be ending in it's sixth season next year (I'm sadden that I'll never be able to fulfill that nightdream of making a cameo in its ninth season), it's been a true saving grace in my life.
Fearless ambition isn't bad. It's the wanting of being normal that is. And I will never be that. The yearning to be the best is honestly all I've ever known.
--
Tywan Wade is a sophomore at the George Washington University in Washington, D.C. Read more about him in "Impossible Dreams: The Story of Discovering My Superpowers."