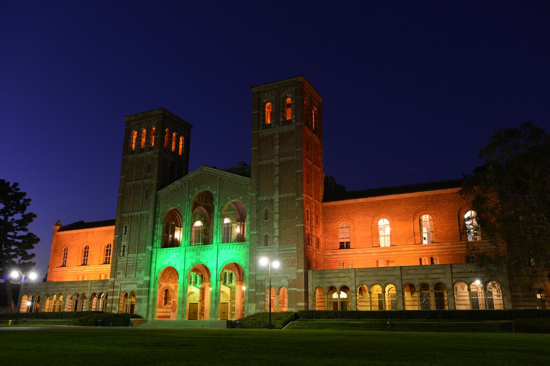 By Alison Hewitt
A strange green glow illuminates UCLA's iconic Royce Hall and Powell Library this week. The green sheen - provided by environmentally friendly LED bulbs, natch - is there to draw attention to a week of events leading up to a major announcement about environmental research at UCLA.

This Friday, November 15, at 10:30 a.m., university officials will announce the UCLA Grand Challenges initiative and reveal details about the first of six planned projects.

Many groups support Grand Challenge projects, which set ambitious yet achievable goals to tackle some of society's most pressing issues through multidisciplinary innovations and breakthroughs. Examples include the Gates Foundation, the White House, the U.S. Agency for International Development and the X-Prize, but UCLA is among the first to channel the resources of an entire university behind solving such a challenge. UCLA's first Grand Challenge Project will focus on environmental sustainability and will involve nearly six dozen faculty and staff.

To watch the announcement live, visit grandchallenges.ucla.edu at 10:30 a.m. Friday and follow it on UCLA Grand Challenges on Twitter @UCLAgc.

Among the events leading up to the announcement will be the launch of a student competition Wednesday to award $5,000 in prizes to Bruins who can show the most innovative solutions to help UCLA or Los Angeles thrive in the face of climate change. A panel of campus judges and eco-celebs will choose from visual entries such as posters, videos or photos to be submitted by Jan. 31. The panel will award a $2,000 grand prize for the top entry and smaller prizes for the best vision for L.A. and for UCLA, and the best interactive installation that can be used to raise awareness on campus.

Full details on the competition will be available online at here in early December.

Today, the Powell Library is launching a green-library initiative highlighting its extensive resources and expertise on sustainability and the environment. Included will be the Los Angeles Aqueduct Digital Platform, the library's Sustainability Research Guide, the Electronic Green Journal and a "Green Community Collection" for browsing on the second floor of Powell Library.

Starting Thursday at 8:30am, the UCLA Grand Challenges Twitter feed plans an "Envirothon," when one green fact about UCLA's environmental sustainability will be tweeted out hourly for 26 hours before the announcement.

Finally, Friday morning's live-streamed announcement will reveal how UCLA hopes to solve one of society's "unsolvable" challenges.

In the week following the announcement, the Office of the Vice Chancellor for Research will host one of its Research Escalator programs on Grand Challenges so that the community can learn more about putting their own projects together. Part of the initiative, the Research Escalator is a series of free research-related workshops that are open to the public.
Photo by Todd Cheney.