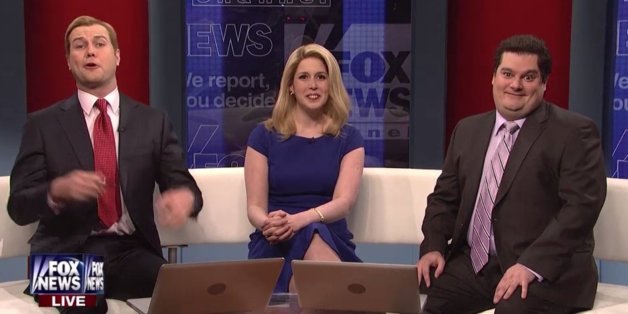 "Saturday Night Live" is turning 40. The late-night live sketch comedy and variety show's 40th season on the air will take place over the 2014-2015 TV season on NBC.
So what can SNL viewers expect to see in season 40?
Over the summer, major casting changes for SNL were reported as season 39 newcomers John Milhiser, Noel Wells, and Brooks Wheelan were let go after just one season.
Mike O'Brien, who was upgraded to cast member at the beginning of season 39, will also no longer appear on the show after being in the cast for one season. O'Brien however, unlike many of his season 39 peers who were let go, isn't going far as he is returning to the SNL writer's room for his fifth year as a writer for the show.
Additionally, Nasim Pedrad, who'd been on the show for five seasons announced she was leaving SNL to star alongside former SNL writer John Mulaney on the upcoming Fox sitcom "Mulaney" which premieres Sunday, October 5.
The last noticeable change on SNL comes in the form of a new announcer. Longtime SNL announcer Don Pardo, who had been the announcer for the show since it first premiered in 1975 (except for season seven), passed away in August at age 96.
Show creator Lorne Michaels has already stated that a tribute to the late Pardo is planned for sometime during this season. Pardo is to be replaced by former SNL cast member Darrell Hammond (who was on the show from 1995-2009 and holds the record for longest time on the show).
Hammond had impersonated Pardo in the past when the announcer was out for health reasons and was the obvious choice to take over announcing duties at SNL. Unlike in the past, Hammond will not be impersonating Pardo but will instead put on a new spin on the opening sequence's announcements.
Though SNL saw many cast members exit, only two comedians are set to join the late-night live sketch comedy show.
Twenty-year-old stand-up Pete Davidson and former SNL writer Michael Che will join the season 40 cast as featured players. Davidson appeared on the Fox comedy "Brooklyn Nine-Nine" last year and also performed stand-up on "Jimmy Kimmel Live" in April.
Meanwhile, Che left SNL just at the end of the last season to be a correspondent on Jon Stewart's "The Daily Show" and now returns as co-anchor for SNL's "Weekend Update" segment. Che will be the first African American "Weekend Update" anchor in the history of the show.
Before longtime "Weekend Update" host and SNL head writer Seth Meyers left the show to host "Late Night" on NBC in February 2014, cast member Cecily Strong began co-anchoring the segment with him.
In March 2014, SNL writer Colin Jost replaced Meyers as co-anchor of "Weekend Update" alongside Strong. Now, Che is going to replace Strong on the show's longest-running recurring sketch though Strong will still remain on SNL as a cast member.
After news broke of Strong's replacement on "Weekend Update," Strong took to Instagram to reassure fans, saying:
"I don't see this as me leaving Update, just as me being on Update in a looser, goofier way that is a lot more fun for me and in a way I think I'm better at. And now I get to do features with the very funny and wonderful Michael Che! No point in being angry or sad for me for something I'm genuinely happy about!"
The show's returning cast members are: Vanessa Bayer, Aidy Bryant, Colin Jost, Taran Killam, Kate McKinnon, Bobby Moynihan, Jay Pharoah, Cecily Strong and Kenan Thompson. SNL's new fully-fledged cast members that were season 39's featured players are: Beck Bennett, Kyle Mooney and Sasheer Zamata.
A live three-hour primetime 40th Anniversary Special celebrating SNL's many years on the air has already been scheduled for February 15, 2015 and with former cast members, musical guests and hosts expected to make appearances.
During its long tenure on television, SNL has won 36 Emmy Awards, a Peabody Award, and three Writers Guild of America Awards.
SNL's 40th season kicks off at 11:30 p.m. (EST) on September 27 featuring "Guardians of the Galaxy" and "Parks and Recreation" actor Chris Pratt as host and musical guest Ariana Grande.