Hi guys! Before I start this week's recap, I have a few public service announcements:
First and most importantly, I will not be doing a recap next week because I will be on vacation, gloriously without access to either television or the internet. In my absence, my dear friend Owen will be recapping the episode on his personal blog. I know it's not the same, but it'll be an adventure (plus, you probably need a break from me, too!)
So, I repeat: I'M NOT HERE NEXT WEEK. I will be busy sipping on daiquiris and working on my sunburn, so please don't leave any comments asking why I've abandoned you. Go to Owen's blog on Friday, or check out one of the countless other ProjRun recaps online.
While I'm on the subject of abandonment, sometimes The Huffington Post doesn't feature my recaps prominently on the site and I often get comments that you can't find them. I have no real control over where and how they are featured, so if you can't find a recap easily, just go to my blogger profile page and you'll find a handy list of all of my recent posts.
Okay, so, previously on: The HP textile challenge allowed Emilio to reveal his love for Seth Aaron via a crude hand-drawn print. It also got him his second win (Tim was not amused). Resident spitfire Anthony made a boring, laser-print cocktail dress and was sent home, and thus what little joy we had is gone from this season.
At the Atlas apartments, Seth reflects on the emptiness of the show now that dearly departed Anthony is gone. "All the chatter, singing, and jacked-up bullshit we'll be missing," he sighs. Add "rockabilly tuxedo jackets," hon, and you just wrote your own eulogy. Hey-oh!
Mila says that the judges were really hard on everyone last episode... I remember them only being hard on the three that sucked, but whatever. Maya is proud to be the youngest but also scared because all of the others have more experience.

Out on the runway, Heidi is all, "You're going to be designing for a celebrity," and I will not even try to make this suspenseful, because it is the biggest letdown since Milli Vanilli. THE CELEBRITY IS HEIDI.
If I may vent for a moment:
SHUT UP, PROJECT RUNWAY. NO, SERIOUSLY, SHUT UP. THIS IS SO RETARDED. THERE WAS ALREADY A HEIDI CHALLENGE, Y'ALL. IS THERE NO LOW-RENT CELEBRITY WILLING TO APPEAR ON THIS SHOW ANYMORE? GET FUCKING LAUREN CONRAD, I DON'T CARE. GET THAT REAL HOUSEWIFE OF NEW JERSEY WITH NO FOREHEAD WHO THROWS TABLES. CAN'T YOU AT LEAST GET NANCY O'DELL BACK? DO ONE CHALLENGE THAT DOESN'T REVOLVE AROUND A HOST OR A SPONSOR FOR THE LOVE OF ALL THAT IS GOOD AND HOLY. [BANGING HEAD AGAINST WALL]
Okay, then. Moving on. So the challenge is to design a red-carpet look for Heidi Klum, for when she is no longer pregnant. Original and thrilling! Everyone will get $300 for fabric. Tim does a great job of acting like this is just as exciting as when the season four designers met Carrie Bradshaw, bless him.
Maya leaves the room causally as if to visit the ladies' and the cameras keep zooming in ominously on her naked mannequin. Seriously, they do this like ten times. While she is gone, Jonathan tells us that he doesn't understand why he was in the bottom for his straight-jacket/diseased tablecloth ensemble. He decides that it is Opposite Day and that he will make something fugly in order to impress the judges. Good luck with that.
Tim comes back into the workroom with Maya in tow and announces that Maya has something to tell everyone. She's decided to leave the competition because she feels she's "not ready yet" (...to deal with the pressure that comes with being fifth runner up on Project Runway?). Everyone is shocked. Mila seems sad to lose her little sister figure, Jonathan chocks it up to ignorant youth, and Emilio advises us that quitters never win. The best assessment, however, comes from my husband, who chortled, "She basically ennui-ed herself out the door!" as he refilled his wine glass. But you know what? I cannot even hate on Maya because I want to quit this season, too*.

They go to Mood, come back, and--SURPRISE!!!!!!--Tim comes in to announce that since the show had planned for six designers at this stage, an eliminated contestant is coming back. I'll give Lifetime this: they know who their Season 7 bread and butter is, because Anthony returns! Which is weird, because he literally just got eliminated, so it's like he never left. I know it feels dramatic to the contestants, but to the viewers? Not so much. Damn, you know it's dire when I can't even get excited over Anthony.
Jonathan is doing something pretentious as usual, an "open-work filigree" that Heidi likens to a curtain, which leads Jon to redo the dress not once but twice, resulting in what looks like a sloppy toga the color of dishwater with a red band around the back like a baboon's ass. Emilio makes a sleek, sparkly (albeit poop-colored) gown with a "fully boned under structure." Seth makes something black which has to be refitted because his model jumped ship for DKNY (this season's Arby's, apparently). Mila makes something shiny and kind of boring, while Anthony attempts an elegant black and white gown. Jay, like Sir Mixx-A-Lot before him, wants Heidi to pack much back, and has made a giant butt for her out of what looks like party streamers.
No one gets any sleep (especially Anthony, who has to stay later to make up for the time he missed), and by the morning of the runway show the designers are milling around in front of the Bluefly.com accessories wall like confused homeless people. When the models are fitted there are many, many shots of bras coming off, which seems like a cheap attempt to get our attention. Well I, for one, am going to need a lot more than bare shoulder blades. Show me stray boob and maybe we'll talk.
Out on the runway, Heidi, dressed in something that looks like swank couch upholstery or a Joan Collins Dynasty-era velvet pajama top, sternly reminds them "one day you're in, and the next day you're out, and the next day you're in again." Haha, because there are no rules anymore, it's a free-for-all! It's Lord of the Flies up in here! Quick, someone make an evening look out of pig skin and conch shell shards! Where was I? Oh, Jessica Alba is the guest judge. Because, apparently, she has nothing better to do (and while we're on the subject, why couldn't SHE have been the celebrity client?). I am so glad I'm going on vacation, you guys, because this show is sapping my will to recap.
SETH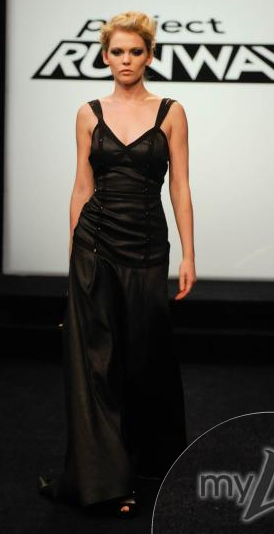 Seth doesn't often misstep, but this looks like what would happen if Hot Topic came out with an eveningwear line. Which, come to think of it, it fitting since Seth is a fifteen year-old goth punk.
JONATHAN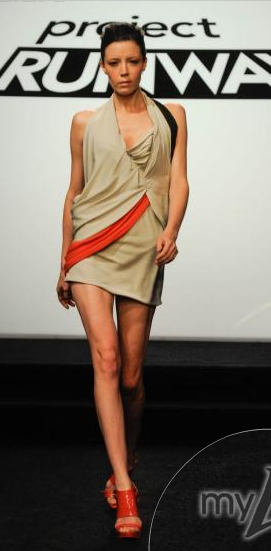 To Jonathan's credit, he did make this in two hours. Not to his credit is the fact that A) it shows and B) his original design and second design were even worse. This is supposed to be red carpet glamorous and it looks like we're revisiting the burlap challenge.
EMILIO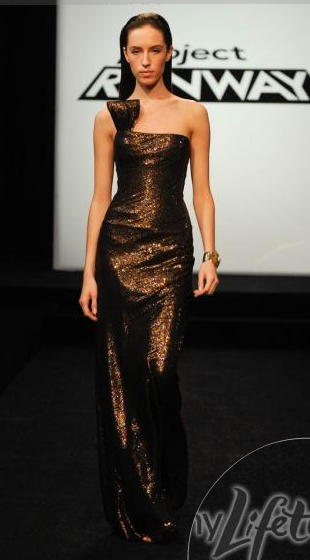 This does look elegant, even with the pull tab/Lady Gaga hair bow on the model's right breast. I will concede that this was the best of the bunch. Could Emilio win it all? If he does, will Tim explode?
MILA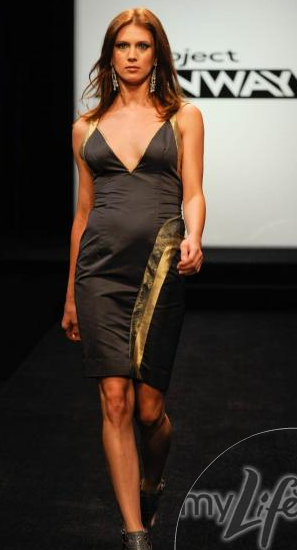 The fit is wrong, the fabric looks cheap, and I don't know what to make of the stripes going on near the left thigh. It reminds me of a highway, no? Life may be a highway, but I do not want to ride this all night long. And by ride I mean wear, not hump a la Chris Meloni's deranged, kinky chef in Wet Hot American Summer.
ANTHONY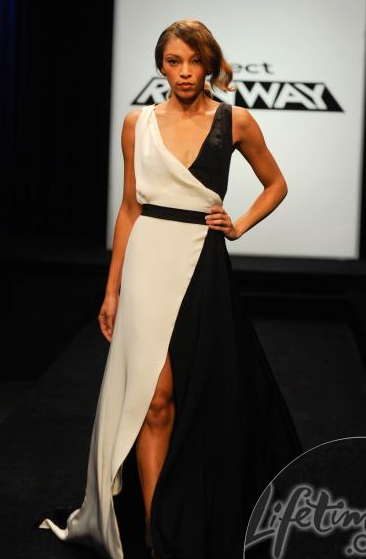 This is elegant, but it's not a wow dress for me. (Oh my God, I'm turning into Nina Garcia.) There's just something slightly off about it that keeps it from being truly stunning. Honestly--and it pains me to say this--I think Anthony is just not quite up there with some of the others in terms of raw talent. There's a reason he got kicked off in the first place, you know?
JAY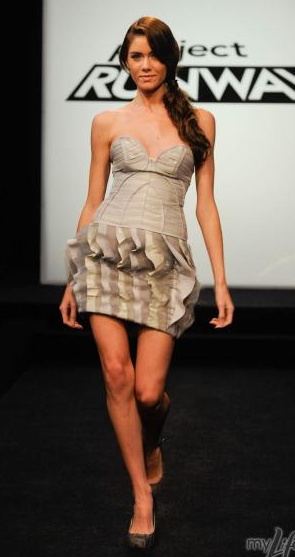 This skirt really reminded me of Leanne's wave collection from season five. The bodice works in theory but is kind of saggy in practice. But I can see Heidi wearing this in real life, so I don't know what to make of it.
Because there are only six designers left, no one is safe. The only two that the judges really love are Anthony's ("Sexy but not vulgar," "Stunning") and Emilio's ("Impeccable," "Amazing fit"). They're kind of meh about Seth's (Michael says the dress looks like "the girl at an awards show who would come out and carry the statue when you win, but not the winner" and OMG Michael did you just dis Miss Golden Globes? Them's fightin' words!) and Mila's (which is too wide in the bust and, according to Heidi, "not a show-stopper") and kind of hate on Jay's ("There is not a woman on the planet who wants people to think she has a big butt") and Jonathan's (comparing it to a "dull pillowcase").

After deliberations, Heidi informs the designers that there are two winners: Emilio, whose dress will be worn by Heidi; and Anthony, whose dress will be worn by Jessica Alba. I'm happy for Anthony, but Emilio's head seems to grow another three sizes. Seth and Mila are in (being bored made me look for bright spots, which is how I discovered that pretending Heidi is saying "urine" instead of "you're in" is a fun game), which leaves Jonathan and Jay. To me, this is a no-brainer. Jay has to be in. And he is. Jay is urine, and Jonathan is sent back to hoe his fields and milk his goats.
Next week the challenge decides who goes to fashion week (aka the real finalists among the ten who showed collections--my guess is Seth, Emilio, and Jay). I hope it's a better challenge than this week's, and I hope Owen's less jaded point of view will make it even better.
*Oh, getting back to the asterisk I left way up there... I didn't tell you at the time because I didn't want to spoil it, but Maya was the only designer who did not show a collection at Bryant Park in February. So I knew all along she didn't make it to the end, but as the weeks went by I kept wondering what had happened that kept her from making a collection. I guess now we know!
Luckily for me, no one bit for my Venn Diagram contest, so I don't have to make up a prize (I am still behind on sending out the other prizes. Oh, and I use the term "prize" very loosely.) But I love making charts, so here is a Venn from me to you, as a show of my affection: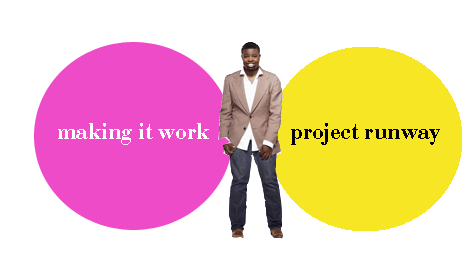 I'll see you back here on April 16. In the meantime, check out my blog, The Sassy Curmudgeon.