Those in Miami know, when it comes to Pop Art, Romero Britto reigns supreme. His art is seen all over the 305 and recently, has made it's way overseas, and in a big way too. When I see his signature bright colors with thick black outlines, it generates an instant grin; cheek to cheek in fact! His trademark shapes and style are often duplicated but never are they replicated. Although Apple recently tried and ended up in court as a result. Tisk Tisk Apple! Romero is the originator. The keeper of the brushes. They sit neatly aligned in a plexiglass cart in the center of his studio while EDM music blasts through the speakers neatly hidden amongst a myriad of products that Britto's brush has blessed. His art is not unlike his persona; gushing compassion, patriotism, happiness, humility and love. His paintings epitomize what he personifies. Those same brushes sitting in the studio in Wynwood Florida have painted him into his own pop art empire. Luxury cars, cruiseships, buildings, nothing is outside of his creative reach and when his brush dips into the paint and touches whatever he is adorning, it's as if a magical spell is cast and anything he dreams becomes a pop art reality. He just makes things happen. He is a taste maker in the world of art.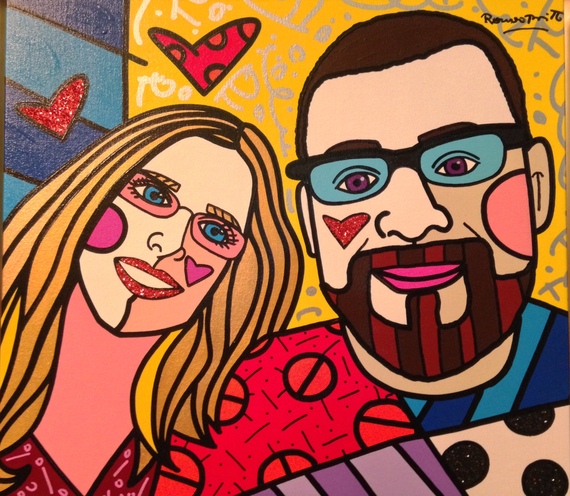 Uncle Louie and his lucky lady were recently featured in a Britto portrait
I have found that I automatically correlate Britto with Miami and I'm not the only one. His art has made a meteoric rise to world renown notoriety, from Buckingham Palace to the White House, but one fact is indisputable. He first tasted success in South Florida and The Magic City is where he calls home. His work can be seen adorning Disney World, at Miami International Airport, in it's own gift shop and even on the wrists of well to do watch aficionados who picked up the limited edition Britto embellished Hublot available at the Weston Jewelers Hublot Boutique. Listen, the list goes on and on, there is even a Britto Monopoly Board Game from Mattel, Coca-Cola products and Britto Bentley automobiles; note to self: I need one of those. Aline Shriver, please take notes on that.
When I first started collecting Britto's art and others would see it on my walls, in my social media and throughout my office, many knew what it was but many did not. I was proud to bring a smile to their faces by sharing his artwork with them and today, I learned that his artwork has gone even further south than South Beach! Today I learned that through collaboration with Carlos Slim, a philanthropist and long-standing patron of the arts, Britto's artwork will now be licensed and available in Mexico and Latin America in a huge way! This licensing deal will make put Britto artwork on apparel, footwear, handbags, accessories, home décor and more via Sears, Sanborns, Saks Fifth Avenue, Telmex, Telcel, DAX, Philosophy Jr. Studio, Museo Soumaya and Claro-Shop.
I am thrilled to see a hometown hero from Miami making it big! And someday, somebody in Mexico will share Britto's artwork and the same way I maintained it was a Miami thing, they will think it is a Mexico thing. And you want to know what? We are both right. Britto is a worldwide thing!