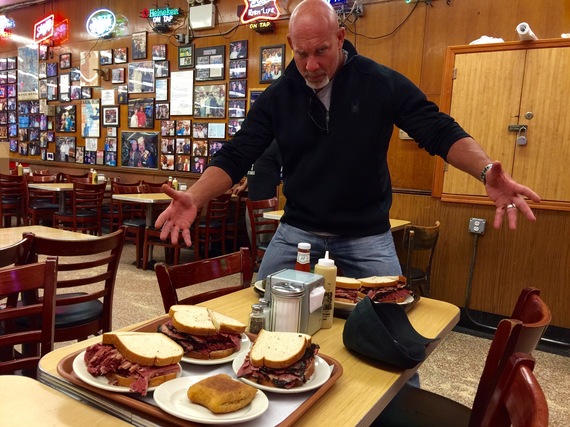 Heading to New York with Bill Goldberg always means a stop at Katz's, where he devours not one, but two huge sandwiches, usually one pastrami and one corned beef and sometimes more! It's just part of the New York ambience and it's one of the few things I routinely miss from the Big Apple.
As a New Yorker, transplanted to South Florida, any chance I get for a taste of home is a welcomed opportunity. That's why when a familiar delicatessen from New York sprung up in Boca Raton many years ago, I was happy to make the 45 minute schlep for some good ole Jewish Soul Food. See, as a kid growing up in New York, there was a Jewish Deli named Ben's that my family frequented; in fact, it was a deli that many frequented and you most definitely didn't have to be Jewish to appreciate their sandwiches. They welcomed everybody into their delis, or so I thought. In New York, Jewish Delicatessens were and still are a part of the culture; the deli's are famous for Pastrami and Corned Beef sandwiches on rye, with deli mustard and amazing matzo ball soup. They were located all over New York City and of course, in the suburbs of Long Island on the outskirts of Queens all the way to the eastern end of Long Island, on the way to the Hamptons. Many New York delis, Ben's included, have a bowl of pickles waiting on the table so you can "nosh" while waiting for your food. Regular pickles, garlic pickles and my personal favorite, pickled tomatoes! Along with the assorted pickled plethora, a heaping bowl of homemade coleslaw...my mouth is watering as I write this and I would imagine, if you are a fan of a good New York style Delicatessen, yours is too! I have to keep my daughters at bay in fact, or they are happy to demolish the pickles and pickled tomatoes, leaving no room for the first course! Bianca has been eating at Ben's since she was an infant; she is almost fifteen now.
Things were much different when I would eat at my friend's homes though; different from my house is what I mean, different and good. Years later, when I was about 16, one of my very best friend's, his name is Carmine, used to have me over for dinner all the time. I was immersed in an Italian American household and the food was amazing! His parents, whom I fondly called Uncle Frank and Aunt Carol, taught me a truly Italian dining concept. They called it "family style". Basically, what it meant was that whether at home or in an Italian Restaurant, you didn't simply get a plate of food to eat. The whole table was covered, end to end, in large portions of all different meals. Simply put, family style meant that there was enough food to go around and that everybody got to eat "a little of this, and a little of that". What a concept that was! Kinda reminded me of an "Italian Passover Seder", but it was every Sunday afternoon, at Carm's house. Instead of matzah, there was garlic bread. Manischewitz wine was substituted for Tufano Wine with their family name on the label. It was a tradition their family had for generations, making their own wine at Carmine's Uncle Carmine's house with his cousin Carmine and his Grandpa Carmine. One thing that carried over, whether Jewish or Italian, was a love of food, family, desert and of course, the name Carmine!
Who would have guessed that rainbow cookies, or napoleon cookies, were enjoyed by Jewish people as much as they were by Italians?! Now, as an adult (despite my best attempts to stay a kid forever), I take bits and pieces of all the aspects of my upbringing and put them together; they are what makes me who I am. If you know me, you know what I mean.
I invited Rey Rey, a Cuban American, born and raised in Miami to join me. He's a fan of good corned beef.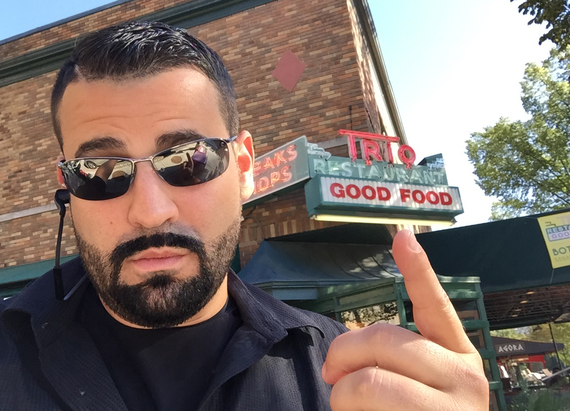 Uncle Louie knows where to find good food all of the United States; shown here in Washington, DC
Rey is a war veteran, having served in Operation Enduring Freedom. I am routinely honored to call him a friend and knowing that he is a disabled war veteran, I see firsthand the sacrifices that our armed forces make to ensure that we as Americans have the liberties that we routinely enjoy. That night, I would thank him in my own little way, with a trip to Ben's Deli!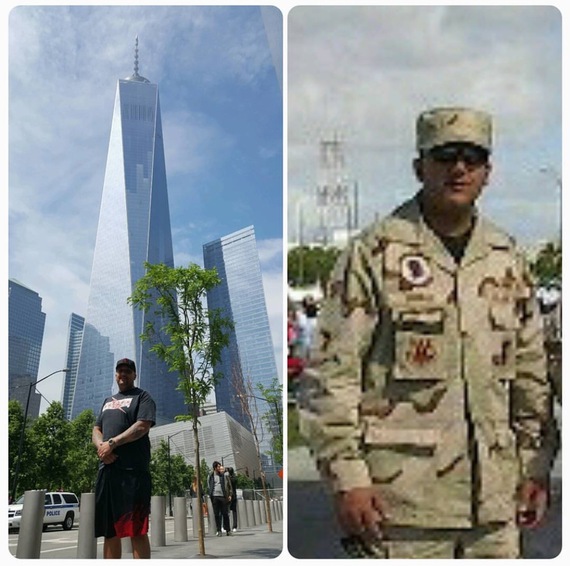 during a recent visit to NYC, Rey, a USAF Operation Enduring Freedom Veteran visited The Freedom Tower. He also ate a Katz's Deli while in Manhattan
I was eager to sit when we got there. As I sat, a guy asked "why don't you let us finish setting up the table first?" I remember thinking, instantaneously, what a jerk he was to talk to me like that, and in front of my family. I was glad Rey Rey wasn't at the table yet when he said that. It wasn't what he said as much as how he had said it. He was very disrespectful. That embarrassed me in front of the other patrons and more importantly, in front of my family, my little girl. I know, I know, rude people are part of the New York experience. Maybe so, but that was a part of New York I could have dealt without. Still, I had waited a long time to eat there and I wasn't going to let some little man in a black shirt ruin my trip back in time, to being a kid in New York, eating with friends and family. I also had to set a good example for my daughter and for Rey Rey's kids; so I said "no problem sir", picked up my kid and stood aside while we waited for them to put down a couple more place settings on the table. Finally, he left and we sat down. As I took my seat, the same guy with the menus who had asked us to follow him to the table, handed me a menu and told me not to worry about "him" (the dude in the black shirt) and that he was "a mashugana". That's a Yiddush word for a stupid person. Now that's an accurate assessment, I thought to myself. Mashugana is a word that many Jewish people know, but if you didn't grow up in that particular atmosphere, it's probably something most people aren't familiar with. Regardless though, the rude guy was gone and our waiter was ready to take our order and I was ready to eat.
What happened next was so appalling it warrants it's only blog entry so stay tuned...