You may think that you understand street art -- you know about Banksy, you've seen Exit Through the Gift Shop. Especially if you live in a big city, the concept of street art is nothing new. But you might not be aware that in cities like New York City, some street art has a much bigger purpose than the murals and graffiti art coloring cracked sidewalks and plastering the sides of old buildings and subway walls. Check out our finds:
1. Jan Vormann's Dispatchwork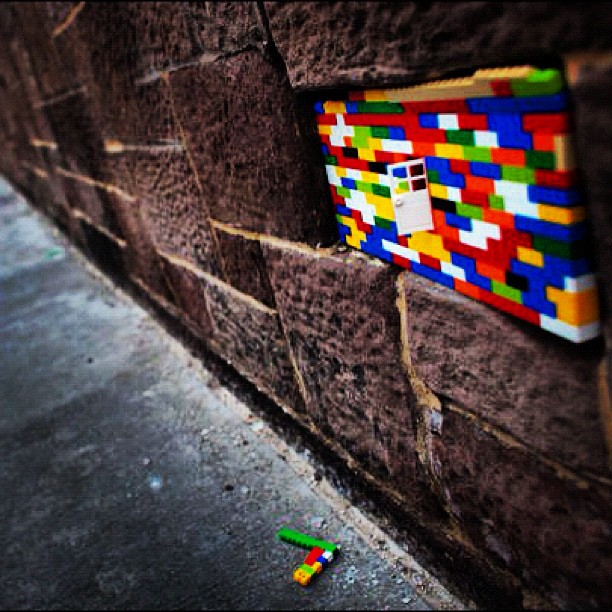 Photo: Kerry Payne
Since 2010, German street artist Jan Vormann has been using Plastic Construction Bricks (PCBs, more commonly known here as Legos) as a colorful way to repair crumbling buildings and structures around the world, filling in the cracks left behind by fallen bricks or missing tiles. According to Vormann, the idea behind the project was to complete the material compilation in urban constructing and to add color to the urban greyscales. Although many of the Lego patches have been removed, New Yorkers can still find Vormann's work in walls surrounding Bryant and Central Parks, in a post office entrance in the West Village, on the corner of 32nd Street and Seventh Avenue, and in the wall of a fast food restaurant across from Penn Station.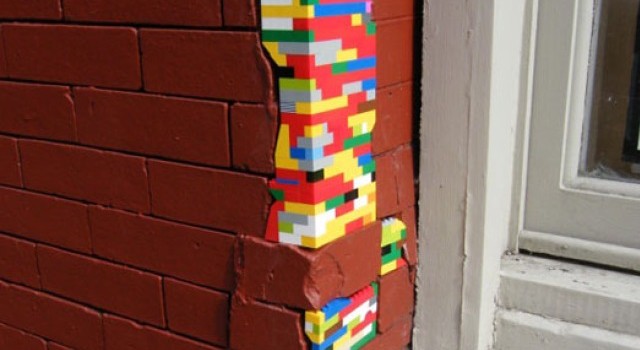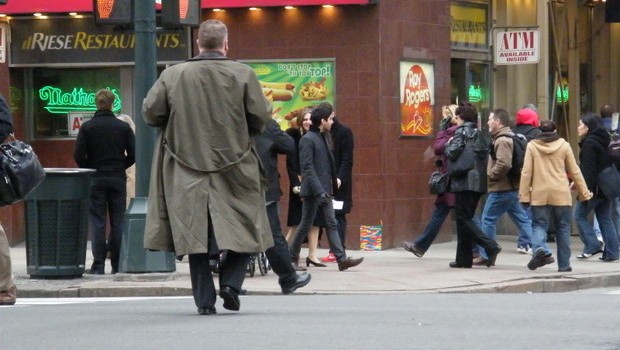 2. Aram Bartholl's Dead Drops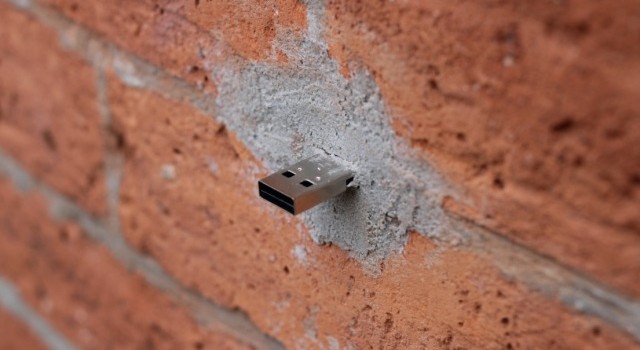 In October 2010, Aram Bartholl started inserting USB ports into the walls of buildings in NYC so that anyone could hook their laptop up to them and share whatever files are left on the USB port. These random USBs are intended to be dead drops (defined as "prearranged secret spots where one espionage agent leaves a message or material for another agent to pick up"). Bartholl's goal for these dead drops was to create an anonymous, offline, peer-to-peer file-sharing network for strangers to communicate in a public manner.
Here's our list of known dead drop sites:
-87 3rd Avenue, Brooklyn, NY (Makerbot)
-Empire Fulton Ferry Park, Brooklyn, NY (Dumbo)
-235 Bowery, NY (New Museum)
-Union Square, NY (Subway Station 14th St)
-540 West 21st Street, NY (Eyebeam)
-The Museum of the Moving Image in Astoria (this is a DVD dead drop, and features content curated by the museum on a monthly cycle)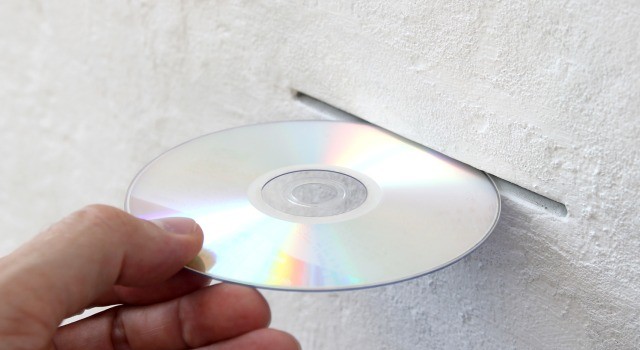 3. Pentagram's LOOK! Campaign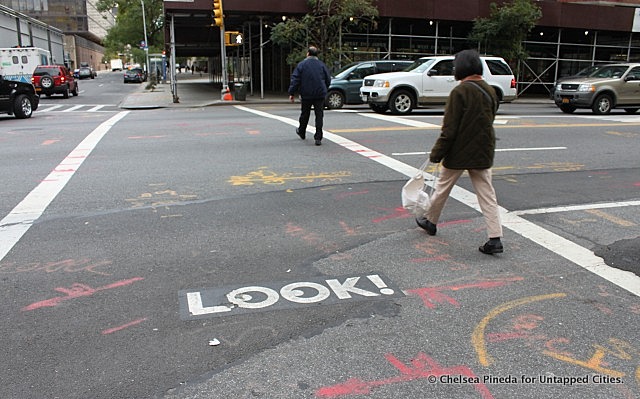 In conjunction with the New York City Department of Transportation, Michael Beirut of Pentagram created the Look! campaign, which uses the simple symbol of the word "LOOK!" to remind pedestrians to be mindful of oncoming traffic before crossing the street. Bierut and his team plastered the five-character graphic on crosswalks buses, subway entrances, and phone kiosks all around the city as a signal, knowing that many people often glance down when crossing. And with 57 percent of last year's traffic fatalities being people on foot, the pavement graphic could only help to lessen this number. You can see the LOOK! Campaign ads and graphics all around the city, including near the intersection of Second Avenue and 42nd Street, and the intersection of West End Avenue and 65th Street.
See more at Untapped New York.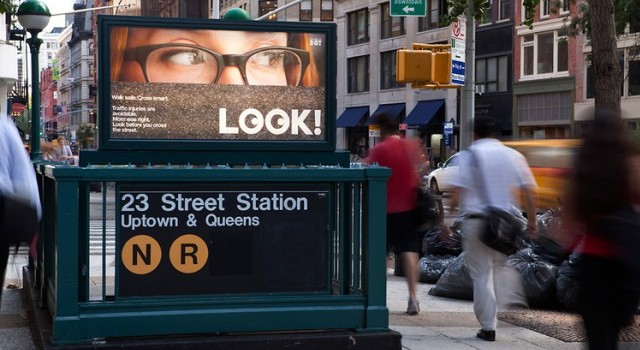 Get in touch with the author @chelspineda.