Rahnavard Zaryab is an influential Afghan writer and scholar. He was imprisoned during the Taraki era in 1978/79. His work has brought him into extensive contact with democratic countries. He advocates for democracy and ideological freedom in Afghanistan. He obtained an M.A in Journalism in Great Britain and lived in exile in France during the time of the Taliban. He has worked as editor-in-chief of several newspapers and headed the Union of Writer in the late 1980's.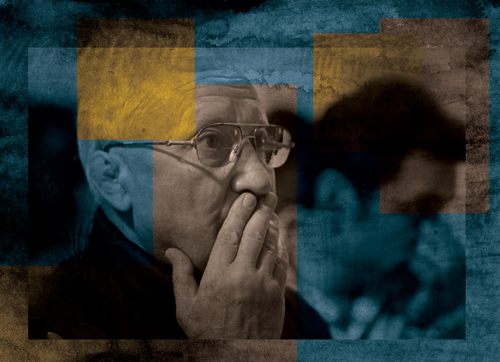 Photo : Rashed Rahmani / Matthieu Hackière
Have your rights ever been violated, and if so, how did it affect your life?
My personal experiences are inextricably intertwined with the violations we have experienced collectively as a society. In my opinion, the worst human rights violations occurred during the Taraki era. It was during this era that the most significant event in my life happened - I was imprisoned. Nobody told me why I was in prison, and I have never found a reason for it. Another major period of violations was during the Mujahideen era, when human rights were ignored throughout the country and particularly in Kabul.
What are some important achievements in Afghanistan?
Over the past 10 to 12 years, we have got closer to enjoying some measure of political freedom in Afghanistan. We can criticise the government and challenge those in power. However, there has never been any ideological freedom in this country. You cannot expressly discuss questions of ideology. This is why so many writers have been obliged to leave the country, fleeing oppression by religious leaders. We are not free to think here and our writers have had to escape in order to find ideological freedom.
What is your worst fear today?
I believe that presently we are in a state of crisis, and I fear that it will continue. We have no ideological freedom. There are no constraints on the powers of economic actors. I am also afraid of returning to the dark period of the Taliban. But unlike many others, I don't believe we will see a complete return of the Taliban - if you ask me, the situation has changed too drastically for that. The Taliban would never be welcomed in the way they were at the time of the Mujahideen. Despite all our miseries and problems, people are more content now than they were in the past.
What are the three biggest challenges facing Afghanistan?
There are still many challenges in Afghanistan. Our society is in transition. It is transiting from one economic, social and political structure to another. We have lost the previous institutions as well as the values of the old society, but the values and institutions of the new society have not yet taken shape or been institutionalized.
Will today's Afghanistan allow a recurrence of the closing of schools to girls and the blocking of women's social participation?
I believe that there are some Taliban-friendly tendencies in the government that has ruled Afghanistan for the last 12 years. And hence, the political and social changes seen between 2002 and 2013 have given support to the ideology of the Taliban. For example, women had more social freedoms in Afghanistan in 2003 than they do now, and they made better use of the opportunities available to them to achieve their rights.
We have been witnessing the process of some kind of regression. Women are more reserved; they have been forced into submission and obedience. They are less prepared to stand for their civil rights. The forces allied with the Taliban in the ruling establishment have gained more power, while the democratic and moderate forces are growing weaker. We have to wait and see what the next government will do. If they follow the model and policies of Mr Karzai, this current state of crisis will continue, with the Taliban-friendly forces gaining increasing influence in the system. But it is also possible that we could see a backlash against the Taliban tendencies. A backlash would be very welcome.
Which factors deter women's participation in social, economic, political and cultural arenas?
The most important one is this Taliban ideology which exists within the government and is expanding within society. It has made women more conservative; they no longer consider themselves an active force in society. They don't think they have a place to participate in civil society developments. This noxious Taliban ideology has persuaded women to unwittingly accept that they have to be obedient.
What are the major demands of women?
During the last decade, the government should have given significant attention to raising women's knowledge and awareness of their rights and entitlements as citizens. Unfortunately, this has not been done. As a consequence, we see only a small group of women represented in the social arena. Even amongst the most progressive women in Afghanistan, there is an idea that Islam gives them sufficient freedoms, and they should want for and deserve nothing more. This way of thinking is a form of regression and backtracking. It's evidence of the continued underlying influence of the Taliban mentality on the way women see themselves and their rights and entitlements.
Which resources and institutions can women rely on to promote their rights and demands?
There was an institution called the Women's Democratic Organisation (WDO) in the 1960s, which did not receive financial support from any outside country. Its members were extremely clear-minded and conscious people; they knew what they believed in and were effective in working together to fight for it. Even though today there are so many organisations working for women's rights, I don't know any group that is as effective as the WDO was.
What have you done in your personal and professional life to fight against the obstacles facing women in Afghanistan, including discrimination?
Through my work as a writer, I have had the opportunity to observe and analyse the government and societal conditions in many democratic countries, and to compare it with what I see happening in Afghanistan. It is a disappointing exercise to compare Afghanistan with places like France, Britain, New Zealand, and other democracies. The biggest difference is the lack of ideological freedom here, and without it, there is no possibility to fight. When you are deprived of ideological freedom, it is as if someone has cut out your tongue - you can't do anything. The work of a writer, indeed any kind of creative production, is an intellectual pursuit. It needs a free environment, and above all, the freedom to think. If you are deprived of these things, you will struggle to produce creatively, and even if you manage to, you will face serious challenges in disseminating your work and reaching your audience. Any distribution you manage in these conditions will only be of a limited scale and won't create much impact.
There is something else to keep in mind: the modern audience in Afghanistan is attracted by different things. The media has had an enormous influence on our young people. They are poisoning our youth with populist, capitalist, neo-liberal ways of thinking. The pressure from the media has a similar weight to that of the Taliban circles: the media and the regressive policies of the Taliban are equally destructive forces in our society.
Like most of my contemporaries, I have not done anything in my own private sphere to overcome the social hurdles. In this land, the private sphere never comes into question: it is considered a taboo.
"Unveiling Afghanistan, the Unheard Voices of Progress" is a campaign by Armanshahr/OPEN ASIA and FIDH, which explores views held by Afghan civil society actors. Over 50 days, 50 influential social, political, and cultural actors hope to spark conversation and debate about building a society that is inclusive of women's and human rights in Afghanistan.