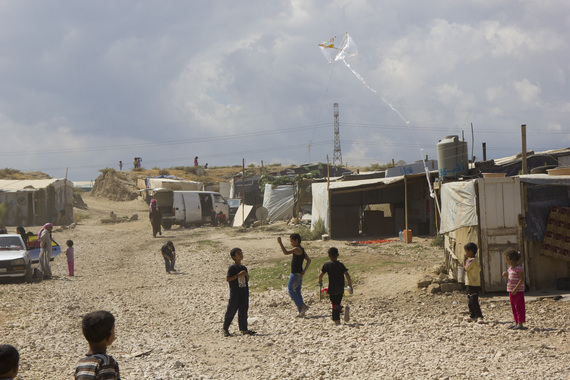 Photo: Tabitha Ross/A World at School
Sixty years ago this week, at the age of 5, my mother started her schooling in a small tent run by the United Nations Refugee Works Agency in Beirut, Lebanon. Even at a very early age, my mother relished the opportunity to go to school. My grandparents had successfully drilled in my mother the idea that as a young female refugee, education was her only hope of building a better future for herself. Reflecting back on her earlier life as a refugee, my mother accredits the 12 years of schooling she received through UNRWA for putting her life on the right course, allowing her to aspire to achieve more than she ever would have without an education.

My mother's story rings true for millions of refugees who received an education through UN agencies and host countries around the world. They are living proof of the benefit of a concerted international effort to invest in education not only as an emergency measure but also as a critical part of helping refugees rebuild their lives and fulfill their potential. Sadly, today, while the proportion of out-of-school children in conflict-affected countries continues to rise, the share of humanitarian aid that is devoted to education is declining.

Despite the generosity of host governments in Jordan, Lebanon and Turkey, hundreds of thousands of Syrian refugee girls and boys will be turned away from schools this week because the international community has not yet provided enough financial support.

Without access to education in countries hosting the most Syrian refugees, the threat of losing an entire generation to hopelessness and despair is more felt than ever. Desperate to give their children a better start to their lives, more Syrian refugee families will likely continue to make the arduous and often times dangerous journey to Europe.

More than three months before the body of little Alan Kurdi washed up on the shores of Turkey, a group of out-of-school young refugees from Syria between the ages of 14-18 spoke to me candidly about their own pull to flee to Europe despite estimating their chances of reaching Europe alive as being only 50/50. As one boy told me, 'it is a chance worth taking, if I stay here, my existence doesn't mean anything. I am as good as dead.' For one girl, the mention of the dangerous journey was too painful and a reminder of her crushed dream to study in Sweden. 'My aunt and uncle and their children drowned on the shores of Crete last summer, my parents became too afraid to go.' Still, what holds back most of them from attempting to flee to Europe is the prohibitive $5,000 they would need to pay someone to smuggle them into Europe.

In effect, for refugees from Syria, education has become a matter of life and death. Their sheer determination has given a new level of urgency for the international community to invest more generously and systematically in education in emergencies in the Middle East and beyond.

Three new reports I authored for Theirworld and A World At School detail the scale of the Syrian refugee education crisis in Jordan, Lebanon and Turkey and highlight the commitment of the governments in these three countries to respond to the needs of the refugees. Their leadership has already set the foundation for a plan to place 1 million Syrian refugee children in school this year. The plan builds on the important success achieved in Lebanon under the Reaching All Children with Education - an initiative spearheaded by the Government of Lebanon and supported by donors and UN agencies - having enrolled 106,000 refugees in school with another 200,000 targeted this school year.

While many donors have recognized the generous response of Jordan, Lebanon and Turkey to refugees, they have not provided enough and predictable funding to deliver education to all refugee children. As the Syrian conflict moves from a humanitarian emergency to a protracted crisis, donors will need to shift from providing short-term emergency funding to supporting reasonably costed plans with sustained funding that not only responds to the longer-term needs of refugees but also builds the resiliency of the education system of host countries.

For this school year, Lebanon is still $35 million short of reaching its target for reaching an additional 200,000 refugees. Jordan needs another $65 million to put 215,000 children and youth in school. And Turkey has received little international financial assistance to support almost 400,000 out-of-school refugee children, despite investing $6 billion of its own resources to support the influx of 2 million Syrian refugees.

The plan outlined in the reports however recognizes more money needs to be matched with bolder and more focused efforts to reach all children and youth. Governments, donors, UN agencies and non-governmental organizations in all three countries are well placed to deliver by focusing on: scaling up of access to primary education through double-shifting more public schools and funding more teachers; developing a targeted strategy to reach the most underserved group - Syrian youth - through secondary, vocational and post-secondary education; investing in early learning to help refugee children adapt and succeed in their host countries' education systems; and creating alternative education through community based organizations for children and youth who are unable to enter state schools.

Not only is this plan achievable, it is the most sustainable investment the international community can make in responding to the needs of refugees.

I can imagine what my mother's life would have been without an education. I can also imagine how my own life might have been very different, without nearly as many of the opportunities I have been afforded by having an educated mother.

No child should ever have to imagine her life without education and hope. For at least 1 million refugee children and youth in Jordan, Lebanon and Turkey, the hope that comes with education is within reach.
For more information about the campaign to get 1 million Syrian refugee children in to school visit A World at School's website.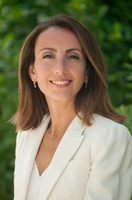 Maysa Jalbout is a global education advocate and advisor with a focus on the Arab region. She has authored many reports on refugee education. She is a nonresident fellow at the Center for Universal Education at the Brookings Institution. Formerly, the CEO of the Queen Rania Foundation, she supports government strategies, channeling philanthropic investments and creating partnership opportunities in the education and international development sectors.