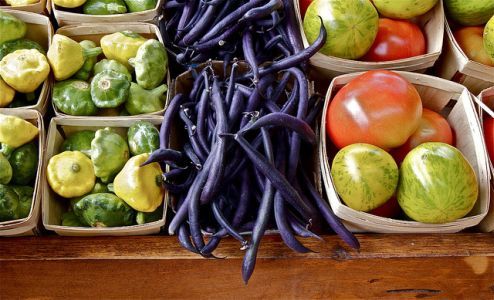 Cities like Paris and San Francisco may get all the attention from discerning foodies, but they're not the only places luring curious epicureans. The lesser-known dining scenes below are ambitious and unconventional, they're buzzing with new and noteworthy chefs, and they're diverse and unexpected.
After taking into account reputation, versatility and reviews from critics and globe-trotting gourmands, we've come up with eight up-and-coming dining hot spots to visit this year -- before they're officially on every food-lover's map.
In Pictures: 8 Under-the-Radar Foodie Cities
Lima, Peru
In Lima, boundary-pushing plates -- like sea urchin ceviche and raw tuna tail layered with yellow-pepper puree -- aren't hard to find. Thanks to Lima's diverse cultural influences, you can sample everything from African-Creole to Japanese-Peruvian fare here. To sample fusion dishes with a little extra panache, visit Rafael Restaurant, located in the seafront suburb of Miraflores about 7 miles south of central Lima. Prefer an authentic Peruvian entree? Head to La Mar (also located in Miraflores), to indulge in lomo saltado (a succulent cut of sirloin layered with onions and tomatoes). And if you happen to be visiting in the fall, follow your taste buds to the Mistura Food Festival (Sept. 5-14), which features Peruvian staples like fresh ceviche with chili peppers, sweet potato and corn.
Best Kept Secret: For a midday bite, go to Chez Wong, a lunch-only "cevicheria" that features high-quality sole ceviche served only a few simple ways: sweet or sour and either warm or cold.
Hong Kong
Nowadays, you'll discover more in Hong Kong than delicious dim sum and braised pork belly: Restaurants here serve up an eclectic variety of cuisines, from French to Vietnamese. The city houses a mix of white-tablecloth restaurants, snazzy cocktail bars, low-key barbecue joints and noodle establishments. If you prefer to stick to local fare, Yiu Tung Street's vibrant outdoor market stalls, known as dai pai dongs, make it easy to eat well on the cheap. When it comes to dessert, the fluffy, flaky egg waffles found at Lee Keung Kee North Point along the Tsim Sha Tsui Promenade are a hit among sweet-toothed visitors.
Best Kept Secret: The Michelin-star rated dim sum at Tim Ho Wan offers tasty (and affordable) dim-sum creations like steamed pork dumplings and baked buns with barbecued pork.
Bologna, Italy
While Italy has long been a magnet for food and wine lovers, Bologna is the go-to place for pasta-obsessed epicureans exploring the Emilia-Romagna region in northern Italy. Affectionately called La Grassa, or "the Fat One," Bologna is where the scent of ragu sauce, prosciutto di Parma and Parmigiano-Reggiano cheese wafts through the air along centuries-old streets. Splurge for a meal at Trattoria Anna Maria, which is known for its tortellini. You'll find this legendary eatery off of via Belle Arti in the heart of Bologna

Best Kept Secret: Venture to La Terrazza off of via del Parco for an elegant setting and Mediterranean-inspired plates -- such as Tagliolini pasta topped with clams, zucchini and pumpkin flowers -- prepared with seasonal ingredients.
See: Best Cities for Foodies

Melbourne, Australia
Sydney, with its spectacular location on the Tasman Sea, has long appealed to foodies craving fresh, local seafood. But restaurants like Attica (a San Pellegrino World's 100 Best Restaurant) in Sydney's southern counterpart dish up intrepid entrees like salted red kangaroo and minted potato. The diverse culinary offerings have even inspired rising chefs, such as Roy Choi and Magnus Nilsson, to head to the city. And thanks to the city's melting pot of cultural influences, Melbourne plates some eclectic and surprising cuisine choices. Don't skip sampling the decadent lamb shoulder prepared in chamomile at Pei Modern.

Best Kept Secret: To try intriguing dishes like hot and sour Thai beef salad or caramelized taro pudding coupled with banana and lime, stroll to Easy Tiger, located on Smith Street in the hip, food-forward Collingwood neighborhood.
Montreal
Montreal makes this list for many reasons. For one, the city's diverse cultural background means you can get your hands on anything from sushi (try one of three Le Mikado locations -- Laurier, St-Denis or Monkland) to farm-fresh produce at the colorful Jean-Talon Market. And, if you're up for Quebecois bites around town, you're in luck. For poutine varieties like sweet potatoes topped with cheese curds and pepper sauce, and cheese curds, mozzarella and braised beef in red wine sauce, try Poutineville. What's more, the city plays host to a number of autumn festivals, such as Taste MTL (Oct. 30 to Nov. 9), where you can sample the offerings at more than 125 dining hot spots around the city.
Best Kept Secret: If you have a sweet tooth, you can't miss Martin Picard's celebrated sugar outpost, Cabane à Sucre Au Pied de Cochon. To indulge in irresistible maple syrup doughnut confections, you'll need to drive about 36 miles northwest of downtown Montreal to St-Benoît de Mirabel, but you won't be disappointed.
Richmond, Virginia
When you think of down-home cooking like buttery biscuits and fresh seafood, places like Charleston, South Carolina, or Savannah, Georgia, likely come to mind. But if you're looking for fresh takes on Southern staples, take your appetite to Richmond, Virginia. Rising foodie superstar Dutch & Company is gaining traction with seasonal menu items like flounder with Carolina gold rice and short rib with polenta. Experts at Food & Wine Magazine even nominated Dutch & Company's chefs, Caleb Shriver and Phillip Perrow, as contenders for "The People's Best New Chef" this year.
Best Kept Secret: Check out The Roosevelt for inventive pairings like catfish with bean and bacon succotash and Nashville-style spicy fried pig head.
Oaxaca, Mexico
Mexico City may receive high praise for its zesty streetside tacos, but it faces serious competition from the southern Mexican city of Oaxaca. Start your exploration in the Central de Abasto, a vibrant market filled with traditional Oaxacan chocolate, maize and other local specialties. But a trip to this part of the country wouldn't be complete without a hearty bite of mole. La Biznaga, a restaurant across the street from the Church of Santo Domingo de Guzmán in central Oaxaca, is popular for its modern take on mole, such as salsa macha, prepared with garlic, sesame seeds and chiles. You'll also want to make time for Mezquite, a festive cantina that serves up mezcal margaritas and offers views of the Church of Santo Domingo.
Best Kept Secret: For inventive dishes, such as roasted duck tacos with green sauce or seafood tostada covered with avocado, Oaxacan chile and toasted peanuts, try Casa Oaxaca, located in the Hotel Casa Oaxaca in the city's Centro Histórico
See: Best Wine Vacations
Houston
Austin has long drawn barbecue aficionados visitors seeking mouthwatering brisket while Dallas draws lovers of hearty steaks. But to experience a lesser-known Texan food hub chock-full of traditional and ethnic fare (think French-Vietnamese, Japanese and Mexican flavors), head to Houston. The gastronomic scene here has even earned recognition from Bon Appétit, which named The Pass & Provisions the No. 6 Best New Restaurant in America for 2013. And it continues to garner glowing reviews today: Diners can find both casual and fine dining here, with menu items like eggs drizzled with Mexican truffle oil and bouillabaisse with octopus. The city also contains numerous American Creole joints, like Underbelly, which dishes up veggies in caramelized fish sauce and green chile rice grits over smoked beef.
Best Kept Secret: To dig into some melt-in-your-mouth ribs, beef, pork or brisket, try Gatlin's BBQ. Experts at Food & Wine describe the meat at "unctuous, tender and just smoky enough."
In Pictures: 8 Under-the-Radar Foodie Cities
Liz Weiss is an editor for the Travel section at U.S. News. You can follow her on Twitter, connect with her on LinkedIn, circle her on Google+ or email her at eweiss@usnews.com.