Nothing beats a doughnut, whether they're glazed, jelly-filled or dressed up in crushed Oreos or a crunchy strip of bacon. These beloved fried pastries took a humble back seat while perfectly crafted cupcakes have satisfied sweet savants across the country for the past several years. But as emporiums across the country continue to invent novelty confections, we can't help but think these gourmet delights are replacing cupcakes as the go-to sweet indulgence.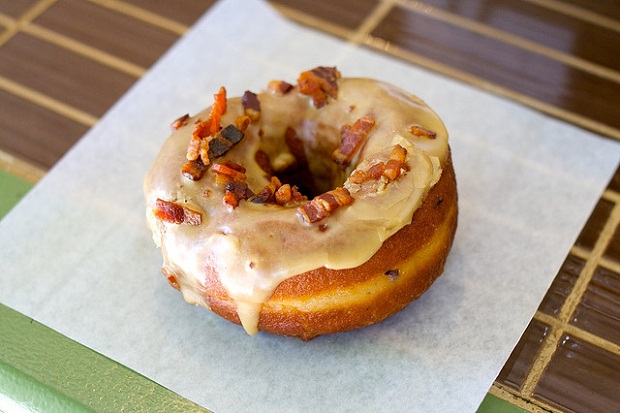 xmatt / Flickr
National Donut Day isn't until June 7 this year, but who says you can't start celebrating early? With that in mind, deciding where to delight in your next doughnut can be tricky. To help point you in the right direction, the editors of U.S. News Travel have scoured the country in search of the paramount places to find this holey pastry. After taking into account bakery reputation, menu variety and online reviews from die-hard doughnut-lovers, we believe that this delicious dozen represents the best of the best.
[In Pictures: America's Best Doughnuts]
Peter Pan Donut & Pastry Shop
Brooklyn, N.Y.
Admired by Tina Fey, Brooklynites and in-the-know out-of-towners, Peter Pan Donut & Pastry Shop is an unpretentious mom-and-pop shop that specializes in handmade doughnuts. Though the line is often long, devotees of this Brooklyn-based bakery say delicious variations -- like cannoli cream and red velvet doughnuts -- are worth the wait. And starting in May, you can once again order up another fan favorite: Peter Pan's ice cream doughnut sandwich. A seasonal offering, the sandwich is a cool antidote to summer's sticky humidity. If there's room, snag a spot alongside the regulars at the old-fashioned counter for some prime people-watching. You'll find Peter Pan Donut & Pastry Shop located on Manhattan Avenue, in Brooklyn's Greenpoint neighborhood.
Voodoo Doughnut
Portland, Ore.
If you consider yourself a doughnut purist, you may not appreciate the unique toppings offered at Voodoo Doughnut. Though this Oregon bake shop does offer traditional variations like glazed and plain cake doughnuts, Voodoo's more inventive confections are the real reason doughnut-lovers keep coming back. If you're nostalgic for the flavors of your childhood, sample the Voodoo Bubble Doughnut or the Orangatang. The former is coated with vanilla frosting and bubble gum garnish, while the latter is layered with Tang, vanilla frosting and orange sprinkles. You can now sample Voodoo's specialties at one of three shops in Portland and Eugene, Ore.
Nord's Bakery
Louisville, Ky.
The standout at Nord's Bakery is undeniably the Maple Bacon Doughnut. These best-sellers are blanketed in maple-flavored icing and then topped with a thick strip of fried bacon. Although coupling doughnuts with bacon may not be a novel idea (a variation of this particular treat appears prominently in almost every shop on this list), fans of Nord's say this bakery's take is mouth-watering (and a best seller). Even if you didn't wake up early enough to get your fix of one of these scrumptious goods before they sold out, there are plenty of tasty varieties to choose from. The Crunch Long John is topped with a thick base of icing, toasted coconuts and a variety of nuts, while the Holland Cream is filled (and topped) with butter cream. You'll find Nord's Bakery located just over 3 miles southeast of downtown Louisville, Ky.
[See: America's Best Ice Cream]
Top Pot
Seattle, Wash.
While some bakeries pride themselves on their unconventional flavor pairings, Top Pot's claim to fame is its classic, "hand-forged" doughnuts. Protected by a crunchy outer shell, these soft doughnuts are some of the Seattle shop's most popular. Admirers of the Old Fashioned variety say these doughnuts have the perfect glaze-to-dough ratio, with a sweetness that isn't overpowering. But if you're craving something a little more unique, Top Pot's got you covered. The shop's signature "Feather Boa" confection dresses up traditional cake doughnuts in pink or chocolate icing and coconut shavings, while the Apple Fritter features raised dough stuffed with cubed apples and aromatic cinnamon. Although the original Top Pot sits on 5th Avenue in downtown Seattle, you can find its gourmet varieties throughout the greater Puget Sound region.
Doughnut Vault
Chicago, Ill.
The Doughnut Vault's cerulean- and white-brick storefront may look unassuming, but its freshly made treats are anything but ordinary. Handcrafted in small batches with flavors that rotate weekly, the doughnuts here attract early-morning crowds to Chicago's North Franklin Street. The Doughnut Vault starts serving doughnuts at 8 a.m. Tuesday through Friday, and at 8:30 a.m. on Saturdays, closing up shop whenever the day's supply runs out. So, arm yourself with $2 to $3 (depending on your doughnut preference) and arrive early because these pastries -- especially the specialty flavors like pistachio and lemon poppy seed -- sell like hot cakes. If you don't want to risk missing out, check the Doughnut Vault's Facebook page, where you can find frequent updates about the specialties available and the length of the doughnut line.
Stan's Doughnuts
Los Angeles, Calif.
The longevity of Stan's Doughnuts proves that even with the proliferation of giant chains like Krispy Kreme and Dunkin' Donuts, mom-and-pop shops can still thrive. Located in Los Angeles' Westwood neighborhood (home to UCLA), Stan's has been a staple since 1965. You can still order a Plain Old Fashioned doughnut for $1 or, for a little extra coin, you can sample some of Stan's more inventive combinations, like its Blueberry Cheese doughnut or one of its peanut butter-filled varieties.
Federal Donuts
Philadelphia, Pa.
Taking the maple-bacon concept one step further, Federal Donuts combines twice-fried chicken with its handmade doughnuts and P.T.'s Coffee. So, while you may have stopped by this Philadelphia baking emporium with the intention of ordering a "Fancy" or a "Hot Fresh" doughnut, you'll find this delicious fried duet just as irresistible. Every order of chicken (plain or dressed in dry seasoning or wet glaze) is paired with a honey donut and Japanese cucumber pickles. You can order up this delectable pairing on South 2nd Street in South Philadelphia or Sansom Street in Central City. If you're more of an old-fashioned doughnut-lover, forgo the chicken (though fans don't advise it) and try one of the "Fancy" doughnut varieties, like French Toast, Turkish Coffee or Raspberry Lemonade.
Gourdough's
Austin, Texas
If the Gourdough's slogan didn't already tip you off, these doughnuts are anything but dainty. These "Big. Fat. Donuts." are covered with sweet and savory toppings, like marshmallows, bacon and potato salad. Though Gourdough's is a bit pricey (one doughnut will set you back $4.50 to $5.50), they're generous with their toppings -- meaning just one order is enough to induce a 24-hour-long sugar rush. If you're a chocolate-lover, try the Black Out: Topped with chocolate fudge icing, chocolate covered brownie bits and a chocolate syrup drizzle, this brownie batter doughnut is sure to satisfy your sweet tooth. Prefer savory delights? Gourdough's offers plenty of salty, spicy combinations like the popular Mother Clucker, a plain doughnut layered with a strip of fried chicken and honey butter. You'll find this Texas distributor situated in an Airstream trailer on South 1st Street (about a mile and a half southeast of downtown Austin).
[See: America's Best Farmers' Markets]
Dynamo Donuts
San Francisco, Calif.
With a name like "Dynamo" this SF doughnut emporium sets high expectations, and according to its loyal customers, it delivers. Doughnuts are crafted by hand daily, with a rotating selection of seven to 10 flavors, though the Bacon Maple Apple doughnut (with crispy bacon, apples sautéed in bacon fat and a heavy layer of maple glaze) is available every day. But keep in mind this popular dessert sells out fast. If you prefer to keep your breakfast sides separate, patrons suggest the Spiced Chocolate -- a chocolate doughnut dipped in sugar, cinnamon, chili and chipotle. You can sample these delectable sweets in the Mission District or the Marina District.
Doughnut Plant
New York City, N.Y.
When a doughnut recipe has been passed down through three generations, it's safe to assume it's a crowd pleaser. Since 1994, Doughnut Plant owner Mark Isreal has used his grandfather's tried-and-true methods to craft fresh rounds of sweet fried dough daily. Isreal started baking in the basement of a Lower East Side tenement building; now, Doughnut Plant reigns as a bona fide NYC institution, with two locations in New York, nine shops in Tokyo and one outpost in Seoul. Devotees rave about the Tres Leches cake doughnuts, but the filled square doughnuts also receive high praise. These pastries brim with the Doughnut Plant's own jams, creams and custards: try the Peanut Butter and Blackberry Jam for an indulgent twist on the traditional peanut butter and jelly. You can taste the scrumptious desserts at the Chelsea Hotel or at the original Lower East Side shop on Grand Street.
Round Rock Donuts
Round Rock, Texas
While Gourdough's may specialize in crafting specialty gourmet doughnuts, Round Rock put Texas on the doughnut-lovers' map. Selling hand-rolled yeast doughnuts since 1926, Round Rock draws doughnut traditionalists from across the country. You won't encounter any experimental flavor combinations or toppings, but that's precisely why dessert enthusiasts flock here every day at 4 a.m. for the first batch. Sample one of Round Rock's regular doughnuts for just 59 cents or, if you're craving something more substantial, order one of the "Texas-sized" doughnuts for $5.99 (just one fills an entire box). You'll find Round Rock about 19 miles northeast of Austin.
Sublime Doughnuts
Atlanta, Ga.
Craving an out-of-the-ordinary ring of fried dough? Then, visit Sublime Doughnuts, where experimental toppings and unusual flavor combinations are designed to delight your adventurous palate. Among the frosted croissants and flavorful fritters, you'll find plenty of what Sublime calls "doughnut burgers" - doughnuts sliced in half with cream cheese or ice cream in the middle. Previous patrons swoon over the "Fresh Strawberry N Cream," a plain doughnut filled with strawberries and cream cheese. Just make sure you leave enough room to sample another one of Sublime's 29 other varieties, like the Chocolate Peanut Butter Ice Cream Burger or the Salted Caramel & Reduced Balsamic Vinegar. You'll find Sublime Doughnuts west of Midtown Atlanta.
[In Pictures: America's Best Doughnuts]
-- Ann Rivall